If you're even loosely familiar with the "prepper" mindset, odds are you've heard of the ubiquitous Bug Out Bag (or BOB), we even reviewed a pretty good book on how to put one together. Less familiar, but likely just as useful, is the Get Home Bag (GHB).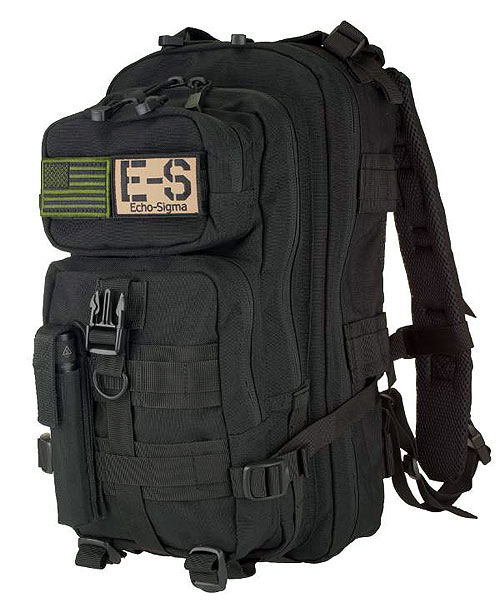 Where the BOB is designed to help you stay alive for three or more days if you're forced to leave – bug out – of your home, the GHB is there to help you get home in the event that you get stranded somewhere. While they're similar, the key difference here is that the GHB is there to support you in getting home rather than fully supporting your for several days. As a result, it tends to be smaller and easier to carry than a BOB.
I recently got the chance to check out a pre-built GHB from a company called Echo Sigma Emergency Systems (here's their official site), and I'm quite impressed.
Let's Go to the Video
Just like with the Special Forces Shovel Review, I decided to do up a video again. You can check it out here (fair warning: I'm not an expert video maker by any stretch of the imagination):
http://youtu.be/cA2QyZZS4ss
As before, I'd love any feedback, likes, subscriptions, gifts of cash, etc. on this video. It's something I want to do more of in the future.
Also, a huge thank you goes out to Mrs. of the Dead for helping me film this. She gave up about eight hours of her weekend to sit in the sun and run the camera. Thanks honey!
What's in the Echo Sigma GHB
Let's start with a full inventory of the Get Home Bag.
Backpack with 2.5 liter hydration pack
3 day provision pack

A mainstay brick (lifeboat rations)
2.5 liters potable water
Paper napkins

Compact survival kit


Compass
Whistle
Space blanket
Butane lighter
Waterproof matches
Magnesium brick and fire starter
Tinder kit
Duct tape
Water purification tablets
2 chemical lights
2 ball-point pens
Notepad
Ear plugs

Compact first aid kit


Scissors
Tweezers
20 bandages
12 alcohol swabs
10 wet wipes
10 antiseptic swabs
3 sting-relief swabs
4 pain relief tablets
2 3″x3″ sterile gauze pads
2″x5yd. gauze roll
Sterile abdominal dressing
Medical tape
CPR faceshield

Compact multitool (Gerber Vise)
LED flashlight (Fenix Cree 7090 XR-E)
50 feet of paracord
10 large zip ties
Emergency tube tent
Emergency poncho
Emergency sleeping bag
2 chemical hand-warmers
Signal mirror
Work gloves
2 N95 masks
Safety goggles
6 pack of AA batteries
You can upgrade your provisions, flashlight, and multitool, and you can add an additional multi-tools, fixed blade knife, or a camp tool like a shovel or hatchet.
All in all, I think there's a pretty good selection of gear here. Everything seems useful, nothing is too bulky, and the whole thing weighs in at an easy-to-carry 16 pounds (more if you've filled the hydration pack).
Overall Impressions
As far as the quality of the bag and its contents go, I'm quite happy with everything. That bag seems durable, and I carried it around for a few days quite comfortably. Its not too heavy, and there's room to add a few extra items if you're so inclined (more on that in a bit).
With my backpack, I got the standard flashlight, but upgraded the multi-tool to the SOG S44. I'm quite impressed with the quality of the flashlight. The multi-tool is good, but there's room for improvement here. My one complaint is that there is no real locking mechanism on the knife, which is a safety issue. That said, you can upgrade this item further.
The other items seem very well thought out to help you in as many ways as possible without taking up too much room or requiring too much know-how to use effectively. Could you get higher quality items? Certainly. I think the bag works well as is, but it's also a great platform to built upon.
This is probably not something a hardcore prepper would buy – they're most likely roll their own. However, the Echo Sigma product is perfect for people who are concerned about being prepared, but don't really know where to start. It's something that you can throw in your trunk (or your loved one's trunk) and have it if the need arises.
On a related note, several of you were curious if this Get Home Bag could support multiple people. I'd say maybe, depending on how long it needed to support them. With the water bladder full and the water included in the pack, you'd have five liters of water, plus purification tablets. Food would be tougher, with only one Mainstay bar, but you could stretch it for a short time. There's one small tent, but it includes both a space blanket and a compact sleeping bag. It wouldn't be comfortable, and it wouldn't last terribly long, but I think you could limp along with two people temporarily (note: I am by no means a survival expert).
Where the GHB Could be Improved
While I'm quite impressed at the initial selection, there are a couple of minor items I think should be added to the Get Home Bag, either by Echo Sigma or by the consumer upon purchase.
First up, I'd throw in a couple of bandanas, which have a ton of potential uses. I generally carry one in my pants pocket, if for no other reason than keeping my bald head from getting sun burned when I forget a hat in the summer, which happens way too often.
Second, I'd really like to see something to carry and boil water in. A metal canteen would be nice, but I'd prefer a 1 quart Nalgene with a metal nesting cup. The downside here is that this would take up valuable real-estate in the back, but the empty bottle could be filled with smaller items, or attached to the outside of the GHB.
Third, I'd upgrade the poncho to one with metal grommets that could do double duty as a shelter if need be.
Finally, a good pair of wool socks would really be appreciated. Anyone who has hiked a few miles with a pack – even a fairly light one like this – will appreciate good socks.
I will be adding all these items to the pack in the near future (there's already a bandana in there; I love those things).
Want an Echo Sigma Emergency Get Home Bag?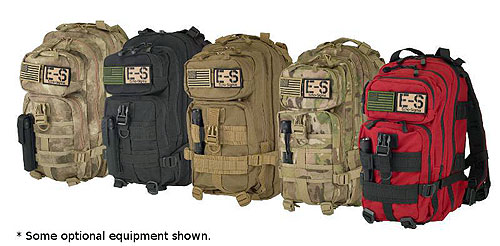 The folks over at Echo Sigma were kind enough to throw in a promo code for Bricks of the Dead readers. So if you're interested in grabbing of these – or any of their other products – just enter "LEGGOMYLEGGO" on checkout and you'll get 10% off your purchase. Cool, eh?