I recently got my hands on BrickArms' Sci-Fi X Pack, coutesy of the always awesome GI Brick (who recently redesigned their website, which looks amazing). Let's check them out. One quick note: I don't play a lot of video games, so I don't know the inspiration for all these weapons; I am reviewing them on their own merits.
SAR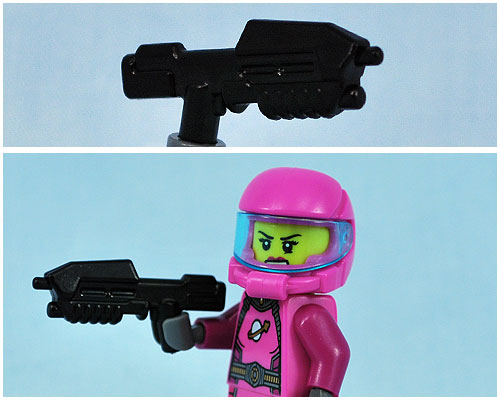 The SAR has a pretty solid design. It looks like it was built to work, not look pretty, and I really like that about it. It looks to have an over/under, with either a pump-action shotgun or a grenade launcher on the bottom. Nice stuff. one thing that's a little strange to me is that there is a raised area near the muzzle, which seems like it would make it difficult to get a good sight picture. Despite that, I really like its rugged looks.
SMP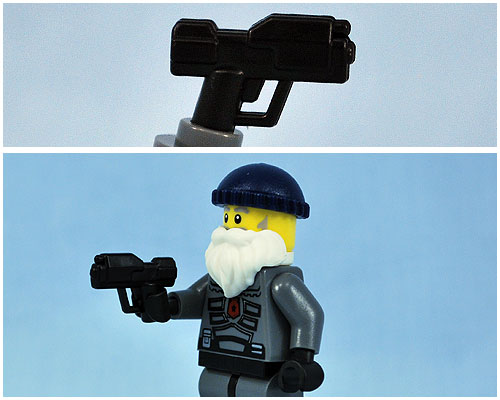 As a futuristic looking sidearm, the SMP (Space Magnum Pistol) delivers. It's very, very similar to the design of the SAR, so they make a great pairing. It also share the raised area near the muzzle, which I'm not a huge fan of. I do, however, really like the large trigger guard, which looks great.
XBR3
The XBR3 and 4 hail from the same series of battle rifles. XBR3 features a more traditional looking scope, and less detailing on the forestock. It's a solid-looking rifle, perfect for equipping your disposable grunts. One detail I really like about this weapon is the shape of the stock; it just looks mean.
XBR4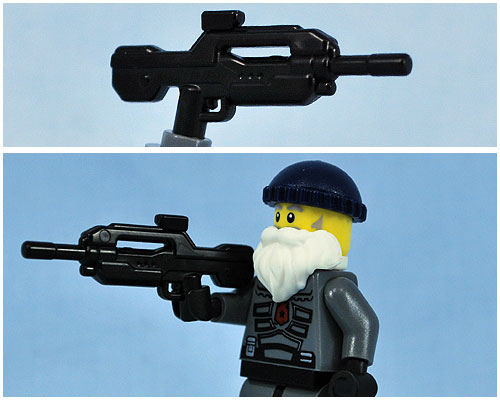 The forth iteration of the experimental battle rifle features a more squared-off, futuristic look. Barring the stock, which I like better on the Mark 3, I really like this weapon. It's a perfect look for sci-fi troops: futuristic, but grounded in reality.
XDMR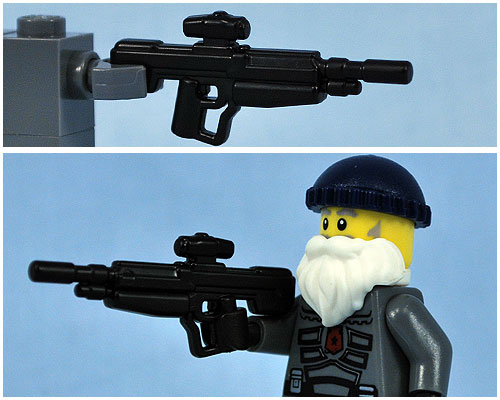 This rifle fits right in with the XBRs, which I think is really cool. It's nice to see a family of related weapons, each with their own purpose. This one serves as a weapon for an expert marksman, and makes for a great supporting roll in your team of hardcore space marines.
XM7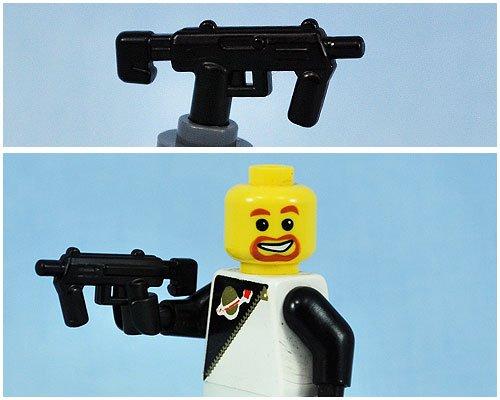 The super compact XM7 looks like the perfect weapon for sci-fi swat teams or for troops clearing buildings and the like. It features a really nice looking squared-off stock, and a nicely angled foregrip (which isn't grippable, unfortunately).
XM7-S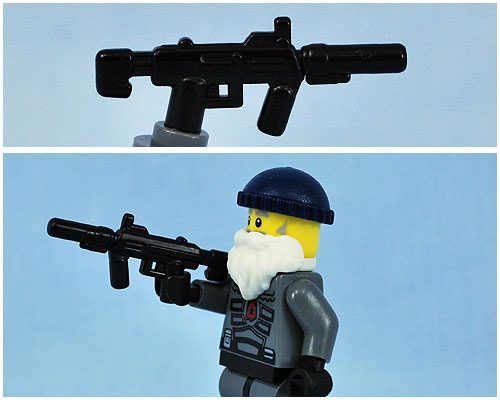 The XM7-S is the same weapon, only suppressed. The suppressor adds to the overall length, but that's probably an okay trade-off for operations that need to be more descreet. I like that BrickArms produced two versions of this gun; it ups the playability factor when you can imagine the wielder adding or removing the suppressor depending on the situation.
XLMG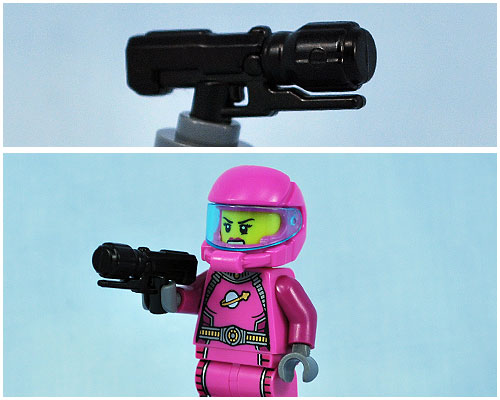 The eXperimental Launched Magnetic Detonator is an interesting item. The grenade portion makes up the majority of the front-end of the weapon, making this thing like brutally simplistic. The styling is nice, and I particularly like the bit that sticks out under the grenade.
XRG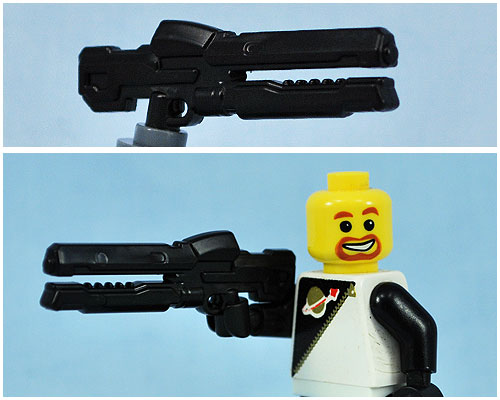 The XRG, of eXperimental Rail Gun, is by far my favorite item of the bunch. This thing is just fantastic. It's got a rugged design, really great lines, and the space in the middle just looks cool. If the battle rifles are perfect for grunts, you'll want to equip your special operations team with one of these guys.
XSR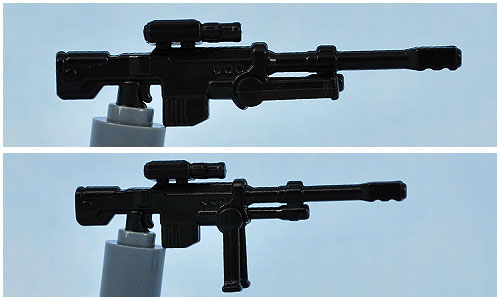 The XSR is the big selling point of this collection for two reasons: it's still a prototype, and it's got multiple parts. The fold-down bi-pod is a really cool feature that makes this one worth checking out. The rifle is futuristic, like the rest of the collection, but I don't think it would look too out-of-place on a modern battlefield.
And here it is posed with one of our lovely models: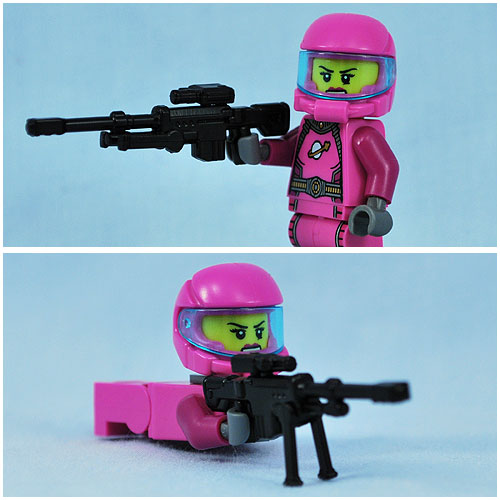 The Verdict
I'm really impressed with this collection, and that's coming from a non-sci-fi builder. The weapons here are all nicely designed, and I like how many of them work together to fit a variety of rolls in a squad. While some are more futuristic than others, the majority would still look decent in a contemporary MOC.
You can pick up the Sci-Fi X pack from GI Brick for only $14.00, which is just over a buck and a quarter per weapon. Not a bad price, considering it comes with a prototype.