If you're shooing a DSLR in a studio (or makeshift studio, in my case) there are a lot of benefits to tethering your camera. What's tethering? That just means to hook up the camera to a computer and let the computer control things. This will allow you to get instant feedback on images on a large screen, make tweaks to aperture, shutter speed, ISO, and control the camera remotely to eliminate any sort of camera shake from hitting the shutter button.
If you use a Canon, that software comes bundled with your camera, but if you're a Nikon user the manufacturer wants you to shell out some cash. And I'm not talking about a few bucks here; the official Nikon camera control program costs $145 now on Amazon. I'd love these features, but I just can't afford that price tag.
Luckily, there are third party options, specifically a neat little program called ControlMyNikon that offers you a ton of functionality for a very reasonably price tag ($29.95). In fact, ControlMyNikon will even do a bunch of stuff that the official, expensive software won't, like exposure bracketing and a bunch of different kinds of shutter triggering.
That all sounds pretty great, right? But how well does it actually work?
Getting Started & Support
To be completely honest, I had a hard time getting this running on my Nikon D60 and Windows 7 laptop. But don't take that as a negative. I tried the normal troubleshooting steps, and nothing was really working for me, so I shot an email to their support, figuring I'd get a response in a few days if I was lucky.
To my surprise, the response came back in less than a day, and the support person stayed with me until everything was up and running. The problem? I needed to run the program in compatibility mode, which I later found out was in the troubleshooting documentation all along.
Once I got over my initial speed bump, I was up and running, snapping random pictures of my living room and trying out all the different functionality. Not only did it work great, it was responsive and very easy to use. But the true test would come with shooting some comics.
The Interface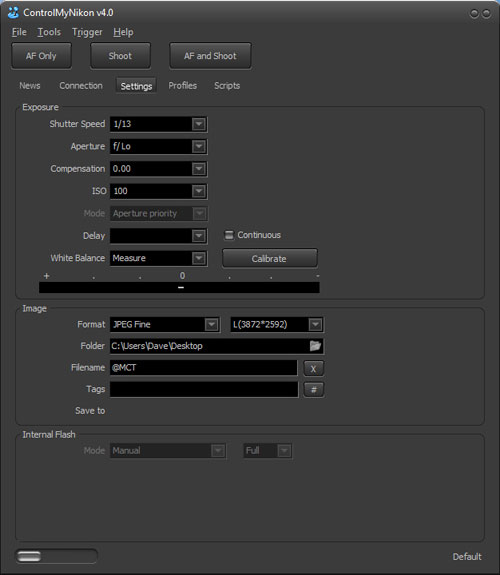 ControlMyNikon boasts a very simple interface (and if you don't like the look of it, simply change to another of the many different skins). As you can see, anything you want to tweak is right there on the dashboard, clearly labeled. There's no digging through a thousand menus to figure out how to slow down the shutter speed or open up the aperture; simply change it using the drop down menus and you're all set. You can also setup and re-use shooting profiles to save you time down the road.
You'll notice that one of the menus, "Mode", is grayed out. This is because this is controlled by a dial on the body of the camera, so it cannot be changed remotely. Everything else, however, is fair game.
In addition to all the standard options, you'll find many other useful things in the menus. Want to setup your camera so that it shoots when you clap? You can do that. Want to use exposure bracketing to make some HDR (high dynamic range) photos? Totally doable.
Is ControlMyNikon Useful?
Now on to the big question, exactly how much use did I get out of ControlMyNikon? Well, that depends entirely on what you're shooting. So far, I've used it to shoot a few comics, and two reviews. It worked well for both, but was better suited to the reviews where the angle of the camera didn't change radically from shot to shot.
When I shoot Bricks of the Dead, I tend to take two to four shots for every frame, at different angles and sometimes depths of field. Shooting by hand, I just change position and fire again, but with ControlMyNikon, I have to setup the shot on a tripod all over. Long story short, it slowed me down.
However, there are shots where going slow and shooting from the tripod are absolutely necessary. In the past, I'd setup and shoot with a remote control. Then, I'd have to transfer the photos to a computer to review. Now, however, I can review instantly on the computer and re-shoot until I get it just right.
The Verdict
While I can't say I'll use ControlMyNikon for every comic, it's pretty darn useful, especially for reviews. When shooting from a tripod, it streamlines the process of getting exposure, white balance, and framing absolutely correct. It also boasts an extremely rich feature set that I'm looking forward to experimenting with further.
And if I need help with something? Well, not only do they have great support, but there's also a whole library of video tutorials.
Grade: