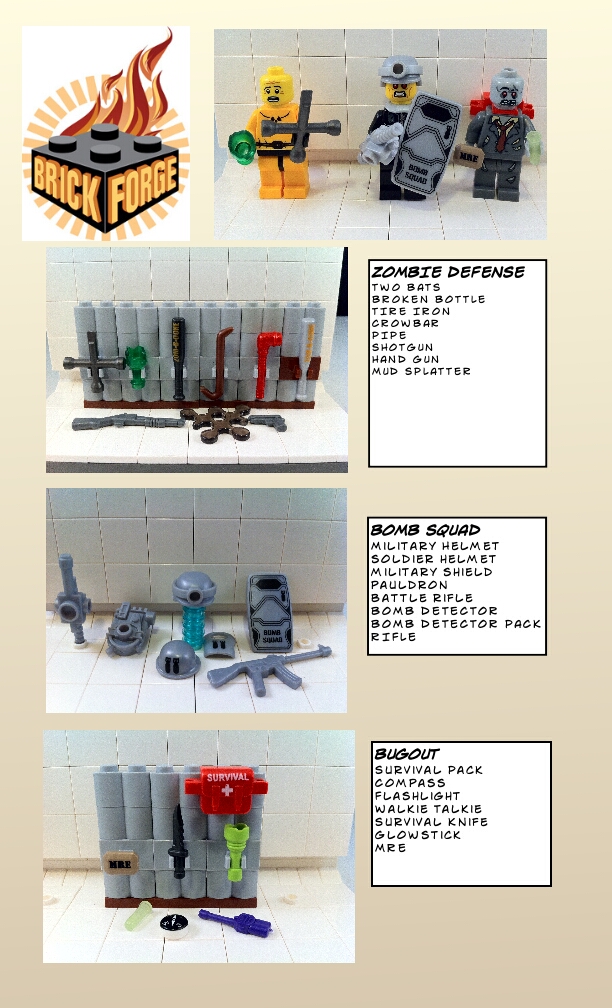 BrickForge Zombie Defense Pack:
When the zombie apocalypse is upon who can you rely on to save your life? Nobody. It's up to you. When the zombies get too think you'll need firearms and that's why they are included in this pack. But the survivor that who has long term plans silence will be his greatest weapon.
In lieu of a attention gathering bang you'll need to live your childhood dream of swinging a bat at someone's head. You can do this with the ZOM-B-GONE baseball bat. The image above may have crunched the re-sizing a bit so click here for a larger image of the print on that bat. The broken bottle might also be useful for the annoying humans pestering you for food.
My favorite items in this pack are the crowbar and tire iron. In fact I think between the two the tire iron wins the award for awesome. It serves as a balanced weapon and tool while sporing handles so you can twist as the edge sinks into the undead brain. I am sure a delightful crunching sound will be enjoyed by all.
BrickForge Bomb Squad Pack:
Why will you need a bomb squad post apocalypse? Because you'll be under constant threat of rebels who are trying to undermine the power you've managed to gain for your own new country. From blast shields to explosive detecting devices you'll want your army to have a man outfitted in this gear in each squad. He'll look especially dashing with that smart pauldron over his shoulder as you send him on his task.
BrickForge Bug Out Pack:
Without question "what's in your Bug Out bag?" is one, if not THE most discussed item on sites such as this. Everyone needs one and its fine time for someone to think of the mini-figs.
The glow stick is a great touch along with the flashlight, but the winner of this pack is the MRE and compass for my money. As you can see by the first pic above, it fits perfect in the mini-fig hand. I have seen people make MRE's out of tiles and I just don't think they look right. The "MRE" font needs to stand out and look like a package I think.
All together this is a another great selection from BrickForge. The parts are well made, fit snugly and the print is resistant and easy to read.
A Note on Purchasing These Items:
To pick these items up you can buy them individually, piece by piece at Brickforge.com or at various shows and resellers. I think you can only buy them as entire packs by resellers.