I recently got my hands on some of BrickForge's new releases, the vast majority of which areStar Wars inspired. The shock trooper armor and helmet probably isn't, but I'm going to lump it in here since it's still pretty darn cool.
One quick note on Star Wars, I used to watch the original films constantly. I played Star Wars video games, had a bunch of the toys, and even read a few of the novels. I'm pretty familiar with the original trilogy. The prequels, however, are a completely different story. I watched all of them once, and have caught bits and pieces of them on TV here and there, but I never liked them. Therefore, I don't know the weapons from the new films nearly as well. So if I flub something, that's why.
Also, I featured images of every item posed with a minifigure, to give you a better idea of how well they'll look in action. Thanks for the suggestion there, Bo.
Shock Trooper Armor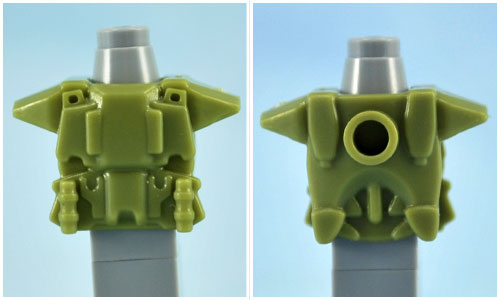 The Shock Trooper armor packs a surprising amount of detail in. It looks appropriate for sci-fi and post-apocalyptic builds. Coupled with the helmet, this give figures a menacing appearance. Like a lot of third party body-armors, this also features a hallow stud on the back.
One thing to note about this peice is that, due to the shoulder armor, you can only raise minifig arms so far before they hit it. Below is a shot demonstrating the maximum height of arms while wearing the armor.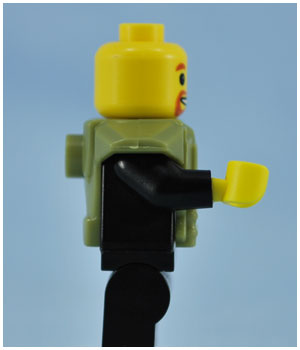 Shock Trooper Helmet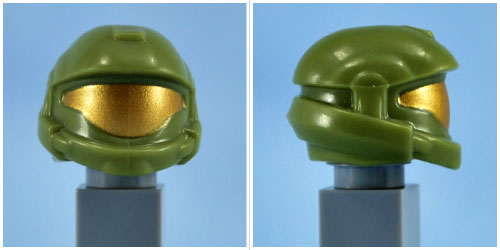 The helmet that compliments the armor looks like a cross between modern motocross gear, and futuristic police/military equipment. To me, it immediately suggests some sort of fascist police state. The gold painted visor is a nice touch. The paint is evenly applied and looks great.
Here's a shot of the whole enchilada: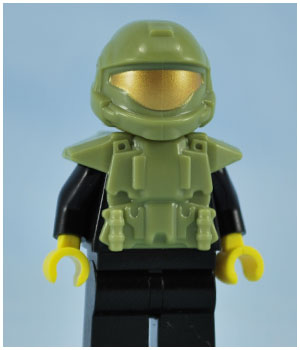 Clone Rifle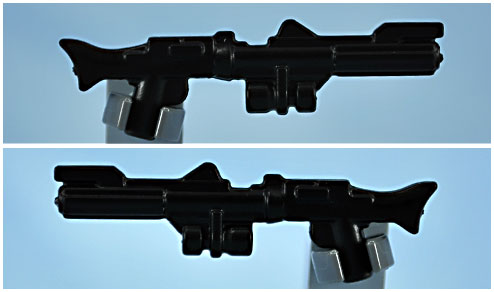 This thing appears to be the Kentucky Long Rifle of theStar Wars universe. This thing is seriously huge, but it's got some really interesting construction. It reminds me a lot of German machine guns from the First and Second World War, and, considering George Lucas' obsession with WWII, that's probably exactly what inspired it.
Here's a shot featuring some posing; I suspect this would look better as part of an emplacement, or using a bi-pod.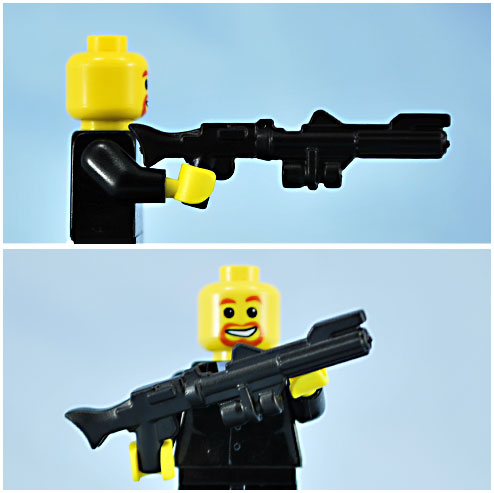 Commando Carbine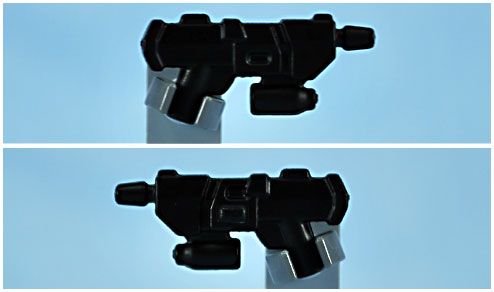 I don't know a lot about this item. It's got a nice, short, boxy design, which lends itself to general Sci-fi beyond just Star Wars MOCs. I really like how the barrel extends a bit form the body of the gun.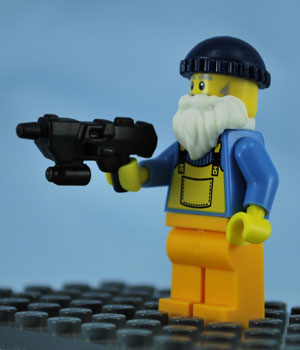 Clone Blaster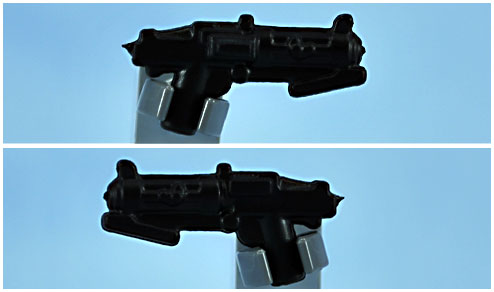 The Clone Blaster is a pretty cool item, partially because you can really get a sense of the evolution between this, and the Imperial Blaster (below).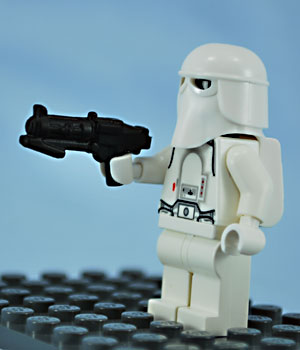 Advanced Recon Striker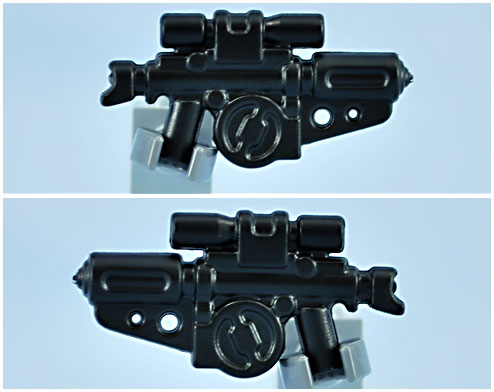 I'm not quite sure what the Advanced Recon Striker is, beyond big and nasty. But bit and nasty are pretty damn cool, so I'm not going to complain. I really like the industrial look this item has, as well as what appears to be a drum magazine mounted parallel to the body of the weapon. Very cool.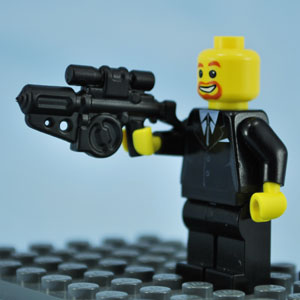 Headhunter Quick Shot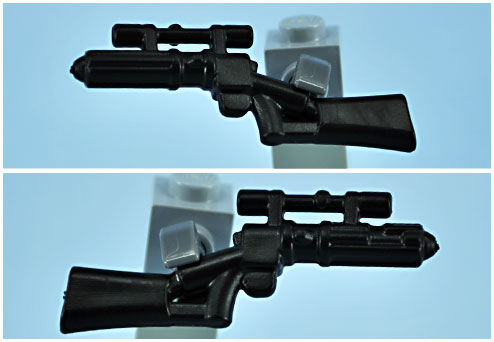 And now we get to old school Star Wars, and what better way to start than with everyone's favorite bounty hunter gun? The design looks like it was ripped right out of The Empire Strikes Back. I really like the look of the stock on this one, but the way the weapon is built prevents you from doing much beyond shooting from the hip. Of course, Boba Fett probably doesn't need to aim down the scope.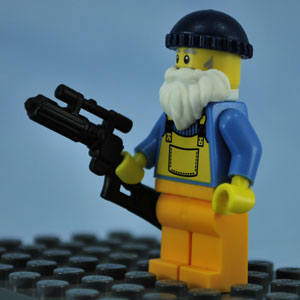 Smuggler Special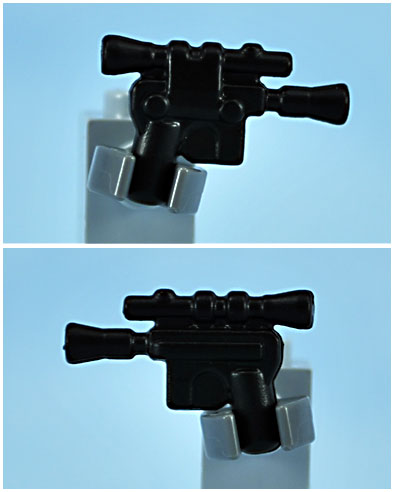 Next up is the Smuggler's Special, which Han Solo used to kill Greedo in cold blood (and not as a retaliatory shot, dammit!). The styling here matches the films quite well. This is great, since this has always been one of my favorite weapons from the movies. It's based on the broom-handled Mauser, which is another really cool pistol.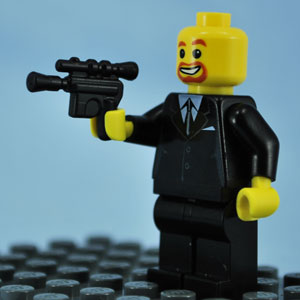 Scout Pistol

The Scout Pistol is a tiny little weapon, appropriate for scouting missions and the like. Probably why they went with that name. It's small and deadly looking, with a guard that goes around the hand to give it a little extra styling.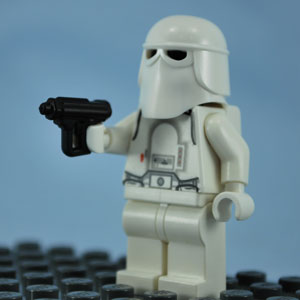 Enforcer Gun
I can't say I recognize the Enforcer Gun, but that's okay by me. It's a nasty looking piece of weaponry, perfect for bounty hunters, pirates, and ne'er-do-wells of all stripes. My favorite detail on this piece is the little bit that hangs underneath the muzzle. I'm not really sure what it's supposed to be, but it looks cool.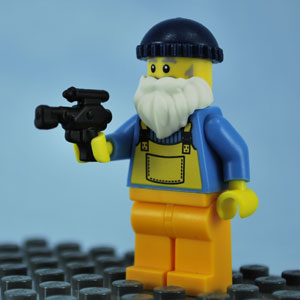 Ionizer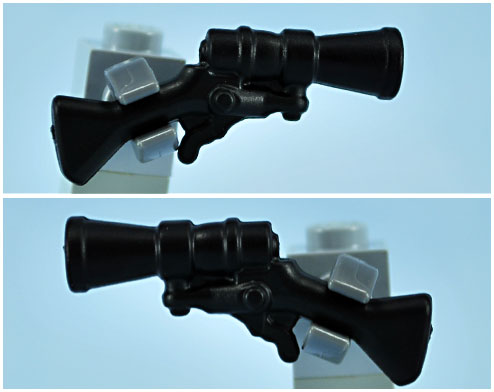 This is probably my favorite item in this group of releases. The Ionizer showed up only briefly in the films, when the Jawas captured R2D2. It's not a terribly practical gun, but the fact that it looks like an old timey pirate blunderbuss really appeals to me. This one would look really cool in brass with a brown stock.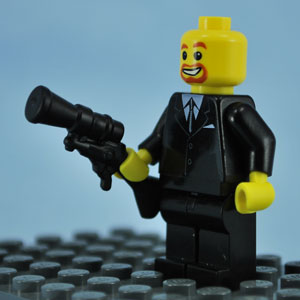 Imperial Blaster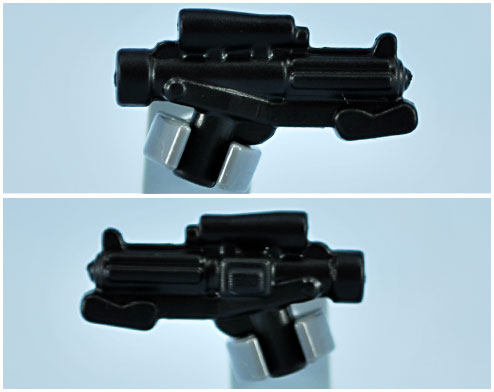 For whatever reason – and I've only purchased a small handful of Star Wars sets – it's always kind of bugged my that LEGO® never bothered with a decent looking version of the Stormtrooper blaster. The generic laser rifle just never felt right to me. That's probably why I like the BrickForge version so much; it's just a perfect fit. Fans of the films will probably want a few of these to outfit their Imperial Troops.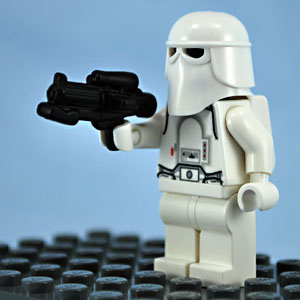 These items are all currently available from BrickForge's online shop.