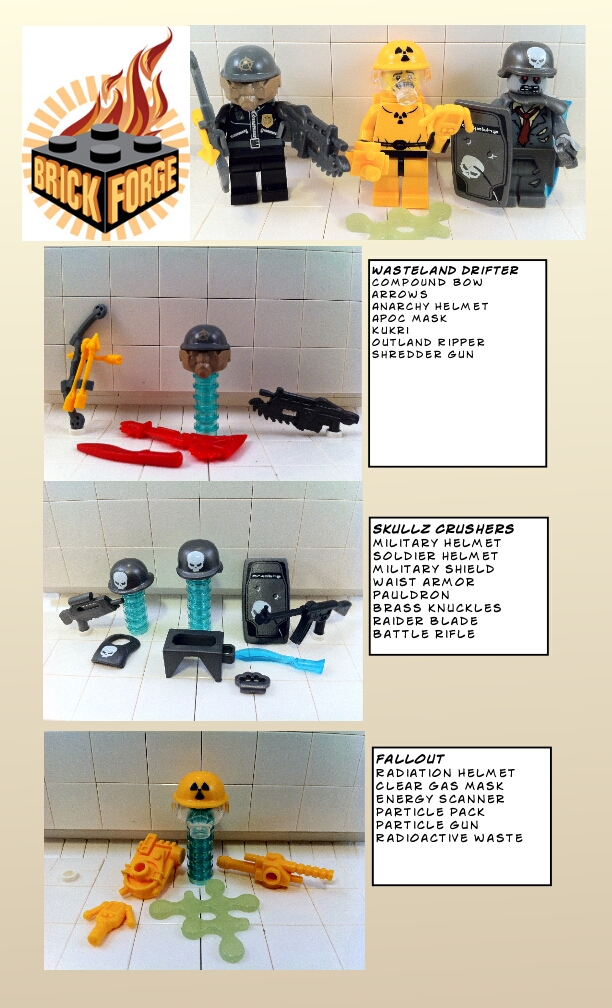 Wasteland Drifter –  The wasteland drifter is the hallmark of nearly every Post Apocalypse tale. Even in a lawless world this Ronin craves a world with less rules. Featuring an anarchy symbol on this helmet this drifter is no exception. The gas mask goes a bit further looking more like a environmental shield. Most mini-fig face masks won't fit with a helmet but this one does and it fits snugly since it fits into the housing like a visor. The blades that come with this look a bit brighter in this picture than in person. They are much more rust colored than my camera contrast could pick up. The rifle looks like a standard rifle until you get to the point where you have a chainsaw in lieu of a bayonet. Gruesomely awesome! Lastly we have a compound crossbow with three types of arrows.
Skullz Crushers – In the Post Apocalypse areas will be governed from rag tag gangs to small armies. This set is perhaps a glimpse into what their uniforms might look like. The paint has a nice spray painted look to it everywhere except for the design on the shield which is highlighted by bullet impact marks. Protecting the non shield side is plate armor fitting over the shoulder.  The longer rifle has an odd look to it due to the barrel and I certainly prefer the hand held weapon. But the highlight of this pack is somewhere between the waist armor and brass knuckles.
Fallout – Clearly with the series 4 Hazmat Suit collectible mini-fig, these accessories give a nice alternative set up. The large oversized housing over the torso is replaced with with a smaller helmet and trans clear mask. Another change is spray pack for a Geiger counter and backpack. The green blotch is to represent a chemical spill so if you pick one up you finally have an answer to how this whole damn mess started.
To pick these items up you can buy them individually at Brickforge.com or at various shows and resellers.