Welcome to the final installment of our review of BrickArms' latest release. This time around we'll be looking at the Modern Era Weapons (check out the Western Weapons here, and the WWII/Vietnam weapons here). These are all items you can expect to find in a modern battlefield, or possible on the streets during the zombie apocalypse.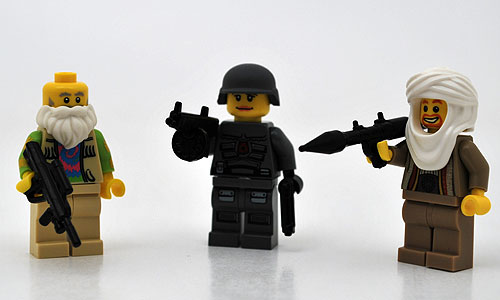 RPG 7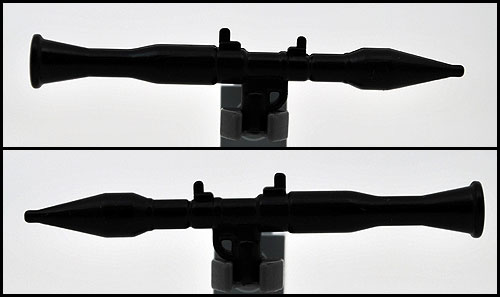 This is one of my favorite items of the release. It doesn't have fancy removable magazines or anything like that, but it's just such a great build that I can't help but dig it. It makes me want to buy five or six more, and then build some sort of Afghan-style cave just so I have a cool place to put them.
ABR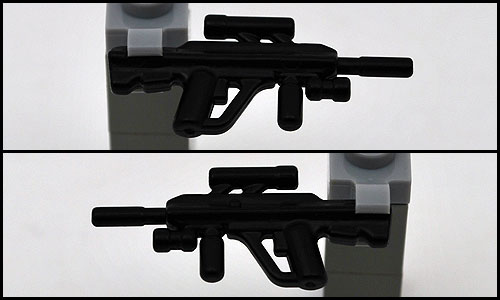 One of the interesting downsides the way minifigs are built is that cannot always accommodate holding weapons properly. We've discussed posing figured with rifles quite a bit lately, but the ABR points out another, related issue: what about bullpups? What's a bullpup? It's a weapon where the action and the magazine are located behind the trigger in the stock. Because minifigs don't do stocks terribly well, bullpups can be a challenge.
I'm happy to report that the BrickArms ABR handles this challenge with aplomb. As you can see in the above photo, Scrimshaw can hold the rifle quite well.
M9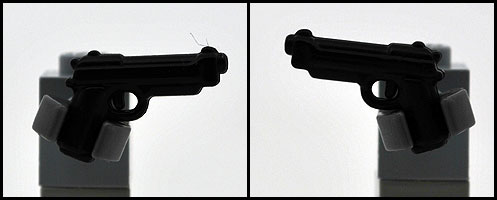 Another semi-automatic handgun, and this one a classic military and police weapon! This standard-issue sidearm gets a lovely reproduction by the folks at BrickArms. Despite the small size, the weapon's profile is instantly recognizable to anyone familiar with the weapon. And to those that aren't, you certainly can't complain about more variety with your minifig's handguns.
XMP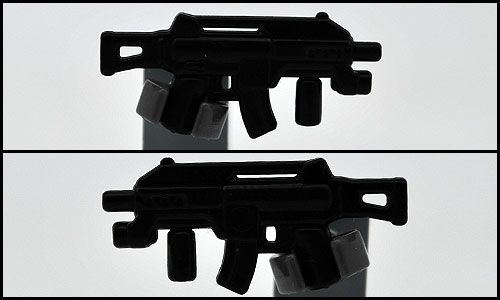 Beleive it or not, this item was inspired by a video game controller (although I'm thinking that controller was inspired by the Heckler and Koch G36). Crazy, no? Wherever it came from, the XMP is one mean-looking weapon with a very modern, almost sci-fi look. This item will work perfectly for a variety of military and space-themed creations.
ACS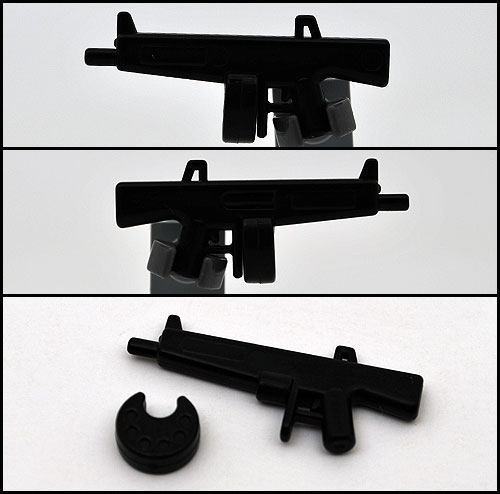 The ACS is just about the most ridiculous weapon I've seen in a long time, and I mean that in a good way. I can't think of a lot of situations that could be improved by having a fully automatic, drum-fed 12 gauge on hand, but when you need one, you need one.
This accessory looks just like its real-life counterpart – perfectly boxy. It also features a removable drum magazine, which actually has a different texture on it compared to the Tommy Gun. That little bit of extra detail really puts it over the top for me.
SABR shotgun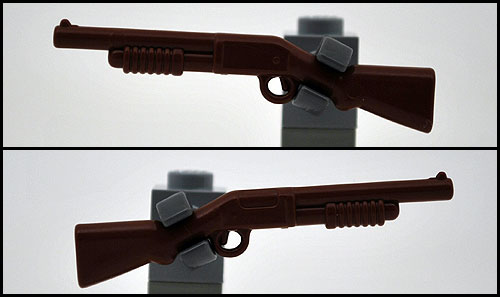 Despite it's military-sounding name, the SABR shotgun is the closest thing we get to a civilian shotgun. According to BrickArms, it's based on a number of different designs, but to me it most closely resembles the Mossberg 590 (I'm sure I'll get corrected by the gun enthusiasts).
And for zombie enthusiasts, what could be better than a pump-action shotgun? Not a damn thing. This is something you could easily expect to find in the homes of countless civilian zombie survivors.
Rubberized Items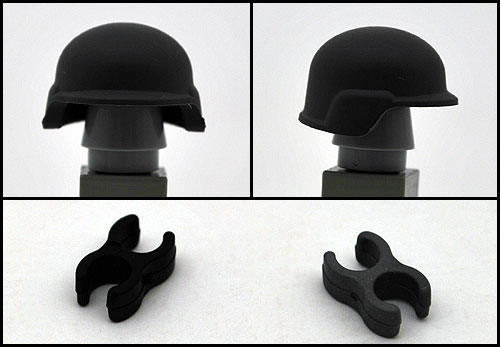 These items were a bit of a surprise; I didn't even realize they had been released. I got two U-Clips and a Modern Combat Helmet made with this new material.
The helmet is quite nice. The squishiness of it take s bit of getting used to, but I really like the way the material give it a nice matte finish. We're so used to working with high-gloss ABS plastic, that this different finish really sets this apart from other such items. It also makes it perfect for things like SWAT teams where light and noise are the enemy.
The U-Clips are nice as well. They're a bit easier to put on because of the flexibility, and the matte finish also gives them a nice grip. Playing around with them a bit, they seemed to hold things quite well, but they seem like they wouldn't be quite as secure as the classic plastic version (a hell of a useful item, by the way).
Final Thoughts:
This was a pretty huge release from BrickArms. It's a diverse group of items that spans a number of different themes and uses.
Don't forget, GI Brick is offering a special coupon code to Bricks of the Dead readers. Use BOTDGIB12 on checkout to receive 15% off your order. This expires on September 30th, 2012, so don't delay too much!