Welcome to part two of our three-part review of BrickArms' new items (check out Part I: Western & Colonial Weapons). In this installment, we're going to be covering weapons from the recent past. I lumped them in a vague sort of "World War II / Vietnam" time frame, but don't get too hung up on the years here.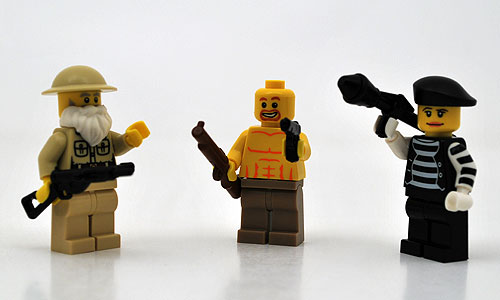 Sten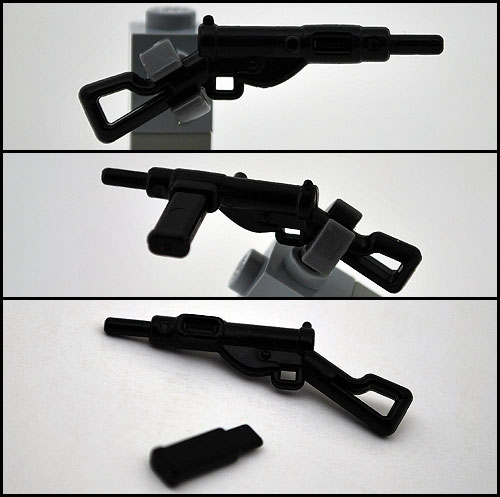 The Sten is the first item I'll review that has a removable magazine. I was really, really excited about this feature before receiving this item, and I'm happy to report that it's just as cool in person as the photos would have you believe.
The weapon itself is fantastically designed; I particularly love the wire stock. While this fits best in World War II creations, the Bren is such an interestingly designed gun that it wouldn't be out of place in sci-fi and post-apocalyptic MOCs.
MG34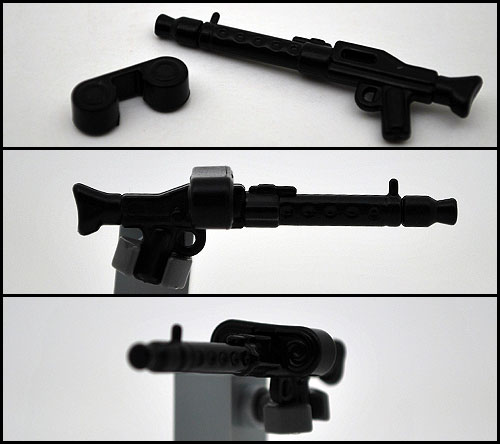 The predecessor of Germany's outstanding MG42, the MG34 is a heck of a cool looking weapon. This version boasts a great removable magazine that snaps onto the top of the weapon. Like the Sten, this was build and used in the first half of the 20th century, but its design has a sci-fi feel to it. This would look great in Star Wars creations.
Tommy Gun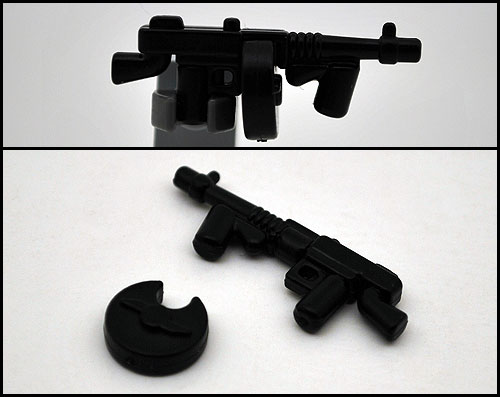 BrickArms already makes one Thomson Submachine Gun, but that one is an older, less detailed model. It also has the stick magazine, which you'll generally see in war movies. This updated Tommy Gun has the drum magazine instead, which most of us know from old gangster flicks. It's also a much more detailed model. The removable drum magazine is just icing on the cake.
Want to do zombies versus mobsters? Then pick up a couple of these. The zeds won't stand a chance against the Chicago Typewriter.
Tokarev

I really dig the Tokarev not for it's historical significance (although that's cool too), but for the fact that it gives us a couple new options when it comes to semi-automatic handguns. Don't get me wrong, I love the 1911, but a little variety is never a bad thing.
Panzerfaust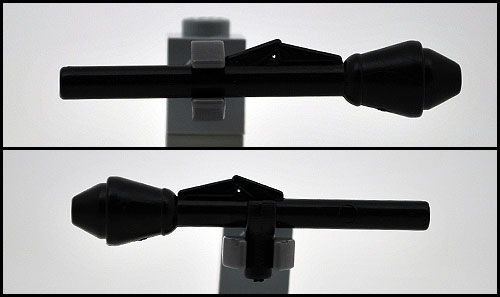 Got a tank problem? Why not try out the Panzerfaust? The design is simple, but then so was the real-life weapon. It's instantly recognizable to anyone with a decent familiarity with the weapons of the Second World War (history buffs, gamers, etc). While it's probably best suited in its historic role, this piece would also work nicely as a warhead on a plane or space fighter.
It also marries nicely with the Monopod, as illustrated in the second photo.
M79 Bloop Gun

The Bloop Gun is a strange item. The design of this accessory perfectly matches the historic weapon, right down to the upside-down looking stock. If only it had a fold-up leaf site. While thoroughly antiquated now, historic builders should really love this item, especially since it fits so well within the confines of the Vietnam War.
KAR98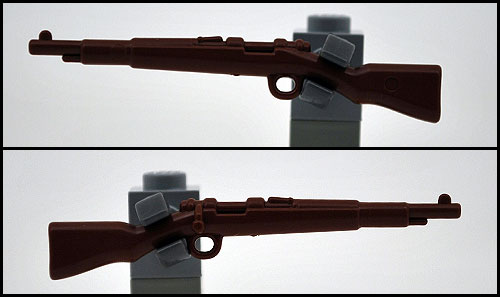 I absolutely love BrickArms full-sized rifles. I know that minifigs can't really hold them correctly, but they're all just beautifully made. Unlike some of the smaller weapons, they feature a full stock and seem a lot more proportionate than things like the Tommy Gun (still cool, but for different reasons).
The KAR98 is perfect for your German soldiers, but the simple, bolt-action design makes it ideal for a civilian weapon. The thing just looks like a hunting rifle being pushing into service to fight off the zombies, and you all know what a fan I am of that.
M1 Carbine (full stock)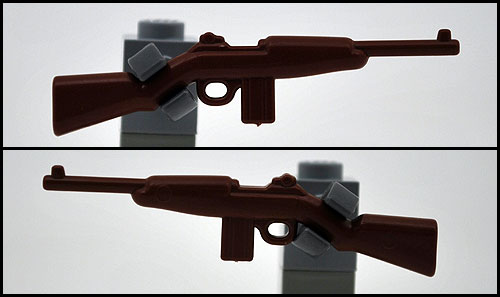 Like the Tommy Gun, the M1 Carbine is a different version of an existing product. In this case, we now get a full, wood stock instead of the wire stock we're used to. I'm a big fan of the original M1 Carbine (I use it in the comic), so I'm always excited to see variations on the theme.
Where the wire-stocked version is perfect for paratroopers or anyone needing a super-compact weapon, this version offers a more traditional look. I think fans can find uses for both versions of the weapon in their collection.
M97 trench gun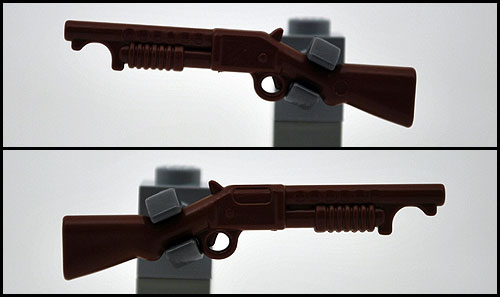 I run a LEGO® zombie comic here, so it goes without saying that I'm a big fan of shotguns. In this release, we're getting four pretty great ones (check back next week for the SABR Shotgun and the ACS). This model, the M97 Trench Gun, is a nasty looking thing. Between the holes (baffles? breaks? someone who knows guns help me out here) along the barrel to the arched rest on the front, the Trench Gun just looks mean. And when you consider the thing is flinging 00 buck at your face, you know that those nasty looks are just the beginning.
Final Thoughts
While I don't tend to build a lot of World War II or Vietnam-era stuff, I am a big fan of the history. Seeing these weapons come alive in brick form is just awesome. Each and every one of these guns is beautifully realized. They're all detailed without being too detailed to fit in with your average LEGO® minifigs. While not all of these are idea for your typical civilian anti-zombie weapon, a few are. And those that aren't are just too cool to pass up.
If you're interested in picking a few of these up (and why wouldn't you be?), then check out GI Brick.
UPDATE
I just got an email from GI Brick offering a special coupon code to Bricks of the Dead readers. Use BOTDGIB12 on check out to receive 15% off your order. This expires on September 30th, 2012