Over the next three weeks I'm going to be reviewing the latest offings from BrickArms. If you don't know BrickArms, well, you're in for a treat. They produce custom LEGO® compatible weapons and other accessories. I get all mine from GI Brick, an authorized reselling in the US who have been nothing but a joy to work with.
I'm going to divide the review into three parts. This week we're take a look at the items that best fit into Colonial and Western-era creations. Next week will be World War II and Vietnam War-era weapons, and finally Modern-era weapons. Let's get started, shall we?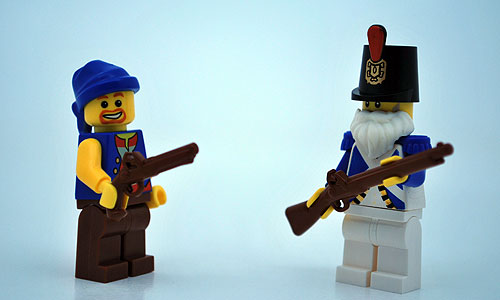 Flintlock Musket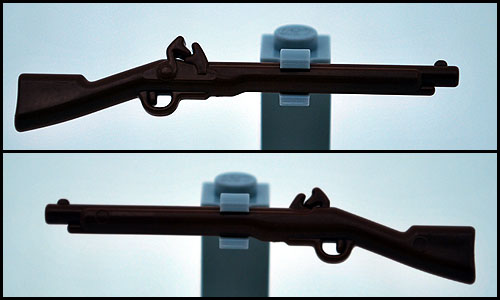 The Flintlock Musket is perfect for a wide array of creations. Pirates, the age of exploration, or even modern day sportsman using a throwback black-powder gun. The features on this piece that I really like are the distinctive stock and the flint striker.
The stock is just perfect to set this weapon apart from more modern firearms. The musket is also very long, just like the period pieces. The striker is also fantastic; as the distinctive part of the weapon, it stands out out perfectly without being overbearing.
Flintlock Pistol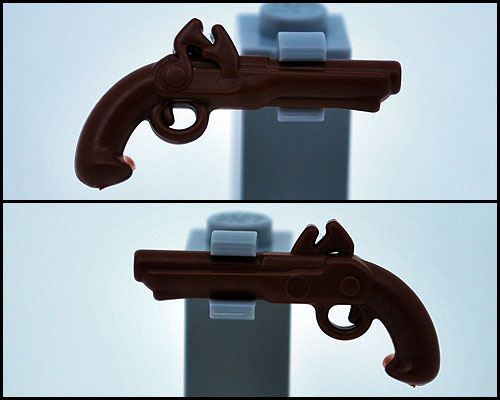 Need firepower in a little more compact form, but you're stuck in the 1700s? Well then, the Flintlock Pistol is going to do you solid.
Like the musket, the pistol also has a really well designed striker. The wood molding around the barrel is really nicely done, as is the bottom of the grip.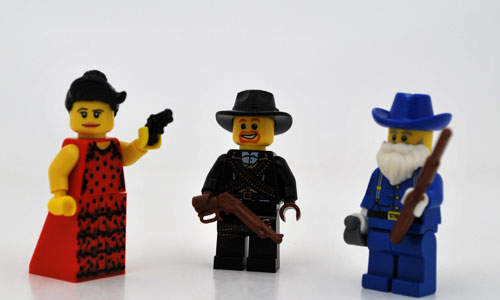 Derringer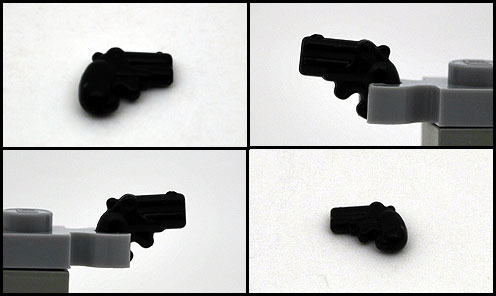 For the Wild West citizen who needs something a little more compact and concealable, the answer was the derringer. This tiny pistol might not pack a whole lot of punch, but it makes up for it with the element of surprise. Besides, who really needs a lot of firepower when you're only inches away from your target?
BrickArms' Derringer is appropriately tiny, and kind of hard to photograph (apologies for the poor photography). It's amazing how many details they managed to pack into such a small package, from the tiny trigger to the rounded grip.
M1887 Shotgun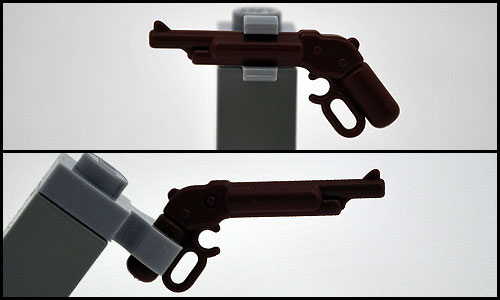 The M1887 shotgun is an interesting item. Outside of Terminator 2: Judgement Day, I've never really seen the thing. But T2 is such a cultural mainstay that the 1887 makes for a hell of a cool accessory.
When I first saw photos of this weapon, it wasn't something I thought I would have a whole lot of use for. Now that I've got one, well, let's just say I'll find a use or two, because this thing is really cool. I love the big level ring, and the partially open trigger guard. Good stuff.
Lever-Action Rifle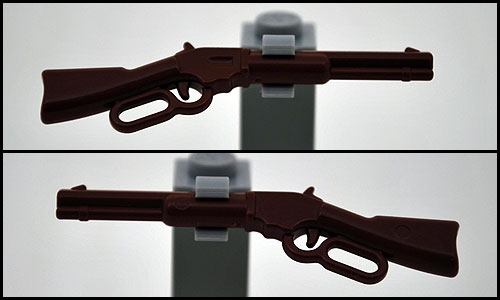 Out of all the items here, the Lever-Action Rifle is the one I was most looking forward to. Outside of a six shooter, nothing says "cowboy gun" like the classic repeater.
BrickArm's version of it does not disappoint. The profile is instantly recognizable without being overly detailed. This thing looks sharp, you almost want to try out the action (don't bother, it's solid plastic). If you want to do some Western MOCs, then pick up a few of these. They're also fantastic for civilian weapons in a zombie apocalypse.
Final Thoughts
While I primarily build in the city theme (the comic takes up most of my LEGO® time, after all), I've always had a soft spot for western themed builds. As such, I have been looking forward to a few of these items for a long, long time now. Now that they're out, I would say that they've definitely been worth it. If you're a historical builder, you should definitely check  few of these out. And even if you stick with modern builds, the lever action rifle and shotgun would make fine additions to your collection.