Greg had a chance to sit down with Matt Hill the brrrraaaaains (I'm sorry, I won't do that again) behind Undead Zine, an exciting new interactive magazine for zombie enthusiasts by zombie enthusiasts.
Bricks of the Dead: Matt, how did you came up with the idea of creating Undead Zine?
Matt Hill: As huge fans of zombie films, books, video games and comics, we really wanted to share our enthusiasm with other people around the world. An electronic magazine seemed like a great way of doing this, as we wouldn't be restricted by printing costs or having to mail out copies. We came up with a few feature ideas for our first few issues and the project slowly grew from there.
BotD: What are your objectives with this magazine?
MH: Main objective? Have fun with it and celebrate the zombie genre. Undead Zine is an intelligent, exciting and enjoyable read that reflects the talent and creativity of the many people working behind zombie books, films, comics and games today. We want to have fun with the gory, blood and guts aspect of the living dead, but we also want to provide a more intelligent, considered approach. So we're quite happy sitting down and watching Night of the Living Dead with a few beers, for example, but we want to know about the subtext of the film too and how it comments on real life. One of our taglines is: 'the zombie digest with braaains!' which kind of sums up our objective.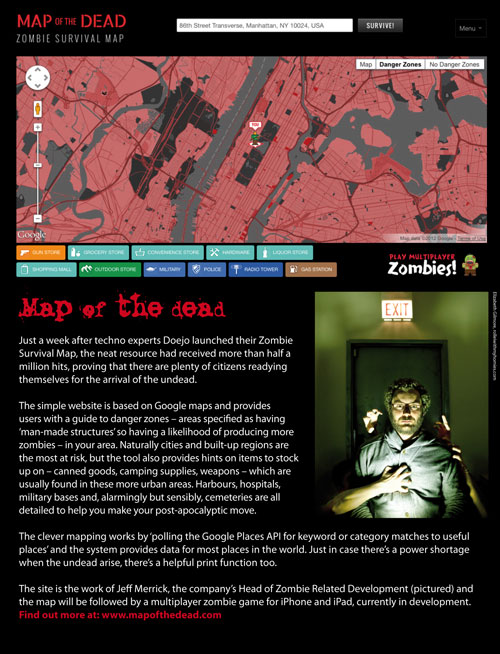 BotD: What makes Undead Zine different from the other initiative in the zombie genre?
MH: The interactive aspect of Undead Zine makes us quite unique. Because we're digital, we can include videos – we have an award-winning short film in our second issue, amongst others –  as well as image galleries and a few other bits of trickery. I guess we're fans writing for fans, which is quite unique.
BotD: What do you think of what we do here on Bricks of the Dead?
MH: It's amazing how many cool zombie-related projects are going on, and we were immediately drawn to Bricks of the Dead when we began researching for our first issue. I'm a little late to the ongoing comic story, but catching up and loving it! I'm sure we'll work together a lot in the future.
UndeadZine is giving away five copies of the first issue. Simply post a comment about Undead Zine before July 20th, 2012 on the Facebook page of Bricks of the Dead and earn yourself a chance to win a free e-magazine! Free download and registration with a valid e-mail will be required. Undead Zine will contact winners with instructions.