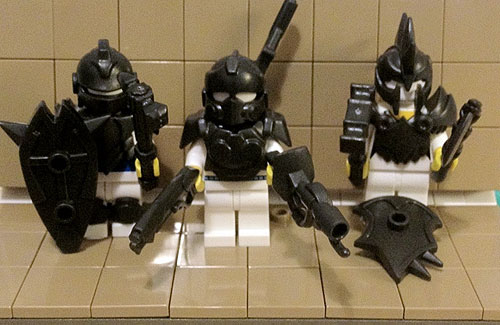 One way to spice up your MOC's is to get some custom items. They are typically reasonably priced and at a fraction of the cost of going after a rare item off a reselling site. But be careful, some companies sell shoddy items so always do a little research before you part with your hard earned money.
One of the bigger companies out there that offer up some custom items is BrickWarriors whose items we'll be reviewing here. Let's have a look at their Summer 2012 offerings…
ROYAL KNIGHT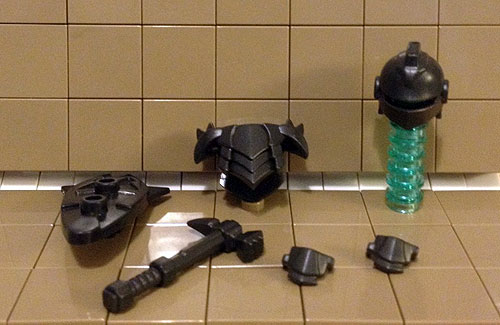 The knight is wicked looking and oozes a dark fantasy style. The double sided hammer head is a pretty damn solid weapon and could be perfectly useful in a zombie apocalypse for those craving non ballistic weaponry. If you look to the bottom right you'll see leg coverings. Fantastic touch to the set.
RESISTANCE TROOPER PACK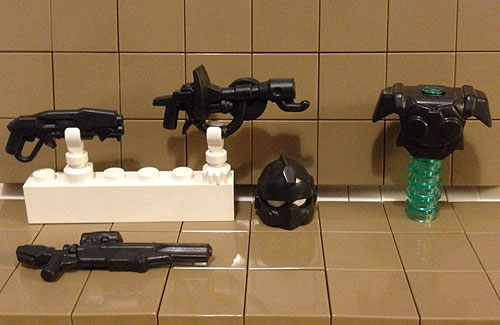 The custom pack here has a uniform military feel to it. My favorite item is the flame thrower which is the perfect compliment to this pack. As you can see in the first image, there is a slot in the back so you can have the figure carrying extra items.
The shot gun is especially nice which is the cornerstone for every zombie apocalypse trooper.
DEMON KNIGHT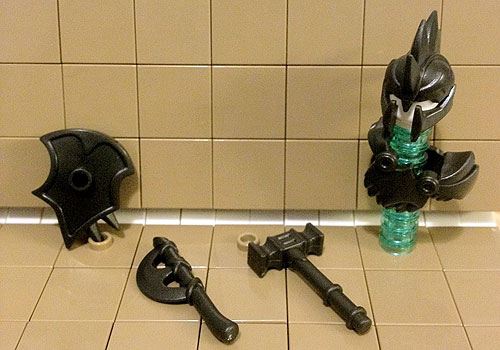 Perhaps this one was intended for more dark fantasy but I like to think of this one as post apocalypse. The armor looks pieced together and the ax looks make-shift.  At least that's how I see it and is exactly what I will be using it for. I just love this set and it's without a doubt my favorite of the three.  If you've played Fall Out it might favorably remind you of some of the armor the gangs wear. As with the Resistance Trooper above the armor has slots in the back to add in extra items. I think I might find a way to have a zombie latching onto it in the future.
FINAL THOUGHTS
All together this is a great offering from BrickWarriors. The pieces fit perfectly onto each mini-fig and the plastic doesn't have any odd manufacturing marks on it which can plague some custom pieces. One way to easily spot poor quality are items that don't sit right on heads or have to be forced into the hands of mini-figs. These pieces are of superior quality.
Each set will run you $13 and have a few more pieces than what you see above.  You can see the full sets can be seen here.