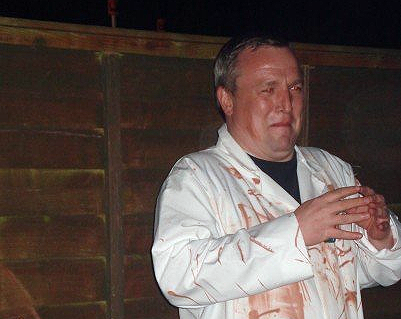 Bricks of the Dead – In "All the Dead are Here," your characters question God's roll in the zombie apocalypse, often as a by-stander or instigator. What was your inspiration for this?
Pete Bevan – I think it's a natural consequence of experiencing a global catastrophic event such as a zombie apocalypse. On a smaller scale you see those involved with natural disasters praying or questioning God as to why he would do, or sanction, such a thing. Even in your own life those who aren't religious may have a little pray if a loved one is in hospital. I'm not religious yet I think religion is an easy thing to grasp in the right circumstances.
Secondly, if the zombie apocalypse is a simultaneous global event, such as in Dawn of the Dead, how would that occur if God wasn't involved? Remember that it is highly likely that due to the collapse of communication the average person would never learn what caused the zombie apocalypse, so we fit our values, knowledge, and experience to the situation we are living in. What else could cause the dead to walk all in one night? It's not meant to be a theme in the book, but well spotted!
Where do you draw inspiration from in general?
Some writers can sit and just chug away at the keyboard every night. I loathe and detest those people! Writing to me is a long and torturous process! Seriously though, I need the right type of music first. I won't divulge my taste, but epic, sweeping music tends to generate ideas.
Ideas become scenes, scenes become acts, acts link to form the story. Eventually I have enough to start writing. At that point I'll either blast it out, or I will have to tortuously draw it out over months. For example "Cadish" was written in a night with very little revision, and "The Minister Part 3" was done in a few days, however it took me a year to write "Kobyashi's Button" through some of the worst writers block I have ever had, which is a shame because I ultimately think it's the weakest story in the book, yet my last editor loved it.
Often, an author has a voice that rings clear throughout their work. For example, you can hear Stephen King even when he writes under his pen name Richard Bachman. I did not hear that with your work and was really impressed that you were able to give each story its own voice. Plainly, how did you do that?
Wow! What a compliment. Thank you. How I came to write for Tales of World War Z is a story in itself but when I had completed the first two stories ("The Minister" and "These things..") I realized that because I had not written since school (almost 25 years) I needed to find my style. The zombie genre is a great backdrop by which to do that, so from that point on I tried to differ the style with each story.
Ultimately I don't think I have found my style, but I am very comfortable trying different ideas and perspectives. Stylistically I love "The Isle of the Ungodly Dead" for its Victorian wording. That's doesn't answer the question as to how I did it, does it? Erm I don't know, but it was a conscious decision, and not something I'll stop doing. What am I going to take away from this question is the fact you said I am better than Stephen King…..and Richard Bachmann….
"Angels with Dirty Faces" was such a moving story. Was that very difficult for you to write?
Extremely. I agonized over writing it to begin with, especially as it is such a dark situation. As you may have guessed I have a daughter and the story is obviously written about what I would potentially do in that situation. However, I just found myself in tears thinking about it, never mind trying to write it. So I had to change the protagonists. I had to take  myself, and my daughter, out of the situation and replace them with other people. It was the only way I could get it down.
This question is very difficult to answer without huge spoilers for the story. Hopefully this will intrigue your readers to go and buy the book! Suffice to say the wife has never read this story and after reading a random paragraph has stated that she never wants to read it. I am comfortable with that as she needs to look me in the eye each day. Would I make the same decisions as the man in the story? I don't know. Do I love how dark the story is? God yes! I have had reports that it makes some readers cry. This is a good thing, and exactly what I was after.
Since these are short stories, was the temptation ever there to pull a story back and write a full length novel on any given story?
I ultimately think I am a bit scared of writing a novel. I am working my way up to it. My latest story (which I will now plug shamelessly), is called "Assassin" and part one is up on www.talesofworldwarz.com now. It's a 5 part story of 40 thousand words, which I wrote in a frenzy before my son was born (on my 40th Birthday), and its coming out on Kindle as well. So that's a novella really.
I have left some intriguing tit bits in the Minister stories about where I could take that. So you may see a Minister novel at some point. Otherwise it really depends on the story idea. If I have one that needs a novel to tell the story then I will write a novel. I just haven't found it yet.
You've been successful with self publishing, but have you considered getting with a Publishing House to reach a bigger audience?"
Yes. I chose this route because I had tried, unsuccessfully to find a publisher that would accept this type of book. Zombie short stories seem to be a tiny niche in a niche genre. I tried all the usual suspects such as Permuted Press etc, but they were either closed for submissions or not taking that type of book. By the time I got down to some rather dodgy looking websites: "You want publish book huh? Huh? We publish all books. Just send bank account detail to…"
I thought I might have to take a different tack. The self-publishing route is pretty easy through Amazon and I had some help from a techy friend to do a good job of the epub file, and another friend to do the final editing, and another to do the cover art. We ended up with a pretty professional looking product.
The problem with self publishing is that it has a bad reputation, and rightly so to a certain extent. There is a lot of dross on Amazon KDP, copy and pasted stuff, or books that have gone through no formal editing. That type of people who make it difficult for those that put the effort in should be killed slowly and painfully. The problem then is that even if you are quite good, it becomes hard to stand out, so I have badgered those who bought my book incessantly for reviews. Honest reviews and people have been generous in their feedback both on TOWWZ and Amazon.
Given the choice I would rather work with a publisher and have that extra exposure. I must have contacted 100 review sites and Bricks of the Dead is the only one to grant me a review (Or even reply). Its tough out there if you are self-publishing, so its a good job I'm doing this to just have fun rather than rely on it to pay the mortgage. Having said that, if any publishers are listening – give me a deal! (or at least get in touch) *ahem*.
What draws you to zombies?
It's their natty line in suits, and the smell. No, like you, I saw Dawn of the Dead at 7 years old, and it terrified me. I didn't sleep for weeks and my fear of them lasted until I was 16, when I saw it again and the fascination started. From an intellectual point of view I think they represent conformity, uniformity, society and stagnation. I think those that are into zombies see themselves apart from 'civilized' society. Something that suits the American and British psyches. I was an only child brought up in the austere environment of large hotels in the 70's (most places I lived looked like the Overlook Hotel in the Shining). I spent too much time on my own, so I have that feeling of being apart. But then again, who wants to conform, eh?
What do you read in your personal time?
My favourite Author is Iain M Banks, by a country mile. His imagination, style, pace and scope is just staggering. In fact I shouldn't read his work because I usually come away feeling inadequate, but the Culture is a fantastic society in its own flawed way. I usually read all his books on a rotation every few years.
Other than that I tend to go for old Sci-Fi. I have just read most of the John Carter books, but I am not so pretentious to say that I started before I heard about the film! If we go to a Car boot Sale (I'm sorry I don't know the US equivalent of this), I will usually hunt down a battered old 60's or 70's sci fi novel. The only horror I read is zombie books, more as research, but it is very easy to find bad ones.
What other artistic talents do you have?
It's all writing based really. I recently got involved with writing for a PC game, which is about as far as you can go from short stories. They wanted high fantasy; I gave them Goblins that speak like gangsta rappers and a tiny Mexican wrestling Goblin with 'small man syndrome'. The jury is out as to whether it will work from a comedy point of view but it's coming along. (More shameless plugging) It's called Folk Tale by a company called Gamesfoundry. We are all devoting our time for free, hoping that we can get some funding through kickstarter. It's a completely different experience to writing horror, and quite challenging. I did see the first rough draft of one of my cut-scenes the other day and it is amazing to see your script come to life with voice acting and animations.
Do you think zombies are evil?
The idea of zombies is an evil one, what sicko came up with dead people eating living ones? Sheesh. However Zombies themselves just live by a few basic rules, without conscious thought. Therefore they can't be evil; you have to have a moral code for there to be good and evil.