There's a lot of zombie stuff out there, and most of it is crap. People like to jump on bandwagons and produce quick tie-ins rather than investing love and effort into their creations. Luckily for you, I'm here to help separate the wheat from the chaff. Check back every Thursday, when I'm going to share the coolest zombie-related creation I can find out there on the web.
The Zombie Creation:
This week's creation, "The Struggle" by Dusty Bricks, is a feast for the eyes, so long as your eyes like destruction and the end of civilization as we know it.
The quality of the build is fantastic. It's full of tiny details, like the knocked over computer inside the office building. The color scheme is well done, a fantastic mix of browns and greys, with the occasionally green thrown in to give us a nice balance of the old world decaying away while the natural world slowly reclaims it.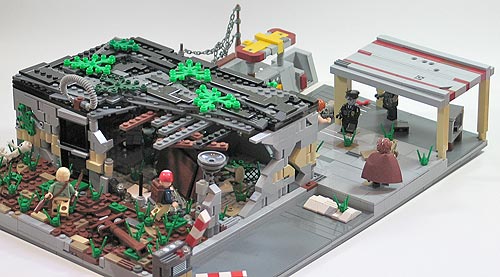 Probably my favorite part of this build is the rich texture. There are smooth areas that are still in reletively good shape despite the years of abuse, and then there is everything else. There's a trend in MOCs these days of covering up every stud to give things a smooth, well designed look. That's all well and good, but The Struggle shows up that doing the exact opposite can be damn effective as well.
So What's Going On?
Even without the textual description, this creation is telling a good story. We have survivors spreading out, looking for supplies in this derelict office building and adjacent gas station. They have their guard up, of course, and that seems prudent given the couple of zombies that are lurking around, waiting for their next victim.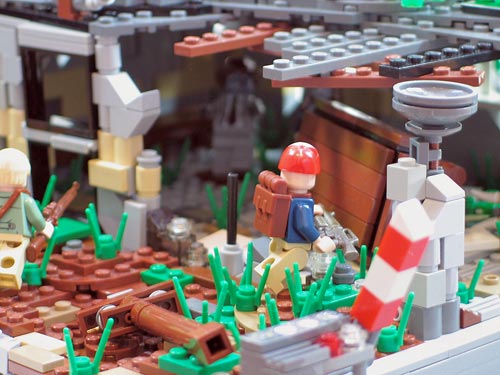 Let's Talk About the Zombies
This creation gives us a bit of a backstory, which is always cool. It seems that DARPA (Defense Advanced Research Projects Agency) was working on some sort of biological weapon when, oops, it broke containment and spread like wildfire. The result? Lots and lots of zombies (here referred to as mutants), you know, you basic end of civilization sort of stuff.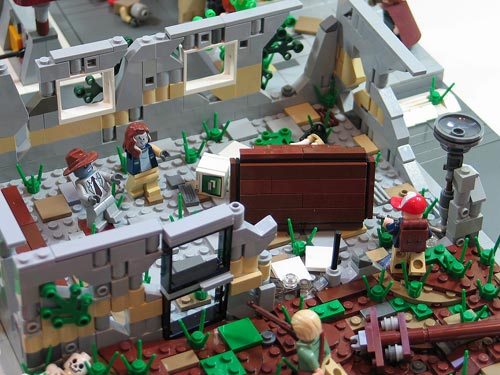 Have you seen a great zombie creation out on the web? Are you working on the next great zombie MOC as we speak? Well you had better let us know right away, otherwise we'll never be able to include it here.