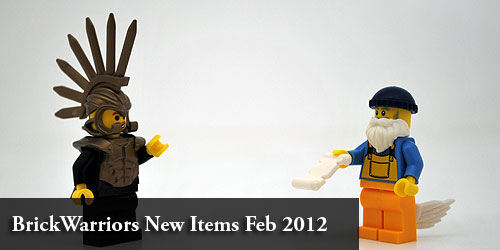 LEGO® is great, but it just can't quite produce everything a fan might want, especially if those items are overtly violent or maybe a little too closely related to a licensed product. Thankfully, there are a handful of third party companies out there who are dedicated to making things just a little bit more interesting. Companies like BrickWarriors, who just released a new round of products. Let's take a look
Horns and Spikes
LEGO® makes a couple different style of horns and spikes that fit into helmets, armor, and every other thing. But variety is, after all, the spice of life. That's why I was excited to see a handful of new options.
The first we'll look at are the Crescent Horns, which look closest to the typical cow horns you might expect to find on your typical fantasy Viking's helmet (actual Vikings probably didn't have horned helmets). It's a really nice product, with a nice, gentle curve to it. Not only would these work great on helmets, but they'd make pretty scary looking teeth on large, brick-built animals.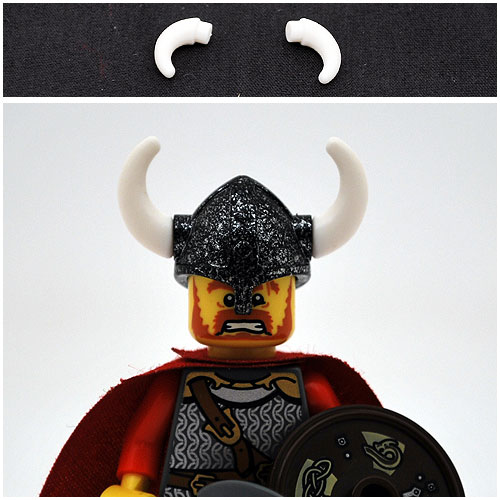 Next up, is the Tribal Horn, which looks like a longhorn to me. It's pretty sweet. Again, these look great on helmets, but it would also work really well as a piece of decoration, say on the front of some crazy Texas businessman's car.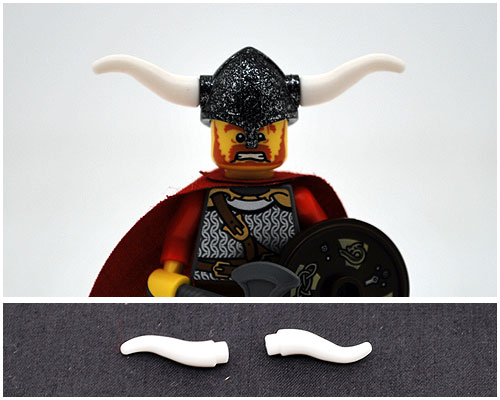 After that, we've got the Spike. It's a plain white spike, which is something I wish TLG would produce. I love all the teeth and horns, but sometimes you need something without any curve to it. I really like this one at a spike in the middle of the round shield, and I can't wait until it comes in more colors.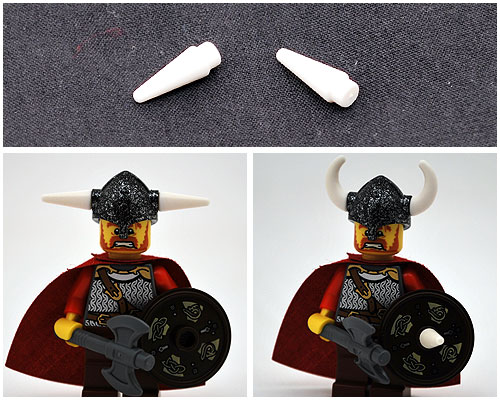 The next three items are all a bit larger, and I received them on a sprue.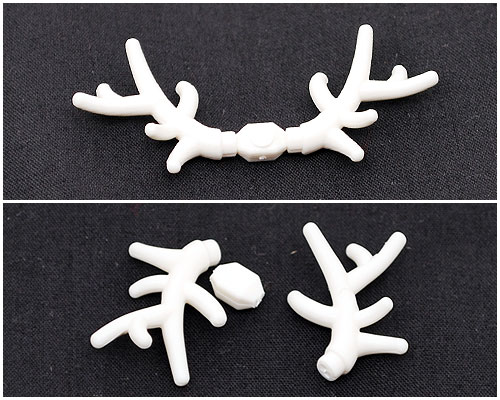 First up are the Antlers, which could be used as hunting trophies, adornment on helmets and the like, and would probably make some nice brambles and thorn bushes in brown or tan.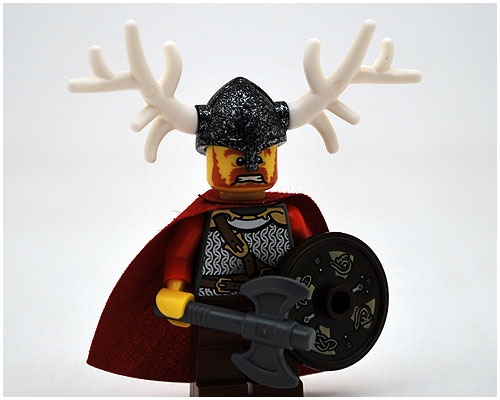 How about a Ram's Horn? This one is my personal favorite of the bunch, and it really makes me with I had gotten ahold of the Mola Ram figure from Indiana Jones. Ah well.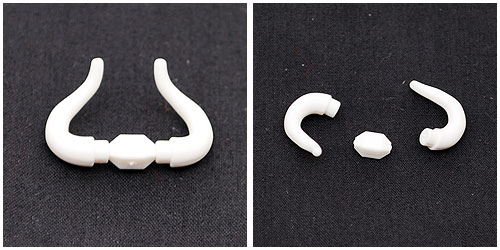 And here is it in action: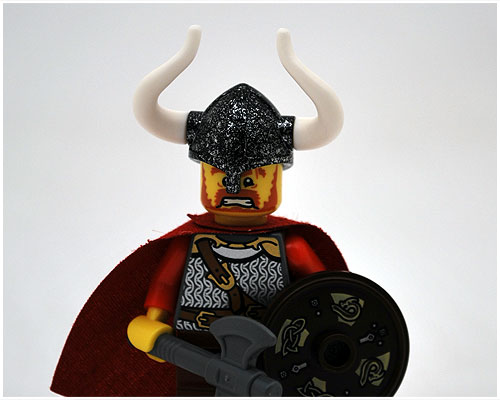 Finally, there's the Wings, which are a really cool item. Not only do they look great, and they really do, but they also have a really clever design. They were made to have to different points to attach them to different items. There's the smaller stud to affix them to helmets and like-sized holes, but they also have a larger stud that will fit inside a hallow stud, as well as the back of a minifig's legs.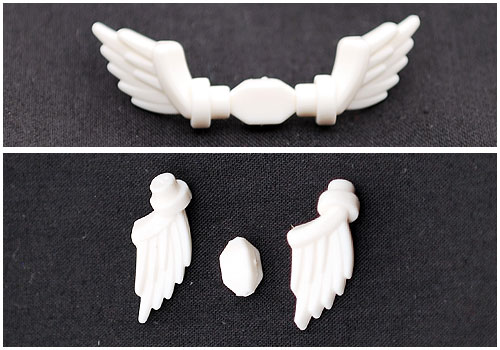 Here is is in action: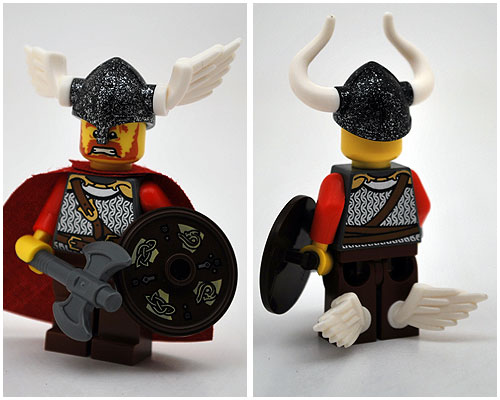 This next item isn't really a horn, but we'll lump it in here because it's a unique item that doesn't really fit elsewhere. I'm talking, of course, of the Scroll. It's quite an interesting piece, that just begs to be customized further with a bit of paint. It's grippable on with side by the rolled sections, but I think it would look best atop a table or alter.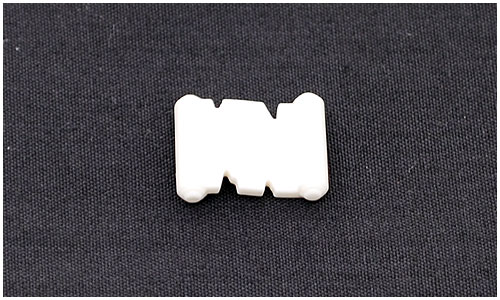 Gold Armor
In addition to all the spikey stuff, BrickWarriors also released some new armor in a really cool shade of bronze/gold.
First is the only armor piece, but it's a doozy. The Muscled Cuirass looks fresh out of the Bronze Age. Something a hero of antiquity might where into battle, or perhaps in some ancient ceremony. It's a beautifully molded piece, that includes a cape in the back.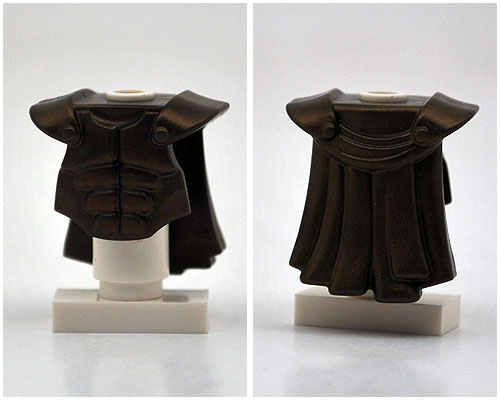 Next up is the Celestial Crown, a heavy, geometric looking helmet that looks like the helmet of a mad king.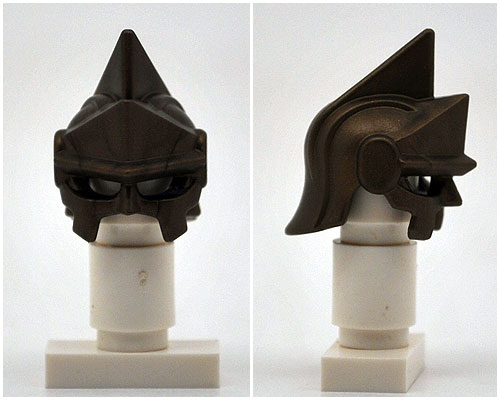 Then there's the Rhino Helmet, which looks like something to be worn by an elite guard, keeping VIPs and dignitaries safe in some ancient city. It suggests a sort of regalness, while at the same time being intimidating as hell.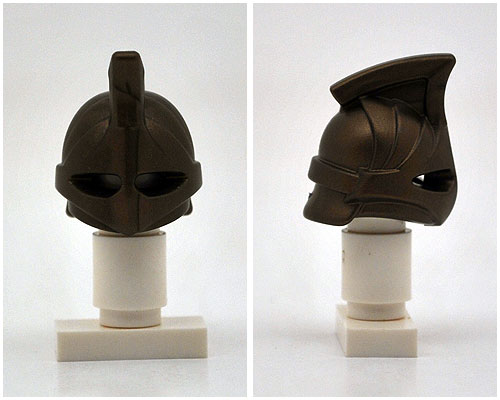 Next is the Invader Helm, which looks straight out of Skyrim. It's a pretty awesome looking helmet on its own, but once you add in some of those new horns, then it really shines.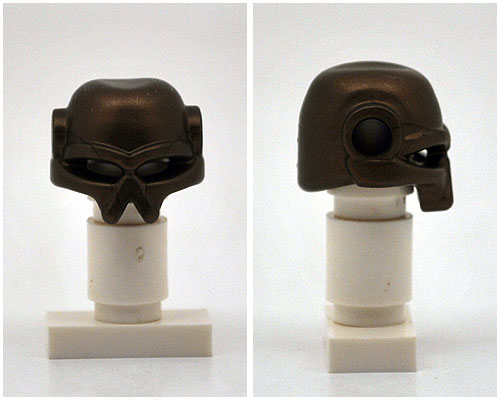 Check it out bundled with some other items: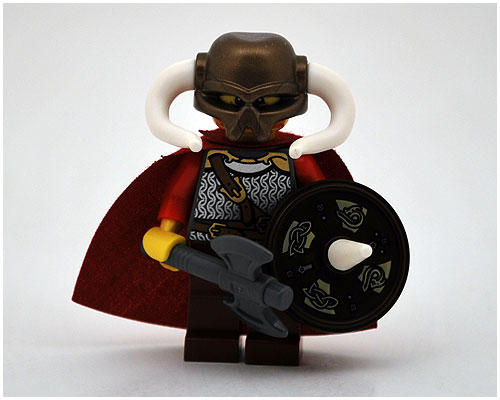 Finally, I have the Bladed Helm. I saved the weirdest for last this time around. I honestly have no idea what this thing is, other that just crazy. Imagine a delicate looking helmet that, on it's crown, is a mohawk of sword blades. Pretty cool, isn't it?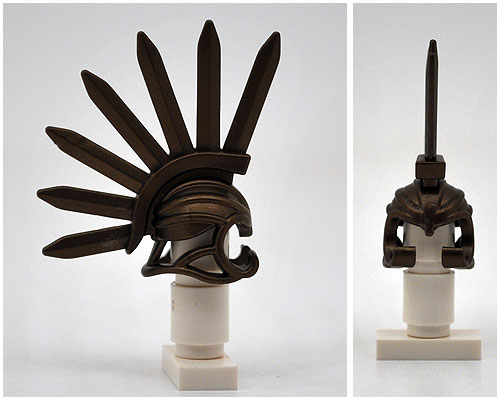 Final Thoughts
BrickWarriors just keeps putting out awesome stuff, and I'm really happy to see that it's not just a constant supply of guns and swords. There's some really creative, interesting, and incredibly useful items in this release (that scroll is something I'd never expect a third party company to develop, simply because it's such a background item not suited to play, and I love it for exactly that reason). I can't wait to see what they have up their sleeves next.