There's a lot of zombie stuff out there, and most of it is crap. People like to jump on bandwagons and produce quick tie-ins rather than investing love and effort into their creations. Luckily for you, I'm here to help separate the wheat from the chaff. Check back every Thursday, when I'm going to share the coolest zombie-related creation I can find out there on the web.
The Zombie Creation:
This week's creation, "Zombie Harvest" by Eturior (and suggested by C4Guy) takes the zombie apocalypse out of the familiar city and suburban areas, and out into the country for a good old-fashions zombie hootenanny. It's a fantastic build, just jam packed with some really clever details.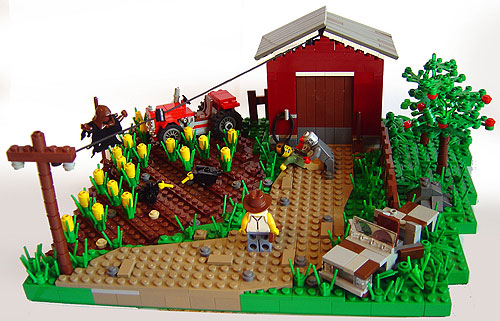 So What's Going On?
The scene shows some hapless everyman (presumably some sort of big-shot city-folk, judging by his flashy hat) getting mauled by a zombie in the shadow of an extremely cleverly built cornfield. Just as he's about to become lunch for the walking dead, the farmer and his trusty twelve guage show up on scene.
By the look of things, our intrepid zombie hunter manages to survive the encounter, hopefully wiser from the experience.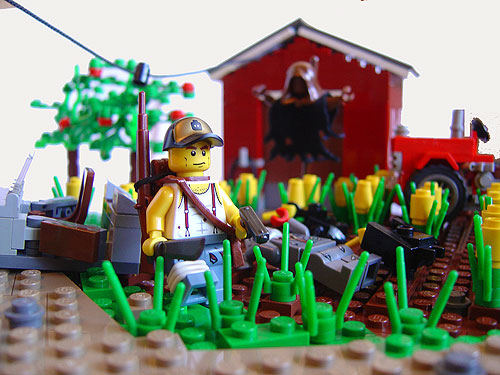 Of course there's more to this build than just the zombie fight. There's a lot of great little items on the periphery of the action, like these crows who are completely ignoring the rather creepy-looking scarecrow:
Let's Talk About the Zombies
The zombies, or zombie, in this case, appears to be your garden variety (see what I did there?) walking dead. There's only one of him, for now anyway, which is rather fortunate for the self-described zombie hunter in over his head.
Have you seen a great zombie creation out on the web? Are you working on the next great zombie MOC as we speak? Well you had better let us know right away, otherwise we'll never be able to include it here.