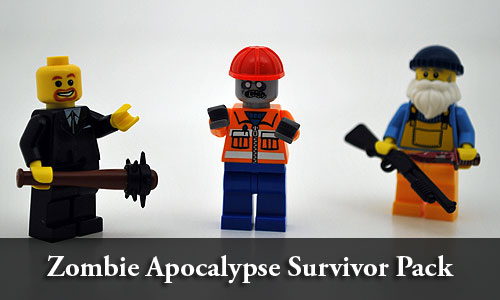 That's right, ladies and gentleman, I got my hands on GI Brick's Zombie Apocalypse Survivor Pack, so I thought I'd do a complete review. Coincidentally, this is just one of the fantastic prizes available in the 16×16 Challenge. Let's get those entries in!
Ahem, back to the review.
The Whole Zombie Apocalypse Enchilada:
GI Brick gives us a nice, and varied selection of items in their Zombie Apocalypse Survivor Pack. There's a handful of military grade weapons, like a pair of PDWs (Personal Defense Weapon), a Precision Sniper Rifle, a Combat SMG, an Assault Carbine, a Heavy Assault Carbine, and an Advanced Recon Carbine.
Good stuff all, but my inner zombie lover just can't get enough of improvised weaponry, and this pack doen't disappoint there either. You get a Machete, a pair of Bloody Combat Knives, a Pump Action (SABR) Shotgun, and the always awesome Spiked Baseball Bat. As an dded bonus there are also four ammo clips and a really nice custom zombie head.
Not bad for $25.00, eh?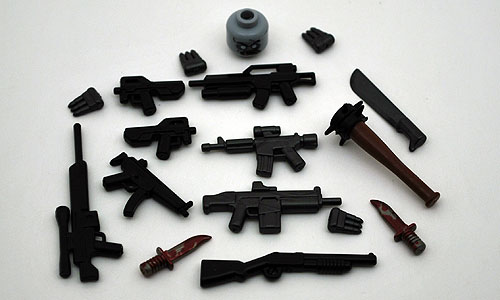 Custom Zombie Head:
Let's take a closer look at that custom zombie head, shall we? It's a beauty. Instantly recognizable as a zombie, with a nice amount of detail without going overboard. And the best part? It's compatable with headgear like hair and helmets. Here I have it modeled on a construction worker, both with and without a hardhat: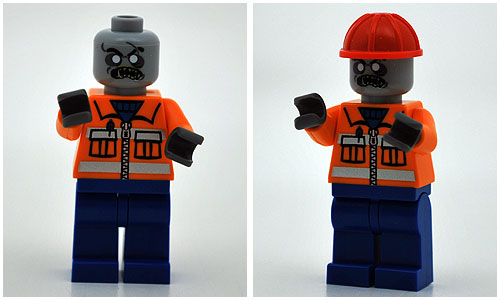 Exclusive Weapons:
Probably the coolest part of this weapons pack is that it comes with not one, not two, but three different exclusive weapons.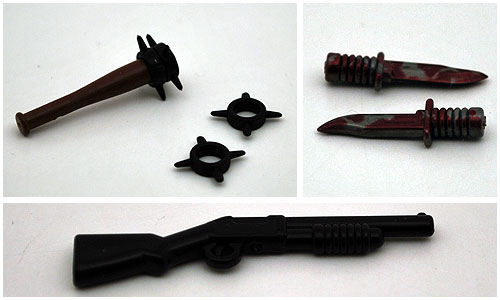 The first is a pair of bloody combat knives in silver. These things are really fantastic (my photography isn't doing them justice). They look like they've been to hell and back, but they're still ready for more. The really cool thing about this item is that they're great for a number of different uses: war, post-apocalyptic, or even as a piece of incriminating evidence in your CSI: LEGO® playset.
Next up is the SABR shotgun. I love this thing because it looks like something I could run out and buy at Gander Mountain right now. It's got a full stock and some excellent detail work on the pump and ejection slot. I've been wanting a more civilian-looking shotgun for ages, and this thing fits the bill nicely.
Lastly is the strangest item in the mix, the Spiked Bat. This is actually three pieces: the regular BrickArms baseball bat (a nice item by itself), and two flexible plastic rings. The rings fit nicely onto the bat, and sit snugly but not so tightly that they're difficult to remove. The spikes themselves are nicely sized, and really amp up the carnage your minifigs can inflect with their Louisville slugger.
New to Me Weapons:
So the Heavy Assault Carbine (HAC) and the Advanced Recon Carbine (ARC) have both been out for a bit now, but since I hadn't seen them yet I figured I might as well call them out too.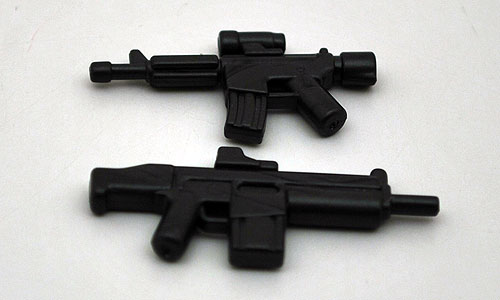 First let me say that I was not even remotely interested in the HAC when I saw the photos on the website. It looked okay enough, but not something I thought I'd want to use. And then I got one in the mail, and I've completely come around in this item. The HAC is fantastic. I love the chunkiness of the weapon. It's got a modern look that will be well served in both contemporary and sci-fi contexts.
The ARC is a nice companion to the M4. It's more detailed (I love the texture on the magazine), and has a much more "tacticool" look. It will work perfectly for military and SWAT teams. Or for, you know, that crazed survivalist minifig you've been tinkering with.
Final Impressions:
If you're looking for a diversified pack of weapons for your minifigs, the Zombie Apocalypse Survivor Pack is a fantastic choice. You get an excellent selection of BrickArms, with a handful or really cool exclusives to boot. And let's not forget that great custom zombie head.
I personally would have liked more civilian-focused weapons (surplussed M1 Garands and Carbines, pistols and revolvers, etc.) but I realize I'm in the minority here (and that's not really BrickArm's Raison d'être).
Pick this up while you have the chance.