It's time again for a Bricks of the Dead contest, and this time we're going to add a few wrinkles to the mix. First of all, we need you to show us what you can do with a relative small scale creation (no bigger than 16×16, hence the name of the contest). I've featured a few of them recently as examples. Also, the theme of these creations is destruction, which means you need to build that into the model. It can be anything from broken windows to crumbling ceilings and walls, rusting pipes, etc.
Contest Rules:
Creations can be no larger than 16×16 studs, but they can be as tall as you want
Creations must features some sort of destruction (broken windows, crumbling walls, etc)
Third party parts (BrickArms, BrickForge, etc.) are allowed
Physical modification, including stickering, is allowed
Digital entries (LDD and the like) are allowed
One entry per person
Entrants must be at least 13 years of age (that's just an internet rule, guys)
Entries must be newly built for this contest and cannot have appeared online prior to December 5th, 2011
Entries must be posted in the Flickr Group for this contest, which means you need a Flickr account if you don't already have one (they're free)
Contest Prizes:
We've got some great prizes this time around, starting with a custom SWAT minifig and a sizeable armory to make sure he's got plenty of firepower to take on the zombie hordes.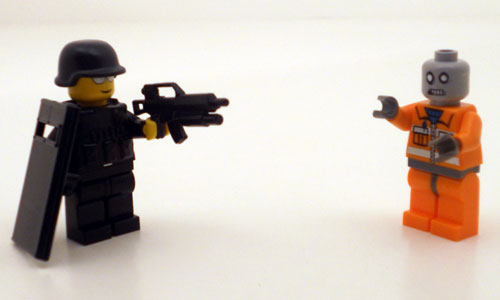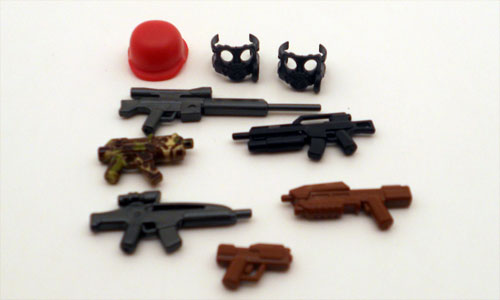 And what good is a human if he doesn't have anyone to fight? So here's another zombie (from the new Pirates of the Carribean sets) to make sure he doesn't have too easy of a time in the post apocalyptic world.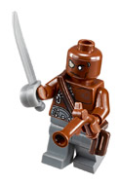 Prizes donated by Zombie Mutts and Yatkuu. Thanks fellas!
Update: GI Brick is Donating More Prizes!
The fine folks over at GI Brick have decided to sweeten the pot buy throwing in their Zombie Apocalypse Survivor Pack. And it's awesome.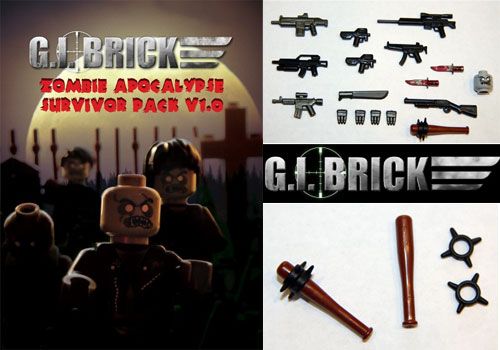 Contest Judges:
Dave – The creator of Bricks of the Dead and your personal hero
ZombieMutts – Regular writer of Bricks of the Dead, MOCer, and all around good guy
Yatkuu – MOCer extraordinaire and winner of the last contest at Bricks of the Dead
Contest Deadline:
Because of the holidays I want to give everyone plenty of time to work on this, so the deadline for this contest is Midnight of January 31st, 2012.
Winners will be announced as quickly as the judges can come to a consensus.