There's a lot of zombie stuff out there, and most of it is crap. People like to jump on bandwagons and produce quick tie-ins rather than investing love and effort into their creations. Luckily for you, I'm here to help separate the wheat from the chaff. Check back every Friday, when I'm going to share the coolest zombie-related creation I can find out there on the web.
This week's creation, "Zombie Hunter" by epicster, is all about perspective and mood. With our hero in the foreground, and his pursuers in the blurred background, epicster creates a wonderful sense of natural tension.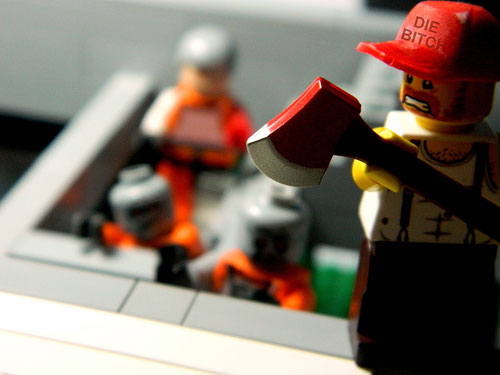 I really like the not-quite-eye-level perspective on the shot. Shooting from just slightly above the figure not only lets us see more of the zombies, but heightens the mood of the piece by giving the central character a sense of doom. We're looking down on him, armed only with an ax, while three zombies close in.
The figure itself is a nice combination of pieces. I can't say I like the "Die Bitch" Photoshopped onto the hat, but the rest of the figure has a feel or protracted desperation. Between his dirty undershirt and half-grown beard, this guy's been on the run from zeds for a long time.
Have you seen a great zombie-related creation out on the web? Are you working on the next great zombie MOC as we speak? Well you had better let us know right away, otherwise we'll never be able to include it here.