This week's review covers BrickWarriors' modern items. While there are only four this time around, remember that a lot of the previously covered items would fit in just fine in modern MOCs.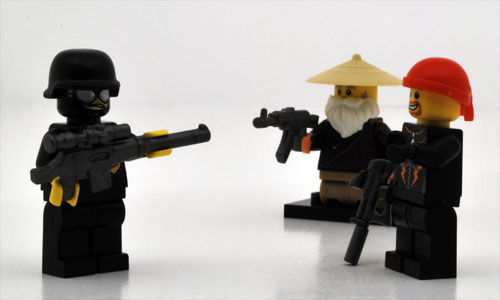 For clothing, we get just one item: the do rag. I quite like this item, as I've always thought that the official piece just looks a little too "pirate" for modern times. Maybe because it looks bunchy, like there's a ton of fabric, but I've always thought it was a bit off. BrickWarriors' mold is pretty simple, and how could it not be? As a guy who frequently sports a babushka, I'm a fan of this piece.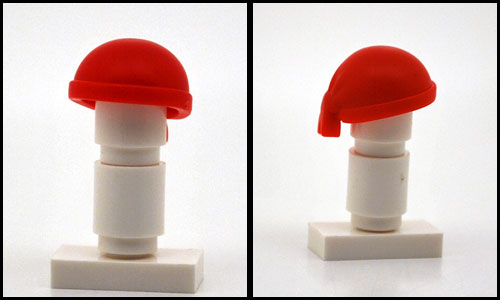 The AK-47 and it's variants are perhaps the most recognizable rifles in use today. They have developed a reputation for rugged dependability, and have been put to the test in some of the worst environments on the planet. Suffice it to say, the AK is a must have for modern MOCers. The BrickWarriors' version is quite nice. It features a little more detail (especially around the ejection port) than the BrickArms' version, and a slightly different layout, with the stock being the most obvious variation.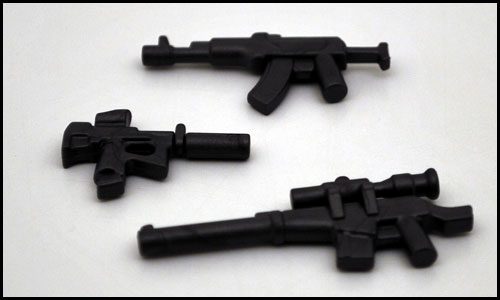 While I am by no means an expert in weapons, I'm generally pretty familiar with the more common guns out there. The Special Forces SMG is a bit of a mystery to me, but I'll tell you this: it's damn cool looking. I'm sure I could parse out what weapon this item was based on with a little Google-fu, but I'm not terribly comfortable searching for compact firearms from my office. This weapon is a super compact little gun that packs in the details, including some really cool looking sights, a suppressor, and a nicely designed magazine.
I'm a big fan of Russian weapons, so BrickWarriors' Suppressed Sniper Rifle, based on the Vintorez, really appeals to me. It's a shame the minifigs can't work with a full stock, because I would love to see how BrickWarriors' would pull that off. Even with the stubby, minifig compatible stock, the rifle is a sweet weapon. I'm particularly fond of the details in the scope, and the distinctive fat barrel, which is not quite grip-able. The groove on the magazine is also a nice touch.
Check back next week for our final review, which will cover BrickWarriors' sci-fi items. And don't forget to check out BrickWarriors' website and BrickLink Store.