There's a lot of zombie stuff out there, and most of it is crap. People like to jump on bandwagons and produce quick tie-ins rather than investing love and effort into their creations. Luckily for you, I'm here to help separate the wheat from the chaff. Check back every Friday, when I'm going to share the coolest zombie-related creation I can find out there on the web.
This week's creation, "Zombie Territories" by Patrick Begin on MOCpages, is impressive in its scale. It features a small horde of zombie clashing with riot police in a small downtown, with several completely built storefronts and apartments flanking either side.
Pretty cool, isn't it? Here's a closeup of the zombies and the rats that follow in their wake.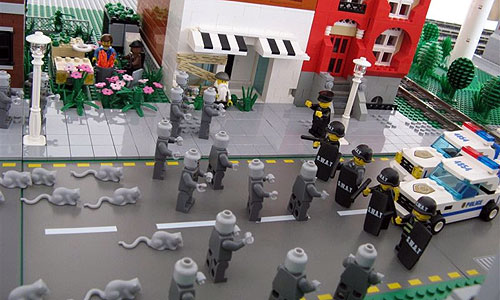 And here's some zombies that stepped away from the horde to queue up at a lunch truck. Also note the graffiti on the building to the right.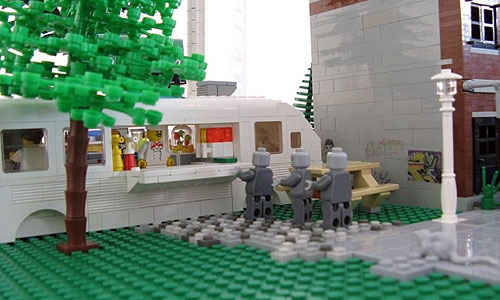 The attention to detail and scope of this creation are both fantastic. All the buildings are well crafted and would fit into any city I could think of. The streetscape is well defined and there's a nice little touch of humor.
My only criticism with this creation is that I don't get much of a sense of motion out of the zombies and police. It looks very static. I assume that's because this was a display item, and needed to be pretty resilient. Creating a sense of action in LEGO® generally means the creation is very fragile.
Have you seen a great zombie-related creation out on the web? Are you working on the next great zombie MOC as we speak? Well you had better let us know right away, otherwise we'll never be able to include it here.