There's a lot of zombie stuff out there, and most of it is crap. People like to jump on bandwagons and produce quick tie-ins rather than investing love and effort into their creations. Luckily for you, I'm here to help separate the wheat from the chaff. Check back every Friday, when I'm going to share the coolest zombie-related creation I can find out there on the web.
This week's entry, "The Coast is Clear" by Retrograde, combines a fantastic vertical build, interesting zombies, and dark humor to great effect.
Let's start with the zombies. Retrograde uses a unique face for each zombie, and gives each one its own personality. My personal favorite is the hazmat zombie with the cracked faceplate (nicely done, by the way), with a close runner up being the afro zombie. Suffice it to say, this is a fun horde.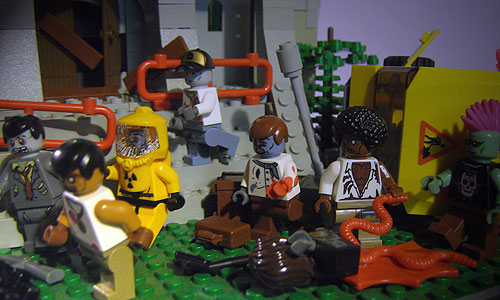 The humor comes from perception, specifically, the perception of the scout who gives an all clear to his fellow survivors after a quick peak on the surface. Had he just turned around, or possible stopped to listen, things could have turned out differently.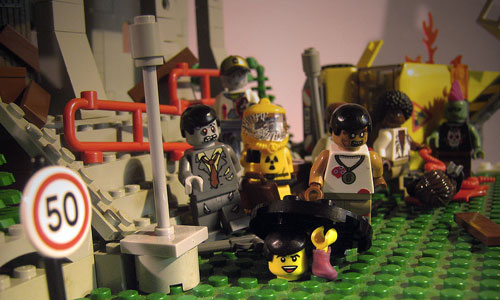 Finally, this is one of the few contest entries with a vertical element. We get a nicely constructed (and appropriately destroyed) street scene on top, with the relative safety of the sewers below. A clever manhole connects the two.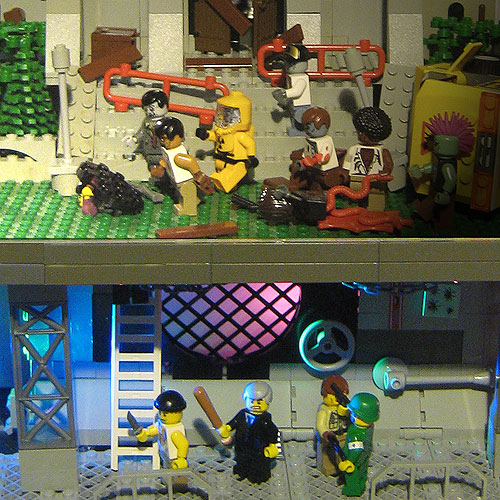 Have you seen a great zombie-related creation out on the web? Are you working on the next great zombie MOC as we speak? Well you had better let us know right away, otherwise we'll never be able to include it here.