There's a lot of zombie stuff out there, and most of it is crap. People like to jump on bandwagons and produce quick tie-ins rather than investing love and effort into their creations. Luckily for you, I'm here to help separate the wheat from the chaff. Check back every Friday, when I'm going to share the coolest zombie-related creation I can find out there on the web.
This week's entry, "Believe" by Scottiand, was one of my favorite entries in the Freeform Challenge. It's a relatively simple, confined build that manages to conjure up feelings of dread and panic. At the center are three people (with fantastically custom painted and/or decaled torsos) in a desperate last stand against a horde of zombies who are slowly closing in. In this one, quick snapshot we get an entire story. Things don't look good for our protagonists, but – as the title clearly reminds us – we must believe.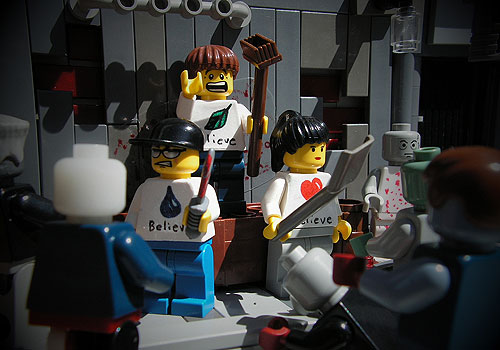 While the figures are the clear standout in this creation, I really like the tone that the lighting and background create. Everything is dark and run down, which runs in sharp contrast to the central character's bright and positive shirts. I can't quite capture why, but I really loved that juxtaposition.
Have you seen a great zombie-related creation out on the web? Are you working on the next great zombie MOC as we speak? Well you had better let us know right away, otherwise we'll never be able to include it here.