Custom, LEGO®-compatible accessories are becoming big business these days. BrickArms and BrickForge are both producing dozens of high quality accessories to equip your minifig armies with weapons, armor, and other items that LEGO® doesn't typically produce (although its broadening its horizons as well). While these two giants dominate the industry, there is still plenty of room for others to come in a fill in some niches, which is exactly what BrickWarriors is doing. Where BrickArms primarily trades in modern military wares, and BrickForge focuses on fantasy, BrickWarriors appears to be going after the western and sci-fi genres, although they have some pretty fantastic items in other areas as well.
To kick off the launch of their new store, I'm going to review their current product line in a series of five reviews, each centering on a different genre (Ancient, Western, Mafia, Modern, and Sci-Fi, respectively). The first review will focus on their ancient/fantasy items: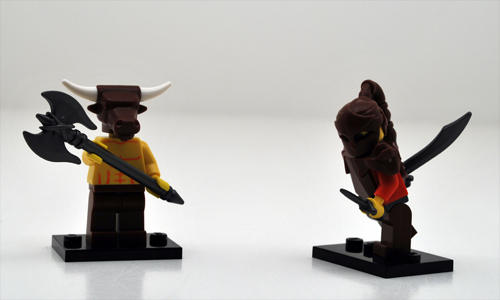 Let's start with the most unusual item in the group: the minotaur head. Unlike LEGO®'s rumored collectible minifig, this item is only a headpiece, which allows for full range of motion. The mold is well done, and instantly recognizable. The horns and eyes are even done in different colors, which really helps sell the piece. I can see this item getting a lot of use in fantasy-themed creations. Creative builders might even find a way to use it as decor, perhaps as a stuffed bull's head on the wall of a hunter's den. One thing to note about this item is that the neck hole is quite tight, at least on the sample I received. It took a little wiggling to get a good fit on the figure's shoulders.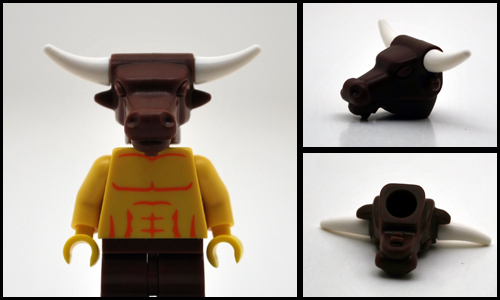 For armor we have an assassin's mark and chest armor. The mask is a really interesting design, with a grotesque face on the front, and a topknot in the back. It definitely give characters a dangerous, exotic look (it conjures up images of Middle Eastern or Asian hired guns). The armor, which could be paired with the mask or worn separately, has a spiky, evil-looking design that I very much enjoyed.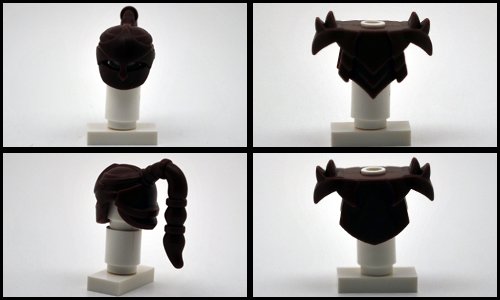 On the weapons front we've got the giant minotaur ax, a deadly looking scimitar, and a versatile dagger. The minotaur ax is absolutely huge, easily allowing dual-handed use. It's got a lot of nice detail work on it, which would make it equally great for display in a medieval castle or in a minifig's capable hands. The scimitar has a fantastic Middle Eastern vibe to it. The curve is graceful and the cross-guard and pommel look fantastic. The dagger is easily my favorite weapon in this group, simply because of its wide range of uses. While it's called an assassin's dagger, it wouldn't look out of place in any creation, from fantasy to modern to sci-fi.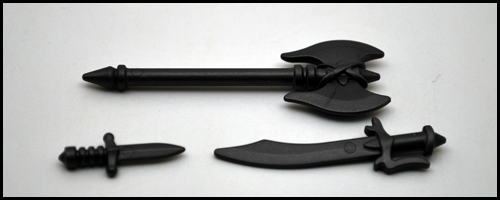 On a more general note, the quality and durability of parts seems to be on par with BrickArms and BrickForge. The molds are well made and  have the usual manufacturing artifacts (I featured these on the dagger and scimitar above). Most of the parts have a good amount of detail without getting too crazy, although the sci-fi weapons are appropriately complex-looking. They also fit well in the minifigs hands without stretching.
Check back next week where I'll review BrickWarriors' Wild West items (my favorite of the bunch). In the meantime, check out their BrickLink store and website (still a work in progress).