There's a lot of zombie stuff out there, and most of it is crap. People like to jump on bandwagons and produce quick tie-ins rather than investing love and effort into their creations. Luckily for you, I'm here to help separate the wheat from the chaff. Check back every Friday, when I'm going to share the coolest zombie-related creation I can find out there on the web.
This week's entry, which I'm calling "Holding on for Dear Life" since there's no official title, comes to us from Colonel Bracket (aka [:]). It features one poor schmuck dangling over the edge of a precipice with two zombies hot on his heals.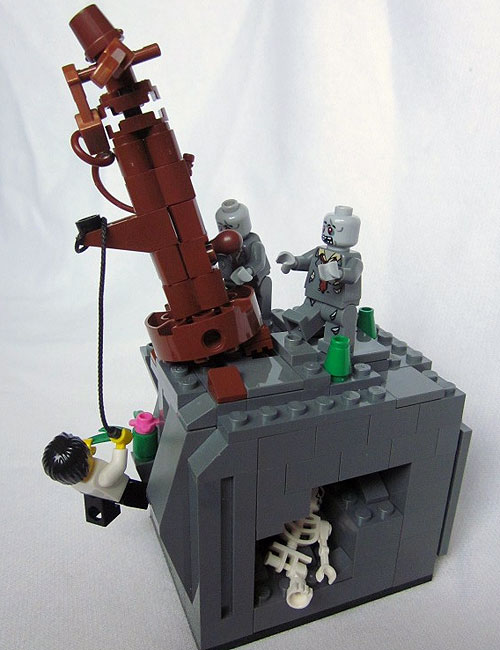 One of the things I really dig about this build are the subtle little features the Colonel added, such as his [:] name on the front and the small cave with the skeleton to one side (seriously, click through and look at all the photos). I also like that it's a vertical build, which is something you don't see terribly often. It also gives the opportunity to use awesome shots like this one: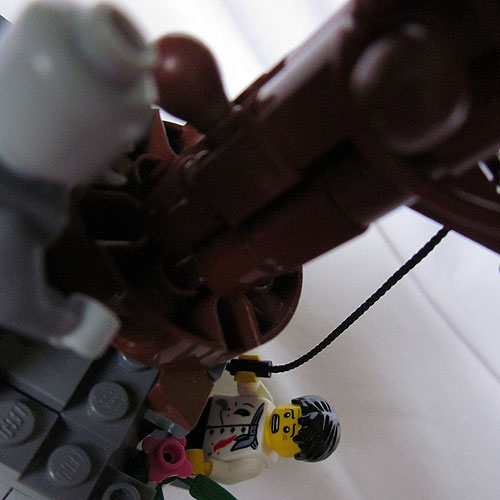 Have you seen a great zombie-related creation out on the web? Are you working on the next great zombie MOC as we speak? Well you had better let us know right away, otherwise we'll never be able to include it here.