There's a lot of zombie stuff out there, and most of it is crap. People like to jump on bandwagons and produce quick tie-ins rather than investing love and effort into their creations. Luckily for you, I'm here to help separate the wheat from the chaff. Check back every Friday, when I'm going to share the coolest zombie-related creation I can find out there on the web.
This week's creation, "Radiation Leak" by BrutesBrick, features a couple workers in Hazmat suits dealing with a toxic spill and the resultant zombies. One thing that I really like about this creation is the way the workers are focusing entirely on the spill while several zombies creep up on them in the background. It tells and interesting story without getting overly violent.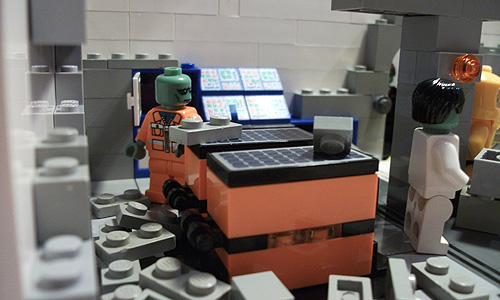 There are a lot more photos on Flickr, so be sure to check them out (along with the rest of BrutesBrick's stuff).
This build has some good things to point out for those of you who are interested in having your work featured here. First of all, take numerous photos. One picture of a creation is never enough. Explore different angles, both wide and close. Second, make sure your photography is as good as you can make it. Bad photography can make a great creation look mearly good. Third, tell a story. You can imply a lot with simple minifig placement as "Radiation Leak" proves.
Have you seen a great zombie-related creation out on the web? Are you working on the next great zombie MOC as we speak? Well you had better let us know right away, otherwise we'll never be able to include it here.
And don't forget: ZombieMutts and I are hosting a contest. You're basically building a zombie creation of some sort to try to win a custom zombie and a hazmat figure. Check out the full rules here.