There's a lot of zombie stuff out there, and most of it is crap. People like to jump on bandwagons and produce quick tie-ins rather than investing love and effort into their creations. Luckily for you, I'm here to help separate the wheat from the chaff. Check back every Friday, when I'm going to share the coolest zombie-related creation I can find out there on the web.
This week's creation, "Emergence" by Rick_3691, isn't exactly about zombies, but it's pretty easy to imagine zombies exisiting in the post-apocalyptic world of this build.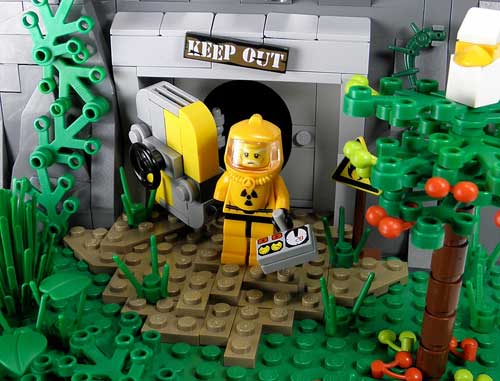 There's a lot to like with this creation from the fantastic use of the collectible minifig to the simple Geiger counter. I think my favorite aspect of the build it the rich foliage on the outside of the vault. You get a real sense that a lot of time has passed since our intrepid survivor interred himself inside; his haggard face just adds to that. I'm also a big fan of the rounded vault door, which is a nice touch.
To be honest, there's not a lot for me to be critical of here. The brick-built bird in the cherry tree is a bit large, but I kind of like that too.
Have you seen a great zombie-related creation out on the web? Are you working on the next great zombie MOC as we speak? Well you had better let us know right away, otherwise we'll never be able to include it here.
And don't forget: ZombieMutts and I are hosting a contest. You're basically building a zombie creation of some sort to try to win a custom zombie and a hazmat figure. Check out the full rules here.