Variety, as they say, is the spice of life. No place is this truer than when it comes to zombie heads for your LEGO® minifigures. People who build zombie creations have always faced a pretty important shortcoming: the lack of good heads for your horde of the walking dead. In recent years we've gotten a few decent faces, from the Harry Potter troll (which I use extensively) to the unmasked Darth Vader. LEGO® even got into the act recently with it's collectible zombie. Unfortunately, it was in frustratingly low supply.
Thankfully there is a burgeoning market of third-party LEGO®-compatible toys out there, and it's growing by leaps and bounds. Recently, Citizen Brick unleashed it's newest creation: the unofficial zombie head. Bricks of the Dead was able to get its grubby hands on one to review and compare it to your other options. Behold: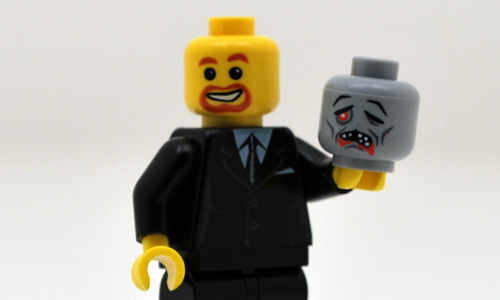 It looks pretty good, doesn't it? It's a light bley head much like the official collectible zombie. In fact, it compliments the collectible zombie nicely.
Since this is a third party piece there are obviously questions about quality and durability. Fear not. This isn't a decal or cheap paint, the zombie face appears to be applied with the same stuff as official pieces (to me anyway; I'm certainly no expert of printing on plastic). I scratched at mine a bit with my thumbnail, and didn't make any sort of impression on the face. I imagine it'll chip and rub with rough play, but it should stand up to as much punishment as your official pieces. Of course, we all treat our official pieces with care, right?
I should also point out that the head is laid out in such a way that it still looks fantastic with a hat, helmet, or hair piece, unlike the zombie head that came with the recent BrickArms Zombie Defense Pack. Don't get me wrong, I'm not slagging them (I like throwing them in the comic, after all). They're unique, hand-painted pieces after all, and looks like they were designed to be bald.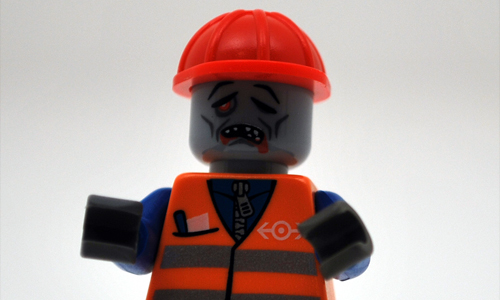 At any rate, Citizen Brick's custom zombie head is well made part that looks good regardless of where you use it. It also fits in quite well with all the other zombie heads in rotation:

Like all zombie heads, if you overuse this you're going to run into the issue of all your zombies looking the same. Since no one wants an army of zombie clones, make sure you mix them up a bit.
I'm not sure when this will be available on Citizen Brick's website, but when it is I'll announce it here and on Facebook and Twitter. I believe they'll retail for $3.50 like the other heads on the site. If you're a custom zombie builder, or just think it be cool to have a couple zeds on your desk, then be sure to swing by and order up a couple.
While you're there, check out the rest of Citizen Brick's products. They have some really nice looking printed tiles that appear quite useful (I haven't purchased any yet, but they're awfully tempting). They also do custom printing if you're looking to advertise a a group/website/whatever.