There's a lot of zombie stuff out there, and most of it is crap. People like to jump on bandwagons and produce quick tie-ins rather than investing love and effort into their creations. Luckily for you, I'm here to help separate the wheat from the chaff. Check back every Friday, when I'm going to share the coolest zombie-related creation I can find out there on the web.
This week's creation, "Fortified Safe House" by cralegoboy, features a hastily secured residence as an area of last stand against the horde of walking dead. This was sent in via email, but the address was corrupted so I couldn't respond with a thank you, so thank you!
Like most of the builds I feature, there are a lot of nice details here, from the way all the doors and windows are boarded up down to the places where the lawn is overgrown from lack of maintenance.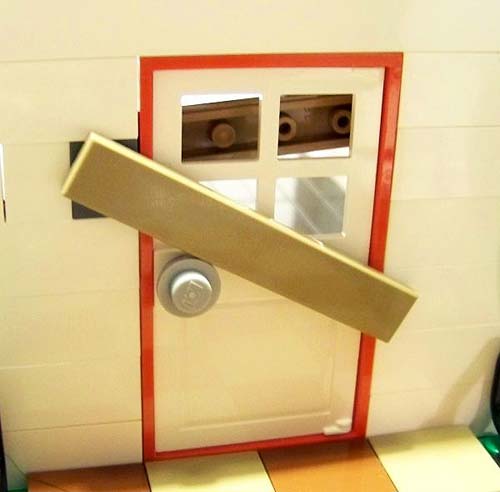 Another nice feature is that the house includes interior rooms, like this dining area being used to plan out the zombie survival strategy.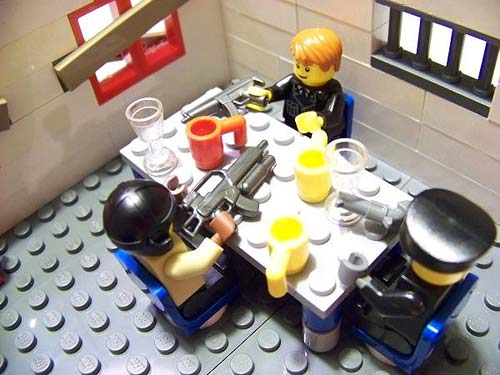 My only criticisms of this creation is that the photography is a bit hit and miss, and that the remains of the police department who have barricaded themselves in a civilian home appear to be ludicrously well armed. However, since this is clearly supposed to be over-the-top, well done, sir.
Have you seen a great zombie-related creation out on the web? Are you working on the next great zombie MOC as we speak? Well you had better let us know right away, otherwise we'll never be able to include it here.
In other news, ZombieMutts and I are hosting a contest. You're basically building a zombie creation of some sort to try to win a zombie and a hazmat figure. Check out the full rules here.