There's a lot of zombie stuff out there, and most of it is crap. People like to jump on bandwagons and produce quick tie-ins rather than investing love and effort into their creations. Luckily for you, I'm here to help separate the wheat from the chaff. Check back every Friday, when I'm going to share the coolest zombie-related creation I can find out there on the web.
This week's creation, "Metro Station" by One Big Smile, features a zombie attack in a creepy, underlit subway station. Lot's of fantastic detailwork here, including the light on the crashed subway car, the cool artwork on the walls, the bulletholes, and even a damaged clock dangling from an electrical wire. You really get a sense of action in this shot. I don't know if it's just my imagination filling in the blanks, but the (admittedly well armed) survivors appear to be in rough shape as I would guess that the onslaught of zombies is only just beginning.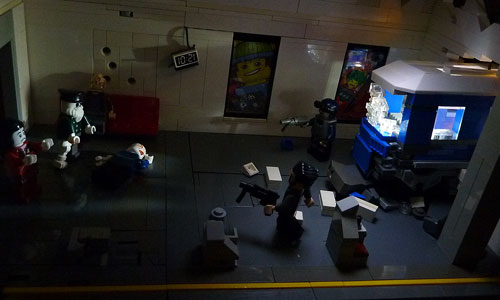 Since the main image is quite moodily lit, here are a couple nice detail shots in full light: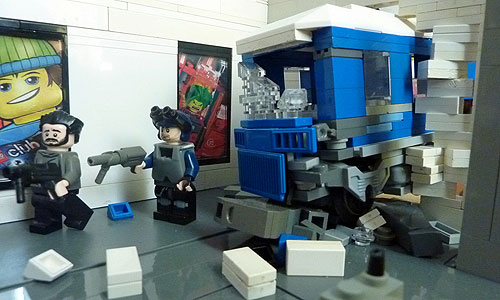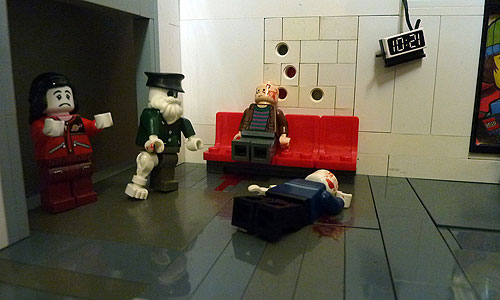 I don't have a lot in the way of criticism on this one. The skeleton leg thing on the bearded zombie, which seems really popular these days, just doesn't quite work for me. I don't know, maybe I'm just getting bored of it. There's also some color differences on the wall, but given this is a dingy subway station, I'd say that's probably pretty realistic.
Have you seen a great zombie-related creation out on the web? Are you working on the next great zombie MOC as we speak? Well you had better let us know right away, otherwise we'll never be able to include it here.