There's a lot of zombie stuff out there, and most of it is crap. People like to jump on bandwagons and produce quick tie-ins rather than investing love and effort into their creations. Luckily for you, I'm here to help separate the wheat from the chaff. Check back every Friday, when I'm going to share the coolest zombie-related creation I can find out there on the web.
This week's creation, "Anti-Zombie Tank on Wheels" by PhilMa', covers something I usually don't get into: zombie defense vehicles. It's not that I don't like the Mad Max-styled vehicles, it's just that's I generally get more excited about seeing individual survivors trying to get by on foot. But sometimes I see an anti-zombie vehicle I just have to show off: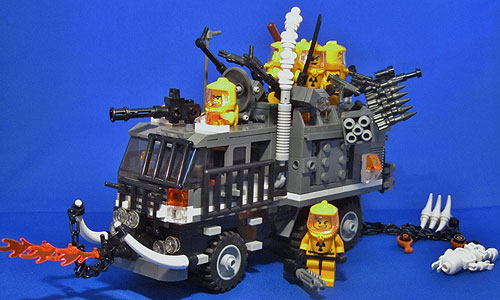 Pretty cool, right? Here are a couple more shots: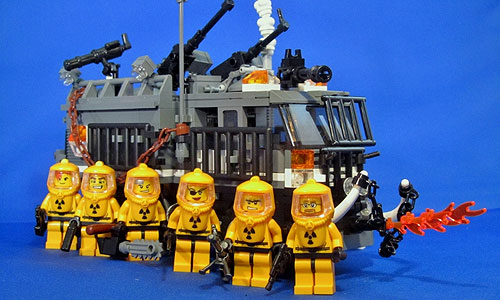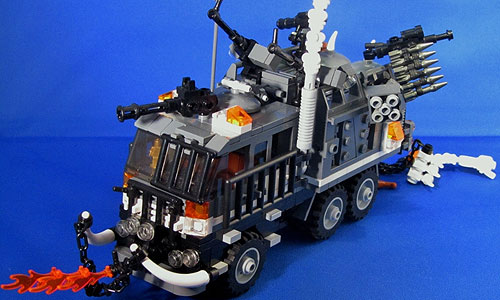 As always, there's a lot to like about this creation. I really like that you can still parse out what the original, pre-modification vehicle looked like. The guns and armor added by the survivors are done in a fairly realistic manner. I also really like that they're trailing bait, and that they have a man on the ground with a chainsaw cleaning up any zombies who manage to survive the rest of the carnage. Is it over the top? Absolutely. But it's still fun.
On the downside, the weapons are just a little too advanced for a rag tag group of survivors (my favorite kind). They could be military, but the vehicle's build doesn't really suggest that. There's a bit of dissonance between those two elements, but still, it's great because it's fun. Don't think about it too much.
Have you seen a great zombie-related creation out on the web? Are you working on the next great zombie MOC as we speak? Well you had better let us know right away, otherwise we'll never be able to include it here.