The Last Man(s) on Earth is a series of survival videos on YouTube. If you haven't seen it yet, do yourself a favor and check it out now. The videos are hilarious, well acted, and extremely well put together. They also have a website, a Twitter account, and a Facebook fan page. I recently had a chance to sit down with Kaduche and Wynn, the stars of Last Man(s) on Earth to talk about survival, propane, their upcoming movie, aliens, and – of course – zombies.
Oh, and if you don't feel like reading all 5600+ words, you can listen instead. Just bear in mind that the audio is a bit rough.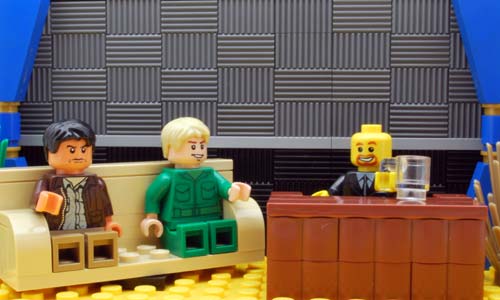 Dave: Why don't you guys tell us a little bit about the show, where the idea came from, and what it's based on.
Wynn: Well, um–
Kaduche: Wynn, no. Kaduche is going to talk. Let me talk. The idea came because we want to save the world, but not just the world… a special someone. Don't reveal that to the world just yet. But we want to save the world. 2012 is coming Dave, you know that. We're in 2011 as you already know. Therefore we've created a YouTube based survival series to help people learn to survive. To help people know that they can save their loved ones, and friends, and family, and whatever the heck they care to save.
Wynn: You've got to remember that not everyone has the time to watch every disaster movie as much as we have.  So us being able to share our survival tips that we've learned from these movies and from other important sources, such as survival magazines, survival subscription books… all sorts of survival options.
Kaduche: Don't forget the Webelo's Scouting Book.
Wynn: Yes, the scout handbook is one of our greatest sources. So us being able to share these ideas with the world. We hope that if we even help to save one more life then we'll at least have another friend on December 22nd, 2012.
Kaduche: We've already been gathering pennies because copper can be used to create a new bronze age when the post apocalyptic world comes.
Dave: Other than watching the movies, reading the books and magazine, what makes you guys an authority on surviving in the post apocalyptic world?
Kaduche: We can go epic, Dave. We can go epic. Need I say more?
Wynn: Going epic, some try to tell us it's a delusion of the mind, but really it gives us extraordinary power to be able to help others and fight evil doers, and evil forces such as zombies, werewolves… just evil in general. So the power to go epic, and us helping people to see that epicness is a real mode that people can go into.
Kaduche: When one discovers epicnicity for themselves, it's something that… well there's no words to describe it. You have to go there yourself to find out what we're talking about.
Wynn: Have you tried to go epic yet?
Dave: I have not tried to go epic yet.
Wynn: Well we're here to help.
Dave: What are my first steps toward going epic? Like epic with training wheels.
Kaduce: Acceptance is the first step, Dave. Acceptance that epic mode actually exists. Do you accept it for yourself right now?
Dave – Absolutely.
Wynn: First you've got to believe, like 'Duche was saying. Then the next thing is… well to be able to go epic is kind of a mental thing. But then also, you've got to have some epic clothes. Typically, my epic clothes are camouflage.
Kaduche: My voice gets deeper, and I can jump really high.
Wynn: And then what you've got to do is close your eyes really tight and you just let the belief, you know you [singing] you let your love flow!
Kaduche: Wynn, don't sing. Don't sing.
Wynn: And then you go epic. That's just kind of how it works.
Kaduche: If you don't reach the pinnacle of your epic mode yet, don't worry. You first need to find someone who has been epic before – an epic master, if you will – hold his hand, and go with him. Sometimes it takes a bit of effort, but don't worry, you'll get there.
Wynn: You have to build to it.
Kaduche: It also helps to have, like, really epic music in the background for the first time. After a while, the music will start playing in your head, and it's amazing.
Dave: You guys mention that you want to save the world, and save as many people as possible. Do you ever worry that The Last Man(s) on Earth is going to be so successful that, after the end of the world, there's going to be too many people out competing for comparatively fewer resources?
[Long pause]
Kaduche: Um… I have not even thought about that before.
Wynn: Well, that could definitely create an issue.
Kaduche: We haven't gotten to the second generation of The Last Man(s) videos, which is how to kill off your neighbor in case you have to… But listen, let's not go there.Why do you have to be such a pessimist, huh? We want people to survive. We will figure out ways to create more land for the people.
Wynn: I see your point though. Wouldn't it create, like, this big power struggle? You know, if there's too many people, like what if Mitt Romney survives? Is he going to want to, you know, rule the world?
Kaduche: We've got the oracle, Wynn, We've got the oracle. The oracle will tell us what to do.
Dave: When it comes to surviving in the post apocalyptic world, do you guys follow any sort of physical or psychological training regimen?
Wynn: Yeah, I mean, we watch what we eat.
Kaduche: He watches it as he eats it down. That's what he means.
Wynn: Yeah. I've actually been working on my own kind of training program. I haven't gotten 'Duche's permission yet, so that's why it's not online or anything. But it's called "Wynn's Weight Workout".
Kaduche: It's a ridiculous idea.
Wynn: Once you hit the age of twenty-sixish, your body changes. You start putting on extra pounds. I've gotten kind of a gut and whatnot. So there's simple things, from climbing trees and finding tree rocks. If you place tree rocks in the right places, you can climb that tree and do all sorts of workouts with the rock while you're up there. There's all sorts of different workouts in the training regimen that I'm trying to put together for people. I really believe that, the more fit you are, the more likely you are to survive, like, a tsunami.
Kaduche: Zombieland, if you've seen Zombieland they talk about running away from zombies. I take that regimen very seriously. I'm actually developing my own weight program called "Drop a Duece with 'Duche". You will be allowed to drop incredible amounts of weight with the 'Duche method.
Wynn: You didn't tell me you were working on a weight–
Kaduche: Just trust me Wynn, just trust me.
Dave: There are a lot of different end-of-the-world scenarios out there; which one is the most likely? And how are you guys going to prepare for that?
Kaduche: Zombies. Zombies for sure.
Wynn: And, well, aliens–
Kaduche: Don't mention! No! No, no! Dave, can you please erase that part of the interview? There's no such thing as aliens.
Wynn: It's very likely that aliens are planning to attack us.
Kaduche: Shut it, now. Dave doesn't have time for this. He's already busy preparing himself to go epic, and you want to talk about aliens in this interview? No, no, no. Zombies, let's just stick with zombies.
Wynn: The thing is, with zombies the thing that most people don't understand is that it's more of a viral thing. It could be spread from just one dead person. I mean, there's at least, like, fifty to a hundred people who die a day. Take those people, and know they they might have the zombie gene in them; that could spread pretty quickly with a hundred people a day, you know?
Dave: So just, exponential growth?
Wynn: Totally.
Kaduche: And I'm a big believer of exponents.
Dave: Speaking of zombies, what are you guys' favorite zombie flicks?
Kaduche: Well, 28 Days Later is a pretty good one.
Wynn: The zombies in 28 Days Later really freaked me out though, so I don't like watching that one as much. I do really like Zombieland a lot. I've kind of taken to carrying a baseball bat with me pretty much everywhere I go just because of that movie.
Kaduche: Wynn was terrible at baseball, just for the record.
Wynn: But I could still, like, hit stuff with a bat.
Kaduche: He could hit stuff!
Kaduche: Are you familiar with The Last Man(s) on Earth movie?
Dave: I am; how's that coming?
Kaduche: Oh my word, "how's it coming?' It's coming all right, Dave. It's coming so fast and so furious, and so hard.
Wynn: The thing about the movie is that it's not just a survival tip. We have some survival tips in it, but it's a real life experience of what happened to us. We happened to have our camera with us the whole time, so we were able to film the whole thing. We're working on the editing process and it's coming along well. And speaking of zombie movies, I have to say that The Last Man(s) on Earth movie is my favorite zombie movie.
Kaduche: It's my favorite zombie movie for sure.
Dave: Is that going to be released on YouTube as well?
Kaduche: Um, no Dave. We have bigger plans than just Youtube.
Wynn: It'll probably end up on YouTube eventually, with hackers and other people like that.
Kaduche: We welcome those people later on. After we've made our residuals.
Dave: Zombies: are they fast or slow?
Wynn: There's two types of zombies.
Kaduche: Fast and slow zombies.
Wynn: Well think about it. Michael Johnson when he becomes a zombie. Is  he going to be a fast zombie or is he going to be a slow zombie? He's got gold shoes. Michael Johnson has gold shoes. He's going to be a fast zombie.
Kaduche: A paraplegic becomes a zombie, what do you think?
Wynn: And then you've got your typical World of Warcraft playing zombie, like if I were to become a zombie, I'd be kind of a slow zombie. I'd still be a force to be reconed with.
Kaduche: Because he has a bat and he knows how to hit stuff with it.
Wynn: So I think it kind of depends on the fitness side of things. Which is why, you know, "Wynn's Weight Workout" is important. Because even if you're going to become a zombie you're much more likely to survive if you're a fast zombie.
Kaduche: Or "Drop a Deuce with 'Duche". Prepare yourself.
Dave: What specific tips do you guys have to survive a zombie apocalypse? Baseball bats, obviously, but what else?
Wynn: Well just from some of the trainings that we've already given, we rock the propane tank.
Kaduche: Creating diversions is huge.
Wynn: Propane tanks are, no matter what sort of situation you're in–
Kaduche: Propane tanks are handy.
Wynn: Except maybe, like, an earthquake. Because if you're carrying a propane tank during an earthquake it could be pretty messy.
Kaduche: And that's where you'd use evasive driving. To avoid those earth fissures when they open.
Wynn: But other than that, hedge trimmers are great. You could definitely use those to decapitate a zombie, because what you've really got to focus on is the decapitation of the zombie.
Kaduche: Brain to body seperation. Incredibly important.
Wynn: Some really thin wire. I mean, if you've got some arm strength, *pop*, you could knock that head right off.
Kaduche: Wynn almost decapitated a zombie in the "Decapitating Zombies" episode. He almost did it; it was great. A big step for him.
Wynn: I was really close and then the oracle texted…
Dave: You got diverted.
Kaduche: Yeah. Our own diversion diverted us.
Dave: If you guys had to recommend a single book, or movie, or comic to people to help them survive the end of the world, what would that be?
Kaduche: A single book or movie? We don't read books normally anymore. They were all burned
Wynn: Well, you burned most of them. But I have a secret stash. There's Area 51: The Unknown Story—
Kaduche: No Wynn! Are you going to talk about aliens? No, no.
Wynn: Well, the truth about aliens–
Kaduche: Yeah, that they don't exist.
Wynn: For zombies there is The Zombie Survival Guide by Max Brooks. Have you read it?
Dave: I have, a couple times. Good book.
Wynn: It's a great book. You can learn so much about zombies there. Kaduche has a, you know, a reading problem a little bit, but I'm kind of an avid reader.
Kaduche: Don't talk about that. [Pause] Look, Dave, I can speak English good, all right? And that's all that needs to happen. All I need to know is how to communicate,and I can communicate fine.
Dave: You speak very well.
Kaduche: Thank you.
Dave: How about movies? What's the movie that you would recommend for wannabe survivalists?
Kaduche: The Last Man(s) on Earth movie for sure. That's number one on the list. Now we understand that it's not out yet, but just mentally prepare in your mind and in your heart for this movie. It's about the best survival training you can get while watching a movie.
Wynn: There's tons of survival movies out there, and all of them give great survival tips, but I think one of the things that gets overlooked a lot is emotional preparedness. How do you prepare yourself emotionally for what's going to happen when the world is going to be ending? So if you've seen Armeggedon – I've seen it, I think, twenty-four times.
Kaduche: I actually watched it again last night.
Wynn: So twenty-four times I've watched it and every time, every time, in that scene [getting choked up] where Ben Affleck and Liv Tyler…
Kaduche: Don't, Wynn. Just stop it.
Wynn: [Choked up] When he starts singing "Leaving on a Jet Plane"… I mean, how much more emotional can you get?
Kaduche:– Think about Harry Stamper when he makes that last sacrifice. He grabs that patch off Ben Affleck's arm and puts AJ – AJ Frost is the character's name, by the way – he puts AJ back in the ship and he gives that little speech to his daughter. I'm going to tell you, it was something. But you know what? When he pushed that button, he saved humanity. Are you willing to push that button, Dave?
Dave: I hope so.
Kaduche: Well you're definitely pushing out buttons, and it's great.
Dave: Here's one just for Wynn. Aliens: are they all water soluable?
Kaduche: I'm going to pretend you didn't ask this, Dave. [Puts fingers in his ears]
Wynn: No. Just that one race of aliens. The universe is vast, and there are countless different types of aliens. I think the water soluble aliens are the most common visitors to earth. Which is why, when you see where they come, they're coming to corn fields. They're not landing on beaches, because, hello, a wave comes up and [snaps fingers] presto, they're gone.
Dave: What about irrigation?
Wynn: Well that's one of the things that they're trying to get rid of. If you look at the reports of the attacks that they're planning, there have been some reports that they're trying to get rid of pipelines and irrigation. On Earth, we've got water. So the aliens are trying to overcome that before they launch their real main strike.
Kaduche: All right, I can't handle this anymore. You just said that aliens are getting rid of water. Is that correct?
Dave: Well, pipelines and irrigation.
Kaduche: Have you even seen Battle: Los Angeles? They come here for the water. They're not afraid of the water. Ridiculous. You've just wasted so much time.
Wynn: You've only watched, like, two alien movies.
Kaduche: Two is enough.
[Both angrily storm off]
Be sure to check back in two weeks for Part II of our interview where I'll be talking to the brains behind The Last Man(s) on Earth.