There's a lot of zombie stuff out there, and most of it is crap. People like to jump on bandwagons and produce quick tie-ins rather than investing love and effort into their creations. Luckily for you, I'm here to help separate the wheat from the chaff. Check back every Friday, when I'm going to share the coolest zombie-related creation I can find out there on the web.
This week's creation, "Zombie Ambush" by Cam M., is a combination of a nice build, good staging, and fantastic presentation. Make no mistake, I'd be blogging about "Zombie Ambush" without the extra trappings, but they way it's presented as an actual LEGO® set is just fantastic. Seriously, if that showed up at Target who wouldn't buy it?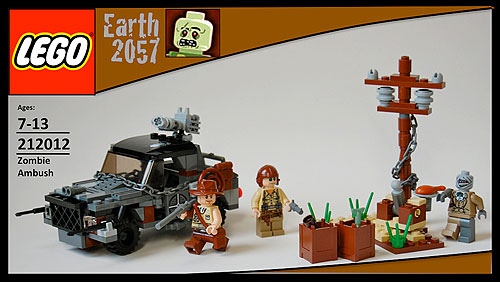 The build itself is really nice. I like how everything uses official pieces instead of throwing in Brickarms and the like – I loves me some Brickarms, but they would look completely out of place here. The truck is a great Mad-Maxian build, the telephone pole is outstanding, and the catapult with the turkey leg on it makes me laugh.
As far as the packaging goes, I really like the muted browns and grays used here, and I love the fact that this appears to be part of a bigger series (Earth 2057). Add in the zombie face and the funny set number and I'm completely sold.
My only criticisms are pretty minor. I wish this set featured yellow figs, since all non-licensed sets do. I also wish the zombie looked more like a zombie instead of looking like a mummy, especially since an image of one appears on the box. Of course I realize that zombie parts are often difficult to come by, so this is pretty understandable.
Regardless, this is a great build all the way around.
Have you seen a great zombie-related creation out on the web? Are you working on the next great zombie MOC as we speak? Well you had better let us know right away, otherwise we'll never be able to include it here.