There's a lot of zombie stuff out there, and most of it is crap. People like to jump on bandwagons and produce quick tie-ins rather than investing love and effort into their creations. Luckily for you, I'm here to help separate the wheat from the chaff. Check back every Friday, when I'm going to share the coolest zombie-related creation I can find out there on the web.
This week's feature is a Bricks of the Dead Exclusive, as it came to me via email from Jynx. It depicts the survivors of a medieval village in the midst of a zombie outbreak. There's a ton of nice detail work here, especially when it comes to the makeshift barricade the survivors have erected in the town square. I also really like the mood of this piece. The survivors are surrounded with the zombies closing in; things don't look good. The photo even has a nice border around it that makes it feel like the world is closing in on the people in the middle. Well done all around!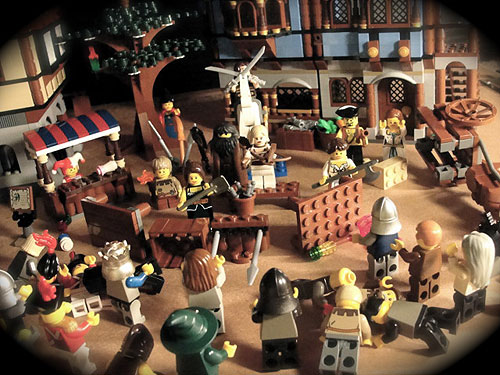 Thanks for sending this along, Jynx! It's a hell of a nice creation.
Have you seen a great zombie-related creation out on the web? Are you working on the next great zombie MOC as we speak? Well you had better let us know right away, otherwise we'll never be able to include it here.