There's a lot of zombie stuff out there, and most of it is crap. People like to jump on bandwagons and produce quick tie-ins rather than investing love and effort into their creations. Luckily for you, I'm here to help separate the wheat from the chaff. Check back every Friday, when I'm going to share the coolest zombie-related creation I can find out there on the web.
This week's creation, "The Walking Dead" by Thule87, is a pretty simple setup: a bunch of zombies (many skeletalized) chase down one poor schmuck who was in the wrong place at the wrong time.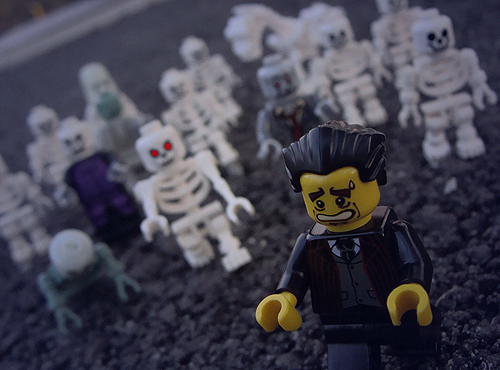 I don't know why, but I'm a real sucker for creations that put figures in the real world. Seeing guys standing on real dirt, or running across gravel just looks neat. Of course this setup also has some nice framing and depth of field going on.
Be sure to check out the rest of Thule87's photostream. He's got some nice stuff in there.
Have you seen a great zombie-related creation out on the web? Are you working on the next great zombie MOC as we speak? Well you had better let us know right away, otherwise we'll never be able to include it here.