There's a lot of zombie stuff out there, and most of it is crap. People like to jump on bandwagons and produce quick tie-ins rather than investing love and effort into their creations. Luckily for you, I'm here to help separate the wheat from the chaff. Check back every Friday, when I'm going to share the coolest zombie-related creation I can find out there on the web.
This week's creation, "The Last Thanksgiving" by anderson.grubb on Flickr re-imagines the pilgrim's first Thanksgiving by including zombies. I may be biased here, but I think it's a pronounced inprovement over the typical Thanksgiving art we're used to seeing.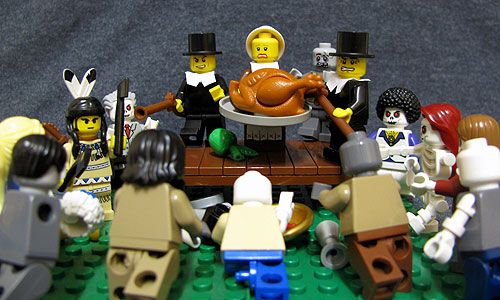 The build itself is simple, but packed with details. I think my favorite part is the custom cloth elements used to give the pilgrims their distinctive look. I also like that an Indian (presumably Squanto) is charging the undead horde with his tomahawk. A carefull look reveals both a disco enthusiast and a cheerleader in the crowd of zombies. Great stuff!
Be sure to check out the rest of anderson.grubb's profile on Flickr. He's got a lot of really cool LEGO® creations in there for you to enjoy.
Have you seen a great zombie-related creation out on the web? Are you working on the next great zombie MOC as we speak? Well you had better let us know right away, otherwise we'll never be able to include it here.