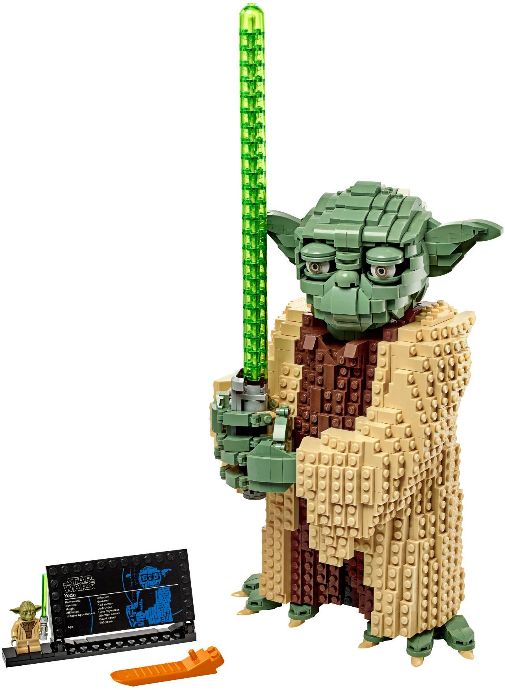 Discover the Intricate World of LEGO Yoda
Embark on an adventure to a galaxy far, far away with LEGO's 75255 Yoda set, based on the iconic Jedi Master from Star Wars: Episode III – Attack of the Clones. This stunningly detailed model offers endless play possibilities and serves as a fantastic collectible item for LEGO and Star Wars enthusiasts alike. With an impressive 1771 pieces, the buildable figure stands 16 inches (41 cm) tall and comes complete with a fact plaque to help fans learn more about the wisest and most powerful Jedi in the universe.
Unmatched Detail & Articulation
The 75255 Yoda set exemplifies LEGO's unparalleled attention to detail, ensuring that this figure truly captures the essence of the legendary character. The model is designed with a posable head and eyebrows, movable fingers and toes, and includes Yoda's signature green Lightsaber. Additionally, the accompanying stand allows for easy display of the included Yoda minifigure and its Lightsaber. This intricate design truly makes this set a must-have addition to any Star Wars collection.
A Gift to Remember
Aimed at fans aged 10 and up, LEGO's 75255 Yoda set makes for an unforgettable gift, regardless of whether it's given as a birthday present, Christmas gift or just as a surprise for the diehard Star Wars lover in your life. Indulge in your love for this epic franchise while enriching your collection with two unique versions of Master Yoda in one incredible package.
Masterful Design by Niels M. Frederiksen
Responsible for bringing this impressive model into existence is designer Niels M. Frederiksen. His thoughtful and innovative approach has resulted in this captivating display piece, which offers fans the chance to enjoy the detailed construction process while assembling a beloved character from the Star Wars universe. LEGO enthusiasts will appreciate the effort and passion that has gone into creating such an intricate, lifelike representation of Yoda.
Endless Possibilities with LEGO Star Wars
The 75255 Yoda set is just one of many outstanding creations within the LEGO Star Wars range, offering a vast array of possibilities for collectors and builders alike. While each set has its unique appeal, the stunning detail and captivating design of this Yoda model ensures that it's destined to become a cherished centerpiece in any collection.
Dive deep into the world of LEGO Yoda, enter a galaxy filled with adventure, mystery, and enthralling characters, and let your imagination soar as you construct your very own Jedi Master from countless building blocks. The Force will undoubtedly be with you as you embark on this incredible journey through LEGO's Star Wars universe.
Product Specs
Product Specs
Product Name:
Yoda
Pieces
1771
RRP
£104.99 / $99.99 / 119.99€
Release Year
2019
Theme
Star Wars
Instructions
Lego Yoda Instructions