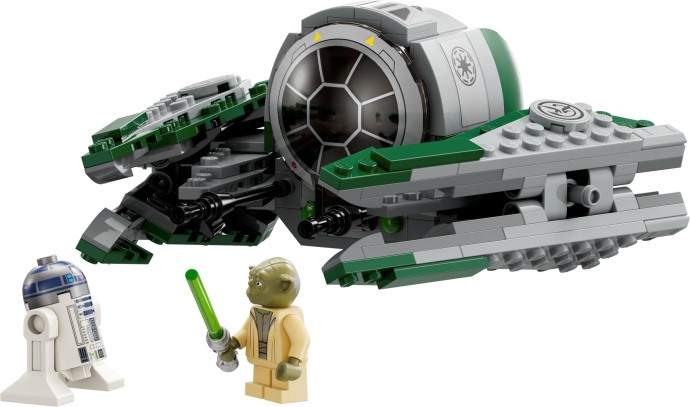 Discover the Excitement of Yoda's Jedi Starfighter
LEGO® has created yet another thrilling building set that will captivate the imagination of young Star Wars fans: Set number 75360, Yoda's Jedi Starfighter. This illustrious LEGO set takes you on a journey to a galaxy far, far away as you join forces with two beloved Star Wars characters to create a detailed and authentic brick-built model of the legendary Jedi Master Yoda's starfighter from The Clone Wars era.
An Immersive Building Experience
This remarkable set is designed to provide an enjoyable and engaging building experience for kids aged 8 and up. With 253 pieces to assemble, builders can craft their very own detailed LEGO Star Wars model inspired by one of the most iconic spacecraft in the franchise – Yoda's Jedi Starfighter. The completed ship features an opening cockpit where the Master Yoda minifigure can sit, adjustable wings for alternate flight and landing configurations, as well as storage space to accommodate the uniquely designed R2-D2 droid figure.
Digital Enhancement for Confident Building
To further ignite your child's imagination and creativity, the LEGO Builder app accompanies this official building set. By incorporating digital technology into your child's playtime, they'll be able to zoom in on intricate details, rotate their view to examine different angles, and enjoy interactive step-by-step instructions to confidently build their LEGO masterpiece. This app will inspire them to not only recreate this famous spacecraft but also venture into various customizations and modifications using their creative prowess.
A Gift That Transports Children Straight Into Galactic Adventures
Children who are passionate about Star Wars: The Clone Wars will undoubtedly appreciate receiving Yoda's Jedi Starfighter as a memorable gift for any occasion. The set includes an illustrious Master Yoda LEGO minifigure, complete with his signature lightsaber, alongside the fan-favorite astromech droid, R2-D2. These iconic characters allow kids to immerse themselves in thrilling playtime missions and galactic battles, all whilst honing their building skills and furthering their love for Star Wars.
Expanding Your Star Wars LEGO Collection
Yoda's Jedi Starfighter is only one of many high-quality LEGO Star Wars sets available to cater to fans of all ages. Others include ship models, memorable scenes from pivotal moments in the series, unique characters, and even giant-sized buildable figures. Collecting these captivating models not only tempts builders to indulge in creative storytelling but also offers fans a valuable resource to relive iconic moments straight from their favorite galaxy far, far away.
A Commitment to Excellence and Safety
When purchasing a LEGO Star Wars set like Yoda's Jedi Starfighter, you're investing in the renowned LEGO heritage that is dedicated to producing top-of-the-range brick products that meet rigorous quality standards. The build quality, strength, and connectivity of each integral LEGO brick will continually impress every builder who decides to embark upon these intergalactic journeys.
Safety is paramount when it comes to crafting these beautiful LEGO models. Each piece undergoes stringent testing and complies with worldwide safety standards, ensuring that those who embark on the joyous experience of constructing their own Jedi Starfighter can do so with no fear and complete excitement.
Your child's adventure awaits in the universe of Star Wars with Set 75360 – Yoda's Jedi Starfighter. Gift this enthralling buildable set to your loved ones and watch as they construct powerful memories and dive into a world of unlimited fun – just like the lightspeed adventures of Master Yoda himself.