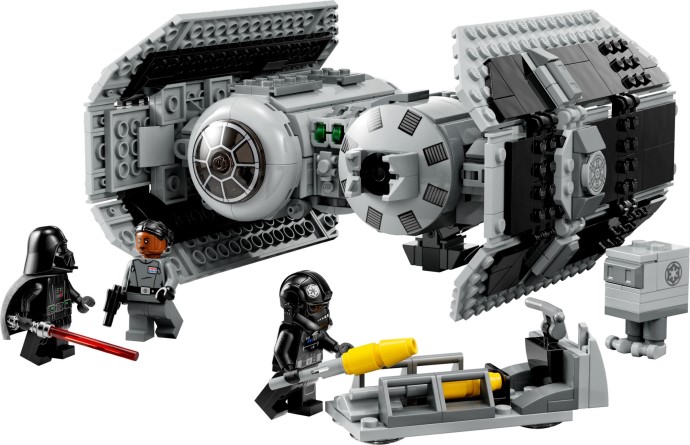 Experience Galactic Warfare with LEGO TIE Bomber (75347)
Immerse yourself in the epic Star Wars saga, specifically Episode VI, as you construct and engage in thrilling space battles with the LEGO TIE Bomber (75347) set. The 625-piece LEGO® Star Wars™ set promises to provide endless entertainment for fans aged 9 and above, while also making an excellent showcase piece for die-hard collectors.
Expert LEGO designer Hans Burkhard Schlömer ensures top-notch quality for this magnificent model. With a total of 4 minifigures, including Darth Vader, Vice Admiral Sloane, and TIE Bomber Pilot, kids and adult fans alike will love recreating intense dogfights or imaginative new stories involving these prominent characters.
Stellar Features and Functions
As part of the TIE Bomber creation, users will discover an opening minifigure cockpit and a torpedo-dropping function for high-flying action. Additionally, there are two stud shooters for players to engage with during pretend space skirmishes. It is important to note that this set measures 15 x 10.3 x 2.8 inches when fully assembled; thus, it can fit comfortably on a shelf or desk.
For added realism, this Star Wars set also brings a Gonk Droid LEGO figure and a cart into play for transporting torpedoes to the TIE Bomber during intense battles. Reenact your favorite scenes or create your own original storylines all within the legendary Star Wars universe!
The Power of Digital Building Assistance
Say goodbye to frustrating paper instructions and step into the future of building assistance with the LEGO Builder app. This interactive digital mentor gives you a more enjoyable experience through a step-by-step guide filled with intuitive zoom and rotate tools that help bring your LEGO creation to life. Experience a more engaging, efficient building process with the power of this app in your hands.
Why Choose Star Wars LEGO Sets?
Since 1999, The LEGO Group has consistently delivered impressive recreations of iconic starships, vehicles, locations, and characters from the beloved Star Wars universe. With an amazing variety of sets designed to thrill fans of all ages, the opportunity for endless entertainment and collecting never ceases. Additionally, each set meets demanding industry standards in terms of quality and safety, giving parents peace of mind during playtime.
In conclusion, the LEGO TIE Bomber (75347) provides a fantastic opportunity for fans to experience the action-packed world of Star Wars: Episode VI through engaging play and display possibilities. Whether as a gift or a collector's item, this LEGO set is nothing less than an intergalactic masterpiece that will delight builders for years to come.
Product Specs
Product Specs
Product Name:
TIE Bomber
Pieces
625
RRP
£59.99 / $64.99 / 64.99€
Release Year
2023
Theme
Star Wars
Instructions
Lego TIE Bomber Instructions