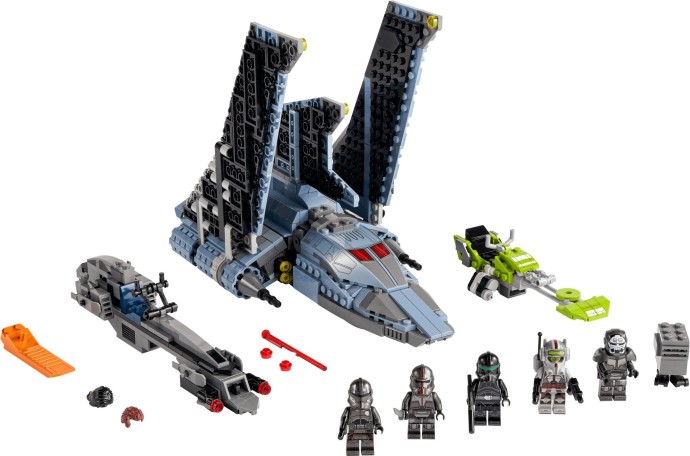 The Bad Batch Attack Shuttle: An Exciting Star Wars LEGO Experience
Fans of the Star Wars franchise and LEGO sets, brace yourselves for a whole new galaxy of adventures with the latest set: The Bad Batch Attack Shuttle (75314). This meticulously designed set, based on the hit animated series, Star Wars: The Bad Batch, offers endless possibilities for imaginative role-play and dynamic display. Here's everything you need to know about this captivating new addition to the LEGO Star Wars universe.
Immerse Yourself in the World of Clone Force 99
With The Bad Batch Attack Shuttle set, you can relive the thrilling missions of Clone Force 99 with a stunning interpretation of their iconic spacecraft. Every detail perfectly captures its in-show appearance — from moving wings that transform for landing and flight modes to spring-loaded shooters designed for intense space battles. Even better, you can easily access the detailed interior by lifting the central dorsal fin.
All-New Minifigs to Complete Your Collection
Expand your collection of LEGO Star Wars minifigures with five brand-new, highly sought-after characters from The Bad Batch series: Tech, Echo, Hunter, Wrecker, and Crosshair. Each minifigure comes with an array of weapons and accessories to enhance their authenticity. To complete the scene, there's also an adorable Gonk Droid figure that adds a touch of fan-favorite fun to this exciting set.
Enhanced Play Possibilities
In addition to the brilliantly crafted shuttle itself, The Bad Batch Attack Shuttle set comes with two buildable speeders — both armed with impressive stud-shooting capabilities — that will take your imaginative playtime sessions to new heights. The spacious shuttle cabin not only allows for functional weapon storage but also accommodates two minifigures, making this set even more dynamic.
Perfect for Star Wars and LEGO Enthusiasts Alike
With its 969-piece assembly and age range of 9 and up, this set is a delightful challenge for both seasoned LEGO builders and younger Star Wars fans. The detailed step-by-step instructions ensure a smooth construction process, allowing builders of all skill levels to enjoy this captivating LEGO Star Wars experience. The completed Bad Batch Attack Shuttle measures an impressive 35.4 x 37.8 x 7.1 cm (13.9 x 14.9 x 2.8 in), making it an eye-catching display piece between play sessions.
A Legacy of Outstanding Quality
As always, LEGO has meticulously tested every aspect of their product to meet than their exceptional safety and quality standards, ensuring that all components fit perfectly together and remain durable throughout playtime adventures and display periods alike. Since 1999, LEGO Star Wars sets have captivated fans with unique build-and-display opportunities, solidifying its position as one of the brand's most successful themes.
In Summary
The Bad Batch Attack Shuttle (75314) set is a must-have for any collector or fan of the Star Wars universe. With its awe-inspiring design, new-for-August-2021 minifigures, and endless imaginative role-play potential, this set is guaranteed to provide hours of entertainment for builders aged 9 and up. So grab your favourite Clone Force 99 characters and embark on exciting missions from the comfort of your own home!