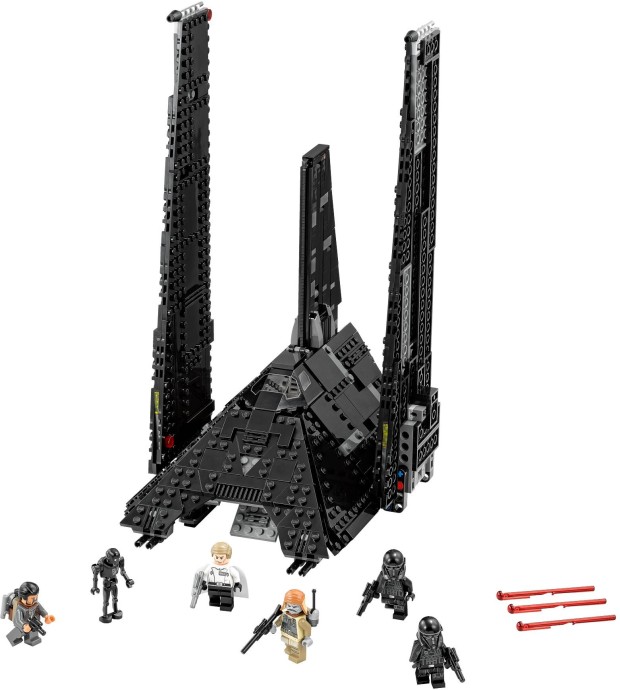 Krennic's Imperial Shuttle: An Intimidating Imperial Starship
The Krennic's Imperial Shuttle Lego set is a popular choice for collectors and builders who love Star Wars. Its stunning design and lifelike features replicate the sinister details from the intergalactic wars taking place in Rogue One. The shuttle measures over 17 inches in height when flying, 9 inches long and 22 inches wide and over 12 inches high and 7 inches wide in landing mode. It includes an impressive 863 pieces that include six different character figures, along with other great features that make it fun to build an authentic model of Krennic's Imperial Shuttle.
Features of Krennic's Imperial Shuttle
The shuttle includes huge folding wings and opening front and side panels. When opened out, the shuttle showcases every angle of its mesmerising design. The venture also has an opening minifigure cockpit to fit one of the figures included and a detailed hold that has room for four crew members. The hold allows each character inside to sit comfortably while they travel through space on their latest mission. Other parts of the vehicle also have specific features, including rear ramps for blaster storage, dual spring-loaded shooters, and retractable landing skids.
Characters Included in the Set
Pao: A member of the Rebel Alliance who was part of the Pathfinders Team. He acts as one of Bodhi Rook's comrades during their insurgency in Rogue One.
Director Krennic: Director Orson Krennic is an officer in the Imperial Military who became interested in using Kyber Crystals to create mega-weapons towards the end of Rogue One.
Bodhi Rook: An Imperial cargo pilot who defects to the Rebel Alliance. He aided Jyn Erso's team of Rebels in their mission to steal the plans for the Death Star.
2 Imperial Death Troopers: These members of the Elite Forces in the Empire took up arms to serve Director Orson Krennic in protecting his discovery at the Jungle Citadel on Scarif.
K-2SO Droid: A reprogrammed Imperial droid who joins Jyn Erso's Rebel Team. He becomes extremely significant to the story and helps the protagonists throughout their mission to recover crucial information that could save the galaxy from doom.
Building the Shuttle
The Krennic's Imperial Shuttle Lego set can take hours to build, but it is well worth it. It requires precision and attention to detail, allowing you to throw yourself entirely into the Star Wars Universe. The intricacies and peculiarities of each piece add up together, creating a marvellous replication of this iconic vehicle.
Compatibility with Other Lego Construction Sets
These Star Wars building toys are compatible with all LEGO construction sets for creative building work. Therefore, once you have built Krennic's Imperial Shuttle model, you can easily integrate it into your other Lego collections. Play out epic space battles intertwined with your characters of choice or create a mega-building featuring a range of innovative buildings you designed yourself.
The Age Range
This toy is age-appropriate for boys and girls above 9 years old going up to 14 years old. But age should not limit the thrill of building your favourite ship from Rogue One; they can be fun gifts for collectors of all ages who love lego and Star Wars enthusiast.
Price and Availabilty
The Krennic's Imperial Shuttle retails at £84.99/$89.99/99.99€ and is available worldwide at most Lego licensed stores or online websites.
Get set to experience the galactic wars through the details and intricacies of Krennic's Imperial Shuttle from LEGO®, while letting your creativity takes over it once built. Each unique piece builds up to a one-of-a-kind shuttle that is sure to add excitement to your Star Wars collection and impress friends or family regardless of age.