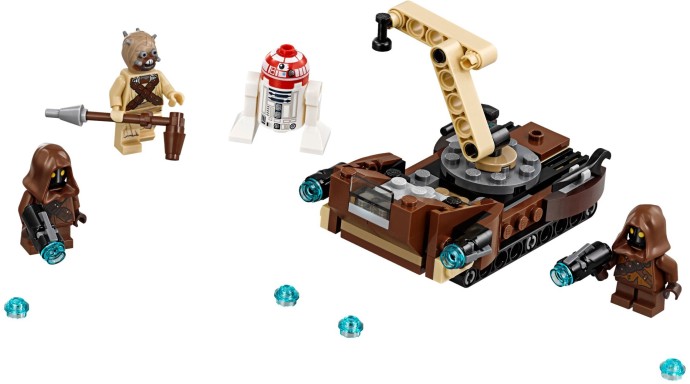 Experience Intergalactic Adventure with the LEGO Star Wars Tatooine Battle Pack Set
Immerse yourself in a galactic journey with a unique, exhilarating, and strategically-designed LEGO set – the Star Wars Tatooine Battle Pack. Released as part of the Star Wars Episode IV's subtheme in 2018, this set is more than just an assortment of bricks. It's a gateway to exciting adventures and an enchanting world that beckons both kids and adults.
An Authentic Star Wars Experience
The Tatooine Battle Pack set embraces the spirit of the iconic Star Wars saga. With it, LEGO admirably recreates famous desert-planet scenes from Episode IV, 'A New Hope.' Included in the pack are mini-figures of two Jawas and a Tusken Raider, designed with complete adherence to their cinema depictions, letting you experience every minute detail up-close.
Sublime Construction and Design Features
This LEGO set houses 97 intricately designed pieces that come together to form a service vehicle complete with functional stud shooters and an articulated crane. The vehicle, measuring over 2" (7cm) high, 3" (9cm) long, and 2" (7cm) wide, is designed to pick up an included astromech droid in its crane, making for engaging interactive playtime.
Exciting Accessories for Extended Play
Adding to the intrigue are weapons for the Jawa mini-figures and Tusken Raider, including two stud blasters and a gaffi stick respectively. These accessories elevate play scenes by making them more realistic and fun-filled. Thus, whether you'd like to pit your characters in a fierce battle or recreate dramatic moments from the movie, this versatile set caters to every narrative with flair.
An Investment in Fun and Learning
You can own this exceptional collector's item retailing at £12.99 / $14.99 / 16.99€. Its intricate design allows for ample cognitive development for children between 6 to 12 years. Considering the myriad of possibilities it unveils at such an accessible price point, it's no surprise that it was snapped up by enthusiasts during its launch on January 1st till its retired date at year-end on December 31st of 2018.
In conclusion, be it young or old fans enthused by the mystical energy of Star Wars or collectors seeking unique additions for their prized collection- LEGO Star Wars Tatooine Battle Pack Set serves as a perfect investment both in terms of thrilling entertainment and constructive engagement.