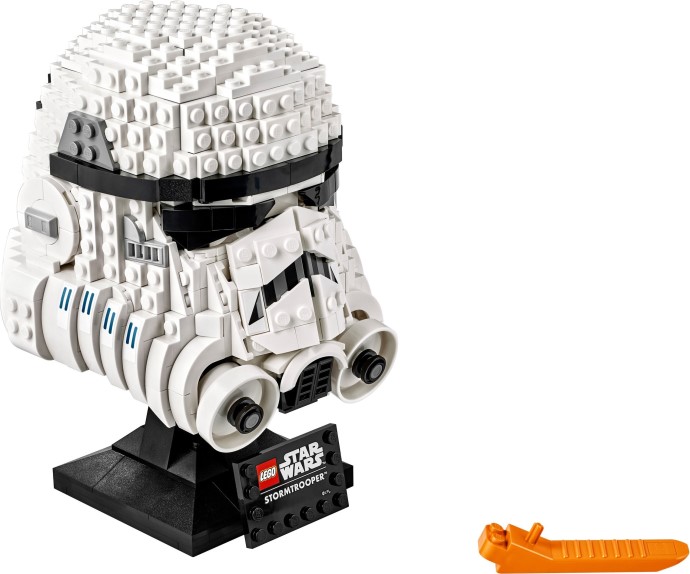 Build Your Own LEGO Star Wars Stormtrooper Helmet
Do you consider yourself a Star Wars enthusiast and a skilled LEGO builder? Bring your passion to life with the incredibly detailed LEGO Star Wars Stormtrooper Helmet (75276) set. This unique building set is not just an entertaining activity, but also an impressive home or office decorative piece once complete.
What You Need to Know About the Stormtrooper Helmet Set
The Stormtrooper Helmet construction set was designed by César Soares as part of the Star Wars Helmet Collection subtheme. Released in 2020, this set has captured the attention of diehard fans and hobbyists alike. Comprising a total of 647 pieces, assembling this striking replica won't be a walk in the park, but rather an enjoyable challenge for experienced builders aged 18 and above.
The dimensions of the finished product measure approximately 7.5 x 13.9 x 4.6 inches (19.1 x 35.4 x 11.8 cm), making it an eye-catching and conversation-starting ornament for your living space or workspace. With its enticing retail price of £54.99, $59.99 or €59.99, this deluxe model offers excellent value while allowing you to indulge in your favourite pastime.
Features of the Stormtrooper Helmet Set
Part of what makes the Stormtrooper Helmet set so exceptional is its meticulous representation of the iconic helmet design. It delivers LEGO enthusiasts an authentic building experience while doubling as a collectible item with its base and nameplate.
This spectacular addition to the LEGO Star Wars universe is part of a broader collection introduced in January 2020, including other renowned helmet designs such as the Boba Fett Helmet (75277). Explore the expanding collection and embrace the LEGO Star Wars craze with fellow fans.
A Unique Building Experience
Not only does the Stormtrooper Helmet set provide a rewarding challenge for experienced LEGO builders, but it offers an opportunity for fans to unplug from the digital world and de-stress. Finding your inner peace with this therapeutic activity is as simple as following the step-by-step instructions included in the packaging.
If you've never attempted a LEGO Star Wars set before, worry not. This Stormtrooper Helmet building kit is designed with novices in mind but remains an enjoyable challenge for veteran builders too.
Quality and Safety Assurance
As with other LEGO offerings, this Star Wars Stormtrooper Helmet set meets the highest industry standards regarding quality and safety. The bricks and pieces are tested thoroughly to ensure they connect and separate smoothly while adhering to the strictest galactic safety standards.
In conclusion, assemble your own unique piece of Star Wars memorabilia with this intricate and collectible LEGO Star Wars Stormtrooper Helmet (75276). This detailed replica is perfect for avid builders and collectors alike, making it an ideal gift for any Star Wars fan in your life. Unwind, release stress, and relive unforgettable moments from this iconic series as you construct your own Stormtrooper Helmet display piece.