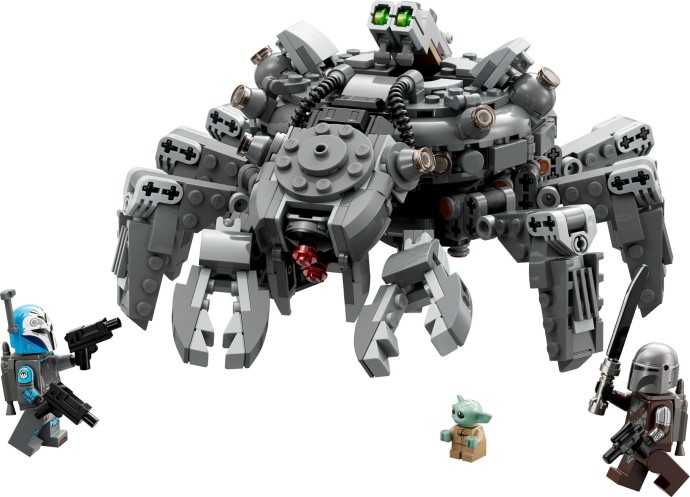 Introducing the LEGO Spider Tank from The Mandalorian
Get ready to explore the galaxy far, far away with the latest addition to the LEGO Star Wars collection – the impressive 75361 Spider Tank set! Inspired by the hit TV show, The Mandalorian, this dynamic and interactive toy is perfect for fans aged 9 and up. This wonderfully detailed, brick-built Spider Tank model is guaranteed to provide hours of entertainment and adventure for all. Let's explore what makes this set so special!
A Buildable Battle Machine
The heart of this LEGO set is the extraordinary Spider Tank itself. Straight out of Season 3 of The Mandalorian, this powerful machine features flexible legs and grabbing claws, ensuring it can conquer any terrain or enemy in its path. Furthermore, the opening cockpit provides enough space for a LEGO minifigure, while the elevating hatch—with two stud shooters—offers even more battle capabilities. The Spider Tank truly is a force to be reckoned with!
Iconic Star Wars Characters Included
No Star Wars adventure would be complete without some beloved characters by your side. The Spider Tank set comes with three iconic LEGO figures from The Mandalorian: the titular character himself—equipped with a darksaber, blaster pistol, and jetpack element; Bo-Katan Kryze—ready for action with two blasters and her own jetpack element; and last but not least, the fan-favorite little Grogu (affectionately known as "Baby Yoda"). With these heroes along for the ride, there's no battle you can't win!
Intuitive Building Experience
This set offers an enjoyable building experience for kids and adults alike with its simple yet engaging design. With a total of 526 pieces, assembling the Spider Tank is a fun and rewarding challenge. The set also includes the LEGO Builder app, which guides builders through an intuitive step-by-step process, allowing them to zoom in, rotate the 3D models and track their progress as they construct their very own Spider Tank.
An Ideal Gift for Mandalorian Fans
Whether you're shopping for a holiday present, a birthday gift or just wanting to reward that special Star Wars fan in your life, the 75361 Spider Tank is an excellent choice. With its captivating design, exciting play features and beloved characters, this set is sure to entertain and inspire imaginative play for countless hours.
Quality and Safety Assured
As with all LEGO products, quality and safety are at the core of the Spider Tank set. The bricks have been constructed to adhere to strict industry standards for consistent and secure connection since 1958. Additionally, each LEGO component undergoes rigorous testing—including dropping, heating, crushing and twisting—to ensure compliance with global safety standards. Rest assured knowing that your Spider Tank will withstand endless hours of imaginative play.
In Conclusion
The LEGO Spider Tank (75361) from The Mandalorian provides a thrilling building experience and promises endless action-packed fun in the world of Star Wars. Paired with an assortment of iconic characters and built with quality materials that promise durability and safety, this set truly captures the essence of The Mandalorian universe. It's time to assemble your very own Spider Tank and join the Star Wars adventure!