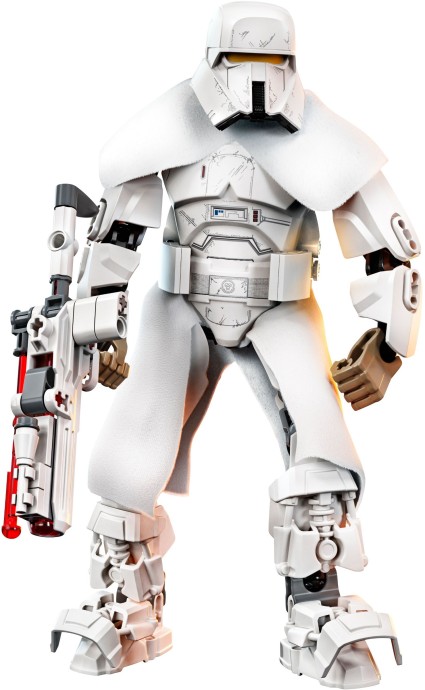 Unveiling the LEGO Star Wars Range Trooper
Prepare for an intergalactic adventure with the highly-awaited LEGO Star Wars 75536 Range Trooper. Inspired by Solo: A Star Wars Story, this buildable figure is a fantastic addition to any Star Wars fan's collection. With its detailed design and poseable features, it's perfect for recreating exhilarating action sequences from the movie or discovering new adventures in a galaxy far, far away.
Detailed and Authentic Look
The Range Trooper buildable figure boasts remarkable accuracy to its on-screen counterpart, ensuring an authentic and immersive play experience. It comes complete with formidable armor and 'magnetic boot' detailing to emphasize the powerful presence of this character from Solo: A Star Wars Story. The furry shoulder cloak and tunic add depth and dimension to the figure, adding a touch of realism as you delve into the chaotic world of Solo.
Action-Packed Features
Equipped with a blaster weapon and spring-loaded shooter, the Range Trooper is prepared to face any enemy or challenge. The impressive spring-loaded shooter adds an element of intensity to any battle, allowing players to engage enemies with precision and firepower. Moreover, the limbs can be moved into any battle pose to ensure even more dynamic playtime options.
Sturdy Design for Endless Play
The 75536 Range Trooper buildable figure is designed with durability in mind — perfect for intense action play that will leave you feeling like you're really part of the Star Wars universe. With its sturdy construction, this LEGO set will stand up to many action-packed adventures inspired by Solo: A Star Wars Story.
A Perfect Addition to Your LEGO Collection
Comprised of 101 pieces at a retail price of £25.99 / $24.99 / 29.99€, the Range Trooper buildable figure is an exciting and valuable collectible for any LEGO enthusiast or Star Wars fan. Designed for builders aged 7 – 14, this set offers age-appropriate challenges and endless fun for those who enjoy pushing their creativity to a new frontier. The final build stands over 9" (24cm) tall, becoming an impressive display piece as well as an interactive toy.
Embark on unique galactic adventures with the LEGO Star Wars 75536 Range Trooper. With its astounding detail and action features, this set is the perfect way to recreate unforgettable battles from the movie or create your own interstellar storylines. Don't miss out on adding this iconic character to your growing LEGO Star Wars collection!