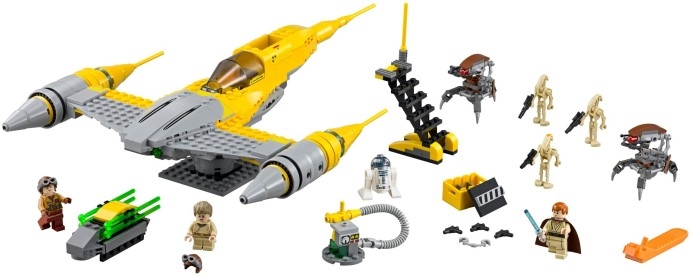 Discover the Excitement of the LEGO Star Wars Naboo Starfighter Set
The LEGO Star Wars 75092 Naboo Starfighter set is the perfect addition to any LEGO or Star Wars enthusiast's collection. With its fantastic attention to detail, iconic characters, and epic battle scene from Episode I The Phantom Menace, this set will not disappoint fans. Read on to discover more about what makes this particular set a must-have for both newcomers to the LEGO Star Wars universe and experienced collectors alike.
Recreate Iconic Scenes from Episode I
When building the incredible Naboo Starfighter set, fans will have the opportunity to revisit one of their favorite moments from Star Wars Episode I, when young Anakin Skywalker teams up with Jedi Master Obi-Wan Kenobi to protect their allies from an onslaught of Trade Federation forces. As they work together to fend off attacking Battle Droids and Destroyer Droids, users can immerse themselves in the thrilling action as they recall this pivotal scene from the beloved film.
Detailed Design for an Authentic Experience
This set has been expertly designed by Niels M. Frederiksen, ensuring an authentic and engaging experience for players. With its user-friendly instructions and intricate designs, collectors will appreciate just how closely this LEGO model mirrors its counterpart in the renowned film series. The Naboo Starfighter's cockpit opens up for easy loading of characters like Anakin Skywalker, R2-D2, Obi-Wan Kenobi, and a Naboo Pilot. It also features spring-loaded shooters that launch Destroyer Droids into action at a moment's notice. A fueling station and rotating stand add even more depth to this exciting Star Wars model.
A Well-Rounded Minifig Collection
Included with this LEGO set are a total of nine different minifigures to offer a diverse range of heroes and villains from this memorable Star Wars scene. In addition to the aforementioned characters, collectors will also find a Naboo Pilot, R2-D2, two Battle Droids, and a Battle Droid Commander. Various weapons such as Obi-Wan's Lightsaber, blaster pistols, and handcuffs add yet another layer of authenticity to this detailed collection.
Perfect for Display or Play
The LEGO Star Wars 75092 Naboo Starfighter set is not only perfect for reenacting beloved movie moments but also ideal for displaying as part of a growing collection. The model measures 5 cm in height (1 in), 35 cm in length (13 in), and 25 cm wide (9 in) when fully assembled. With its reasonable weight of 0.73 kg (1.6 lb), collectors can easily find room to showcase their LEGO craftsmanship on shelf space or within a larger display case.
Final Thoughts
The LEGO Star Wars 75092 Naboo Starfighter set is a fantastic addition to any LEGO or Star Wars fan's collection. Its intricate design, authentic details from Episode I The Phantom Menace, and exciting play features like spring-loaded shooters and R2-D2 eject function make it an exceptional experience for users both young and old. If you're looking to expand your LEGO Star Wars universe or simply relive the excitement of the original film series, be sure to add this exceptional set to your wishlist.