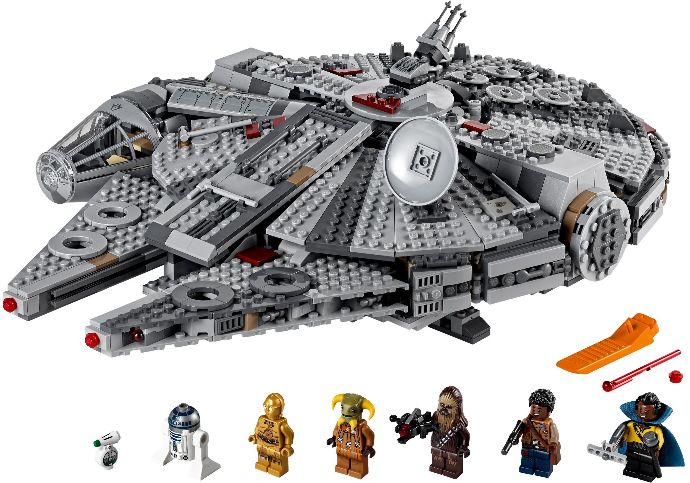 Discover the LEGO Millennium Falcon Set 75257
Get ready for an unforgettable journey through a galaxy far, far away with the LEGO® Star Wars™ Millennium Falcon set number 75257. This magnificent model of the iconic Corellian freighter is perfect for fans of all ages and a great collectible piece. The LEGO recreation has been masterfully crafted by designer César Soares, bringing the spacecraft to life right in front of your eyes.
Hitch a Ride with Your Favorite Star Wars Characters
The 1351-piece set includes seven minifigures and LEGO droid figures, featuring beloved characters from the Star Wars: The Rise of Skywalker movie such as Finn, Chewbacca, Lando Calrissian, Boolio, C-3PO, R2-D2 and D-O. Each minifigure comes with their weapon of choice, from Chewbacca's stud-firing bowcaster to Lando's blaster. Your role-playing adventure awaits with this all-star spaceship crew!
Intricate Exterior and Interior Design
LEGO Millennium Falcon showcases an incredible array of exterior details, including rotating top and bottom gun turrets that can fit two minifigures, spring-loaded shooters, a lowering ramp for boarding missions, and an opening cockpit with space for two minifigures to take control of the spacecraft. Marvel at the astonishing level of detail put into every aspect of this model.
Step inside the legendary starship and explore its intricate interior design, featuring a cargo area with containers, a navigation computer with rotating chair, couch and Dejarik hologame table for entertaining during those long hyperspace jumps. The galley is also complete with a bunk for resting and a hidden compartment for smuggling various items across the galaxy. Don't forget to check out the hyperdrive with repair tools to keep the Falcon in top shape!
Perfect for Any Star Wars Fan
Suitable for ages 9 and up, this extraordinary LEGO set measures at 58.2 x 37.8 x 8.7 cm (22.9 x 14.9 x 3.4 inches) and offers endless opportunities for imaginative play and display. The perfect gift for birthdays, Christmas, or any occasion that calls for a Star Wars collectible, it's a must-have addition to every fan's collection. With a price per piece of just 11.1p / 12.6c / 12.6c, it's an incredible value for such a large and detailed model.
Embark on an Unforgettable Adventure
Prepare to jump to lightspeed with the LEGO Star Wars Millennium Falcon set number 75257. Relive your favorite moments from the Star Wars saga or create entirely new stories in a galaxy of your own making! This remarkable LEGO set will amaze and inspire fans both young and old, making it an essential addition to any Star Wars collection.