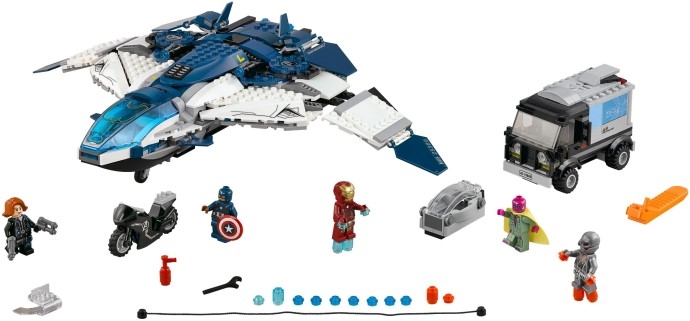 Relive an Iconic Chase: The Avengers Quinjet City Chase 76032 Review
Unveiled as part of Marvel Super Heroes' Avengers: Age of Ultron subtheme in 2015, the set entitled The Avengers Quinjet City Chase (Set number 76032) remains a shining gem in the world of LEGO collections. It comes with some engaging substructures and unique gadgets that make LEGO building more fun and entertaining. Here's a closer examination of key features from the set:
A Classic Lineup of Minifigures
The ensemble of minifigures are no less than amazing! Included amongst them are the brave Vision, the dedicated Black Widow, the ever-gallant Captain America, the tech genius Iron Man MK43, and our sinister antagonist, Ultimate Ultron. This distinctive cluster brings together a dramatic clash of superheroes and villain on your LEGO board.
An Intricate Design: The Quinjet
Without a doubt, one of the set's biggest drawcards has to be the bespoke design work on the Quinjet itself. This high-tech buildable model sits at an approximate scale dimension of size 54 x 28.2 x 7.8 cm and weighs around 1.29Kg. The Quinjet is armed with an array of features ranging from opening cockpits and rear hatch to secret wing compartments for launching surprise Avenger attacks.
Captain America's Mighty Motorcycle Release
With Captain America on board, this iconic pursuit comes alive! Cleverly integrated into the Quinjet build is a hidden button that upon pressing triggers a formation where we see Captain America races through the streets on his motorcycle, setting the stage for an exciting chase sequence.
The Lab Truck – Exciting Detail Beyond What Meets The Eye
Beyond just aerial action, this exciting pursuit touches down to street level with an intricately designed lab truck. Don't be fooled by its seemingly simple structure; once attacked by one of our superheroes, this truck explodes revealing precious cargo inside!
Assorted Accessories: From Super Jumper to Iconic Shields
To further amplify your LEGO storyline experience, additional accessories including Super Jumper, Captain America's Shield, and Iron Man's Helmet among others have been thoughtfully included. These extra elements add a touch of authenticity to each character's identity while injecting additional fun during play or creating display scenarios.
Price and Value
At a reasonable retail price of £69.99 / $79.99 / 79.99€ for a total of whopping 722 pieces and such detailed play elements, this set commands impressive worth for all LEGO aficionados – particularly if you're a Marvel fan!