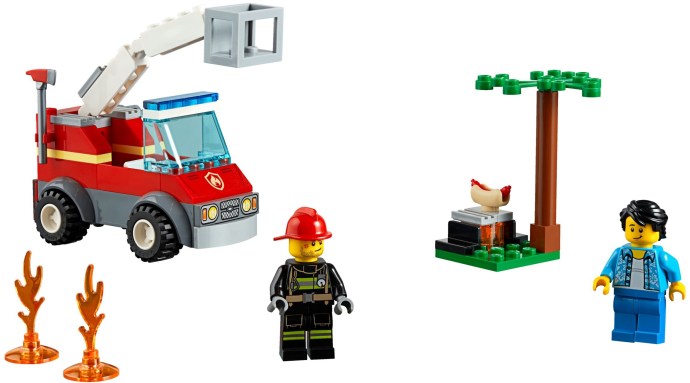 Fanning the Flames of Imagination with LEGO® City: Barbecue Burn Out
In an arena of play-time thrill that merges creativity and recreation, the LEGO® City range maintains an unequivocal allure. Embodying the spirit of this enduring allure is the 'Barbecue Burn Out', a fire-themed set that provides youngsters with an exceptional opportunity to tap into their inner heroes. An action-packed assembly experience awaits kids, as they undertake a mission to douse the flames threatening the peaceful reputation of LEGO® City.
Riding the Tide of Adventure with Fire-Themed LEGO®
The '60212 Barbecue Burn Out' set is more than just an amalgamation of bricks. It's a window to a world where the sparks of imagination are fuelled by bouts of nail-biting adventure. Designed especially for children aged 4 and above, this set broadens their construction skills while also immersing them in heroic play narratives.
Igniting Young Minds
With 64 distinct pieces creatively designed for young builders, this compelling LEGO® set sparks both imaginativeness and capability. A thoughtful inclusion is the Starter Brick base—an ingeniously simple piece that serves as an excellent launch pad for first-time builders, allowing them to experience supreme pride in autonomous construction. Alongside this game-changing piece is an exquisite fire-truck model replete with an extending bucket and storage space for firefighting tools—an aroma of realism indeed!
Expanding the Boundaries of Fun
This set doesn't stop at replicating a fiery chaos within the tranquil confines of LEGO® City. Its richness extends beyond the basics, offering a barbecue grill and tree, two delicate minifigures representing a park visitor and firefighter, along with buildable flames that offer an added degree of authenticity. Kids can also look forward to playing with a host of accessory elements including a hot dog, water elements, fire hose, and noteworthy addition of January 2019 – a fire axe.
An Ensemble Crafting Harmony
Every individual component of this set is meticulously thought out, ensuring an engulfing narrative right from the outset. The fire truck's bucket extends to knock down the sweeping flames while its roomy cabinet stores all crucial firefighting tools. The details extend even to practical solutions like fastening the fire hose back on the truck post duty.
A Token from LEGO® for Your Brave Littles
Acknowledging our everyday heroes' boundless world, this attractive set serves not just as an entertaining toy but as an ideal gift introducing young minds to real-world scenarios through play. With measurements that present no challenge to tiny hands yet remain significant enough for captivating play—the fire truck measures over three inches high and long—this remarkable ensemble promises extensive entertainment without overwhelming its young recipients.
The '60212 Barbecue Burn Out' sits perfectly within the spectrum of LEGO®, exuding its characteristically enjoyable flavour while echoing a soul-stirring mantra—playtime needn't be devoid of life's little lessons. So let your child don their firefighter helmets because when it comes to battlegrounds of fun, there's always room for more heroes!