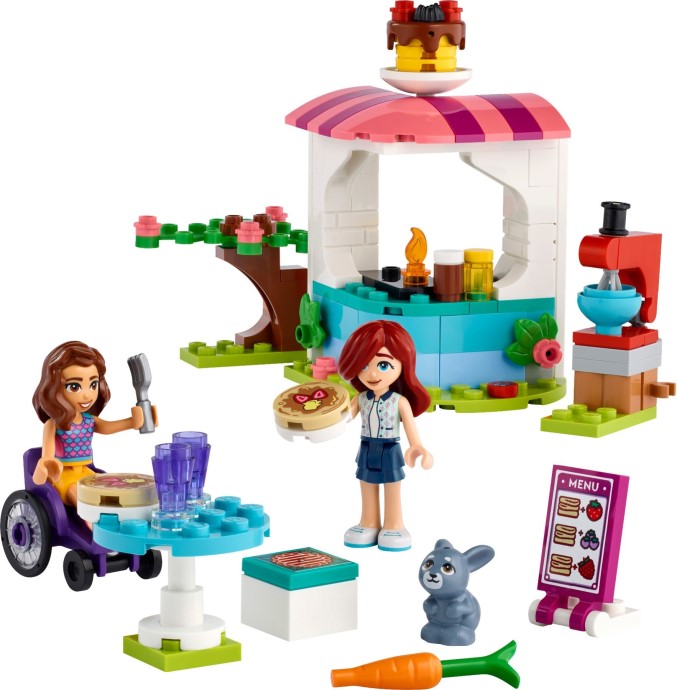 Welcome the LEGO® Friends Pancake Shop
Excitement fills the air as a brand-new playset from LEGO®, the Pancake Shop (41753), introduces a delightful way to engage in interactive role-playing experiences. Ideal for innovative youngsters aged six and above, this set allows children to explore imaginative role-playing, hospitality management, and playful culinary adventures.
Start an Exciting Adventure with New Friends
The LEGO® Friends Pancake Shop features two charming mini-dolls, Luna and Paisley. Luna is an adventurer at heart while Paisley is a soft-hearted introvert — they form an amusing duo that effortlessly brings out the best in one another. The story element in this set extends beyond simply building; it fosters friendship while promoting communication and cooperation.
Taste Imaginary Deliciousness at the Pancake Shop
Playtime takes a scrumptious twist with this set, which comes with a toy pancake kitchen complete with essential accessories. This includes a rotating mixer to whip up pretend pancakes, a functional food register for business transactions, and an assortment of pancake toppings for endless options of gastronomic fun. There's also an underbrush-burrowed bunny waiting to be discovered by the perceptive young builder.
Expand Your Play with Digital Enhancements
The LEGO® Builder app complements physical playtime with added digital interactions, which can make building this set an even more immersive experience. With rendered 3D models that kids can rotate and zoom into, progress tracking tools, and a repository for set saves, the app brings LEGO® creation into the digital domain marking an intuitive transition from tactile to virtual creativity.
Immerse in the Animated Life of Heartlake City
Through engaging builds like the Pancake Shop (41753), Heartlake City — part of LEGO® Friends universe — comes alive for its 2023 generation of builders. New characters meet in new locations offering myriad role-play opportunities that mirror real-life adventures while imbuing them with creativity intrinsic to LEGO® playsets.
Precisely Engineered for Safe Play
The construction materials included follow strict quality protocols established over LEGO®'s long tenure since in the toy industry beginning in 1958. All bricks pass through rigorous testing including heat exposure, crush resistance, twist tolerance among others. This meticulous approach ensures compatibility amongst all sets and adherence to global safety standards so your child's creativity can spark safely.
In essence, as a hands-on learning tool or just plain fun, LEGO's Friends Pancake Shop presents numerous avenues for engaging imaginative play inspired by everyday life making it unquestionably a worthy addition to any young creator's collection.