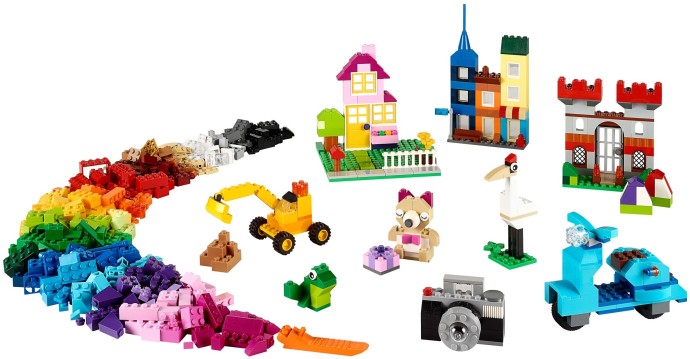 Revealing the Vibrant LEGO® Classic SET 10698 – Large Creative Brick Box!
Step into a world of unlimited possibility and unparalleled imagination with the remarkable LEGO® Classic Set 10698, otherwise known as the "Large Creative Brick Box". This abounding collection of richly hued bricks, meticulously crafted by designer Jonathan Robson, catapults creativity to an unprecedented level. Released on January 1, 2015, this set has not only been igniting sparks of inventiveness among both young and old Lego enthusiasts for years but also remains a sought-after choice for imaginative play.
An Array of Colours at your Fingertips
The most striking characteristic about this set is its sheer diversity. It comes brimming with classic LEGO® bricks in a staggering mix of 33 vibrant colours. This rainbow of building blocks is destined to unleash an endless stream of creative ideas. Builders can fashion whatever they fancy, from fantastic fairy-tale castles to modernistic skyscrapers; with this set, the sky is truly the limit!
More than just Bricks
The Large Creative Brick Box doesn't stop at plain blocks. This set includes a compelling selection of windows and doors, eight different types to be exact. Additionally, you will find two lush green baseplates, alongside six tires and wheel rims. It offers you everything you need to create marvellous structures that give a nod to real-world architectural beauty.
Universal Compatibility
A charming aspect of this kit is its compatibility with all creation sets under the esteemed LEGO umbrella. Thus, allowing audacious builders to synthesize elements from various collections. The result is dazzling creations that cross thematic boundaries and blends distinctive styles in unique ways.
Perfect for Ages Four and Beyond
With a whopping 790 pieces ready to be discovered and ingeniously manipulated, this box ensures engaging playtime for everyone above the age of four right up to those hitting their century! So let those youthful memories rekindle or ignite new ones as you delve into adventures only limited by one's imagination.
Packaging that Echoes Thoughtfulness
Serving as an ideal addition to any established LEGO collection, the Large Creative Brick Box does something even more special – it pays homage to convenience! Every chunky brick finds its home inside a robust plastic storage box. Delivering both easy clean-up and ultimate portability for those on-the-go builders!
Quality Crafted In
Weighing in at a substantial 1.6 kg (or 3.53 lb), the overall sense of quality this set brings resonates through every brick. The commendably low price-per-piece ratio only emphasises its extraordinary value-for-money proposition.
In conclusion
The Large Creative Brick Box stays true to LEGO's timeless ethos – 'Only the best is good enough'. It promises countless hours of immersive fun and an unrestricted flight ticket into the boundless world of creativity – quite a steal at £44.99 / $59.99 / 49.99€!